The Candida Diet: An Overview
If you want to get relief from your Candida symptoms, there are some key elements that you need to include in your treatment plan. This page has a brief summary of how the diet and other elements fit together, along with lots of links to more detailed explanations. And of course the full program, which I cowrote with Dr. Eric Wood, contains even more comprehensive instructions on how to create your own Candida-fighting plan.
The most important element in any Candida treatment plan is your diet. Switching to a low-sugar diet deprives the Candida of the food that it needs to grow and spread through your gut. You should also consider beginning your treatment with a cleanse, to clear out as many Candida toxins as possible and support your liver. As the diet progresses you can begin to reintroduce foods like beans and starchy vegetables.
The other elements are probiotics (to repopulate your gut with beneficial bacteria) and antifungals (to attack the Candida cells more directly). The key to designing a good Candida treatment plan is to introduce these three elements in different stages. Starting them all at once can lead to an unpleasant set of symptoms named Candida Die-Off.
Elements Of The Candida Treatment Plan
Here are the basic building blocks for a simple anti-Candida recovery plan. Implementing these three changes to your diet and supplement regimen will get you a long way down the road to a rebalanced gut and a healthier life. Just make sure that you don't start everything at once – these changes should be introduced separately and your health monitored for any changes.
In the Ultimate Candida Diet program, we go into a bit more depth on these three elements. Plus, we describe how to use systemic enzymes (to break down the Candida biofilms) and detox supplements (to support your liver and prevent Candida Die-Off).
Free Guide To Beating Candida
Sign up to our free, 8-part email course today, and learn how to create your own, personalized Candida treatment plan :)
The Anti-Candida Diet
The anti-Candida diet is a nutritious, anti-inflammatory diet consisting of low-starch vegetables, healthy proteins, fats, some non-glutenous grains and pseudo-grains, and some low-sugar fruits. It's a good, long-term eating plan that will promote good gut health and keep Candida in check.
Probiotics
Probiotics are one of the foundations of good gut health. They boost your immunity, improve your digestion, help to maintain a healthy pH in your gut, and much more. You can get them from foods, supplements, or both.
Antifungals
Antifungals take a more aggressive approach to fighting your Candida overgrowth. Most antifungals work by destroying the cell walls of the Candida yeast/fungus. Good examples are caprylic acid and oregano oil, plus foods like coconut oil and garlic.
What Can You Eat On The Diet?
Everyone's experience of Candida is different, but there are certain foods that should be avoided by almost everyone. These include sugary snacks and deep fried food. The list of foods to eat contains lots of tasty, nutritious ingredients that you can use to make delicious meals for you and your family.
More Information About Following The Candida Diet
Got a question about the Candida diet? Chances are, I've answered it in one of these blog posts.
For lots more information on the symptoms, causes and treatment of Candida, take a look at the Ultimate Candida Diet treatment program. I created it with Dr Eric Wood, and it contains everything you need to know about diagnosing and treating Candida overgrowth.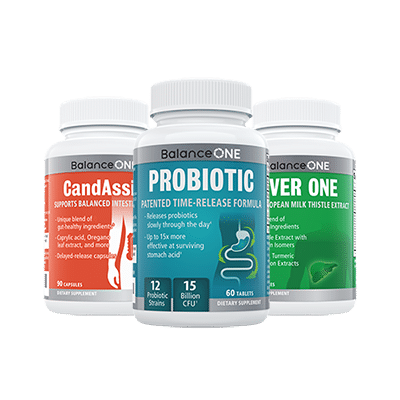 3-Month Candida Elimination Kit
Start Your 3-month Candida Cleanse
This Candida Kit contains all the supplements recommended on the Candida Diet:
- LIVER ONE to process and remove the toxins created by Candida.
- CANDASSIST to inhibit and weaken the Candida colonies in your gut.
- PROBIOTIC to replace the Candida yeast with probiotic bacteria.
Plus... the CANDIDA DIET RECIPE BOOK with 50+ low-sugar recipes