Stevia vs. Xylitol: Which Sweetener Is Best?
One of the hardest parts of beating a Candida overgrowth is overcoming a sweet tooth. To some extent, we're not to blame – our bodies are programmed to take advantage of high-energy, sugary food whenever it becomes available.
When humans were growing our own food this wasn't a problem, but we live in an age where sugar is much more readily available. Quitting sugar now is a battle against both our evolutionary tendencies and our psychological addiction.
Reducing your sugar intake is a crucial part of fighting a Candida overgrowth. Candida albicans needs sugar both for cellular growth and for its transition into fungal form.
Research has shown that a high sugar diet can negatively alter the composition of your gut flora. Cutting back on sugar is one of the first steps to restoring balance to your gut.
Today I'm going to examine two of the sweeteners that I recommend you use instead of sugar during your Candida treatment. Stevia and Xylitol are both found naturally (although the final product you use has been through some processing), and they both have tremendous advantages for those of us fighting a sweet tooth.
Free Guide To Beating Candida
Sign up to our free, 8-part email course today, and learn how to create your own, personalized Candida treatment plan :)
There are many healthy and tasty recipes using these sweeteners in the recipe section of this website.
Xylitol
Xylitol is a natural sugar alcohol that is found in raspberries, oats, mushrooms, and lots of other common foods. However, the xylitol you find in the store is usually derived from corn.
I don't usually recommend corn on the Candida diet, as it is almost all GMO. However in this case it is relatively easy to find Xylitol that is derived from non-GMO corn. Here is a good example. You can also find Xylitol derived from birch bark.
Pros of Xylitol
Xylitol doesn't raise your blood sugar like regular sugar (that's why it is used so often in diabetic-friendly foods).
Xylitol reduces the amount of acetaldehyde that Candida produces. This can help to reduce typical Candida symptoms like headaches and nausea.
Xylitol is good for your teeth because it doesn't feed bacteria in your mouth like regular sugar.
It is easy to find a brand of Xylitol that is derived from non-GMO corn.
Xylitol contains roughly half the calories of regular sugar, and far fewer carbohydrates.
Testing of Xylitol has shown it to be very safe, and it is approved by the FDA.
Cons of Xylitol
Eating large amounts of Xylitol can lead to stomach cramps and occasional diarrhea. Symptoms typically disappear if you reduce the amount that you are using.
Xylitol is potentially very toxic for household animals, particularly dogs. Keep your Xylitol well hidden from your pet, and call your vet immediately if they ingest it.
Stevia
Stevia comes from the Stevia rebaudiana plant, native to Paraguay but now grown across the world. The sweetener itself comes from either the whole leaf or from the compound rebaudioside-A that is found in it. The taste is very sweet, but slightly different from regular sugar.
I recommend that you find a brand made of 100% pure Stevia leaf, like the one in this list of Candida-safe supplements. Many popular brands of Stevia actually contain other sweeteners like Maltodextrin.
Pros of Stevia
Stevia has a very low Glycemic Index and does not spike your blood sugar like regular sugar does. It is less likely to feed your Candida overgrowth.
Stevia contains zero calories.
Stevia is so sweet that you only need to use a tiny amount. One packet can go a long way.
The best Stevia brands are 100% natural and use the whole Stevia leaf.
Cons of Stevia
Many Stevia brands contain Maltodextrin or dextrose – read the labels carefully! Always choose a brand that is 100% pure Stevia.
The FDA has approved rebaudioside-A, a compound derived from stevia. However it has only approved stevia itself as a dietary supplement, not as a food additive. There is a widespread belief that this is a result of lobbying from the sugar industry. Meanwhile, Stevia was fully approved by the EU in 2011.
Reported side effects of stevia include mild bloating and nausea. However these are quite unusual.
Which Should You Choose?
Whether you use Stevia or Xylitol really comes down to you as an individual. Both are great for use on a Candida diet, so it really depends which flavor you prefer. Remember to use them as part of a broader Candida treatment program – our Ultimate Candida Diet program provides a complete timeline and plan for beating your Candida.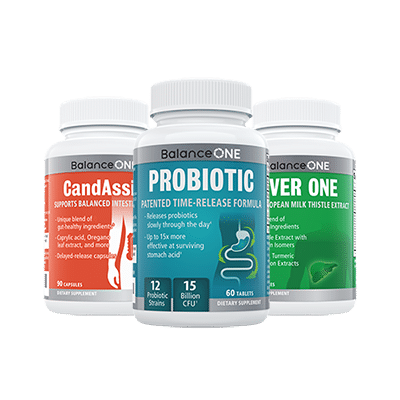 3-Month Candida Elimination Kit
Start Your 3-month Candida Cleanse
This Candida Kit contains all the supplements recommended on the Candida Diet:
- LIVER ONE to process and remove the toxins created by Candida.
- CANDASSIST to inhibit and weaken the Candida colonies in your gut.
- PROBIOTIC to replace the Candida yeast with probiotic bacteria.
Plus... the CANDIDA DIET RECIPE BOOK with 50+ low-sugar recipes
Comments