Weight Loss On The Candida Diet
Some people who have been affected by Candida overgrowth for a long period of time may experience dramatic weight loss when they embark on an anti-Candida diet. This is often desirable, as their Candida may have led to unwanted weight gain. Once they begin a diet filled with vegetables, lean protein and non-glutenous grains, they may find that extra pounds fall away easily. Many Candida sufferers will also find that their cravings for junk food begin to diminish as they see the results of eating well. These are all good things!
However, if you are already a healthy weight – or even underweight – before starting the Candida diet, additional weight loss may be unnecessary or undesirable.
In this case, it's recommended that you boost your calorie intake with some healthy, anti-Candida foods in order to maintain your weight at a healthy level. Foods that are high in healthy fats are a great option, as they provide vital nourishment to your skin, hair, joints, and brain. Seek whole, natural foods that contain good amounts of monounsaturated and polyunsaturated fats.
Healthy Ways To Increase Your Calorific Intake
Avocado
Although often used in savory dishes, avocado is actually a fruit. Fruits are generally minimized during a Candida Diet, but avocados are low in sugar and starch. They are quite safe to eat on the diet. In fact, they're often recommended for diabetics and those with a sensitivity to sugar.
Avocados are considered a 'superfood' as they're rich in essential fatty acids and proteins. They also contain 14 different minerals and a good dose of Vitamin C.
Free Guide To Beating Candida
Sign up to our free, 8-part email course today, and learn how to create your own, personalized Candida treatment plan :)
Best of all, avocados have a low glycemic index, which means they provide a slow-burning kind of energy that lasts throughout the day. Adding avocado to your daily diet is one of the most delicious ways to boost your calorie intake whilst providing your body with extra nutrients!
Consider recipes like this avocado omelet, avocado lime tart, or avocado pancakes.
NUTS
Nuts are an excellent source of protein, fiber, B-vitamins, and essential fatty acids. They make a delicious snack and can be added to meals or smoothies for an extra boost of nutrients.
It's important to note that some nuts may be detrimental to the Candida Diet as they have the potential to contain high amounts of mold. These particular nuts include cashews, pistachios and peanuts (although peanuts are actually a legume!)
Almonds are a great choice as they are packed with nutrients and high in healthy calories (around 200 calories in a small handful). They also taste great! To make them completely mold-free, we recommend first soaking the almonds in water with a little lemon juice, then allowing them to dry. We also recommend that you eat only whole, raw nuts. Nuts that have been sliced are more likely to contain mold.
Walnuts, pecans and hazelnuts are also safe to eat while on the Candida diet due to their low mold content. They provide a rich source of protein and minerals.
Consider recipes like chicken with walnut sauce, cinnamon pecan crumb cakes, or apple and walnut parfait.
COCONUT OIL
One of the easiest ways to increase your daily calorie intake is to add a few tablespoons of extra-virgin coconut oil to your diet. Coconut oil is perfect because it serves a double purpose: it contains the powerful antifungal caprylic acid, which helps to fight Candida overgrowth. It's also high in healthy calories and saturated fat: one tablespoon contains around 120 calories. And it's incredibly versatile!
You can add coconut oil to smoothies, hot drinks, baking or desserts, or use it as a substitute for butter. Coconut oil has a high smoke point, which makes it an excellent cooking oil.
Or if you prefer, you can also get your dose of coconut oil right off the spoon!
BREAD (USING COCONUT/BUCKWHEAT/OAT BRAN FLOUR)
If you're craving bread (don't worry, most of us do!) you could try making your own super-healthy coconut bread. Coconut flour is low in carbs, which means you'll end up with a delicious but low-carb bread. It also contains a variety of anti-Candida health benefits, including antifungal and antibacterial properties.
Coconut flour is high in fiber, which is great for improving your digestive function and elimination. Fiber also helps you to feel fuller for longer.
You can eat as much coconut bread as you want while on the Candida diet. If coconut flour isn't to your taste, you can substitute it for another gluten-free flour, such as buckwheat or oat bran flour. These and the other suggestions above are all safe options for the Candida diet, and you can even combine them. Best of you, these flours work well in other dough-based recipes such as muffins, pancakes and waffles!
Here is a really simple, foolproof coconut bread recipe that you can try at home. For lots more recipes, as well as information on how to eat well on a Candida diet and prevent weight loss, take a look at our Ultimate Candida Diet guide.
Coconut Flour Bread
Ingredients
1/2

cup

coconut flour

1/2

cup

of buckwheat flour

1/2

cup

full cream can of coconut milk (use only the creamy part on the top, about half the can)

5

eggs

2

tablespoons

extra-virgin coconut oil (organic if possible)

1/2

teaspoon

sea salt

1

teaspoon

aluminum-free baking powder

Stevia, to taste
Instructions
Grease a bread loaf pan with coconut oil.

Blend together the eggs, coconut oil, stevia and salt. Sift the coconut flour, buckwheat flour and baking powder, and add to the mixture. Whisk thoroughly until there are no lumps in the mixture. Pour into the greased a loaf pan and bake at 175C (350F) for 40 minutes.

At this point, the top of the loaf should be firm and a light golden color. Remove the loaf from the oven and allow it to cool.

Serve fresh with a side of coconut oil to use as butter!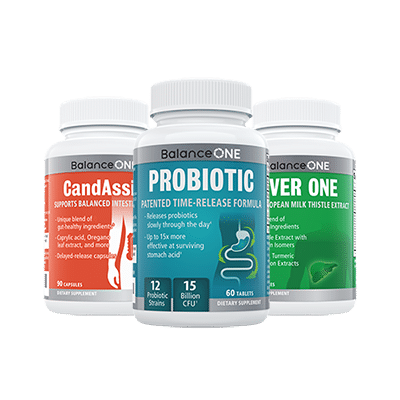 3-Month Candida Elimination Kit
Start Your 3-month Candida Cleanse
This Candida Kit contains all the supplements recommended on the Candida Diet:
- LIVER ONE to process and remove the toxins created by Candida.
- CANDASSIST to inhibit and weaken the Candida colonies in your gut.
- PROBIOTIC to replace the Candida yeast with probiotic bacteria.
Plus... the CANDIDA DIET RECIPE BOOK with 50+ low-sugar recipes