Natural Antifungals For Candida
Along with a low-sugar diet and probiotic supplements or foods, antifungals are one of the three crucial elements of any successful Candida treatment plan.
Candida is a virulent pathogen that is particularly difficult to dislodge from your intestinal walls. Antifungals help to break down the biofilms that it creates and give your immune system the best chance possible to eliminate it.
There are only a handful of prescription antifungals that can help with a Candida overgrowth, and they tend to come with some nasty side effects. This is because yeast and fungal cells are quite similar to human cells, which makes it difficult to create a treatment that targets the 'bad guys' and not the 'good guys'. For this reason, natural antifungals are often the best option for Candida sufferers.
There are a number of natural antifungals that you can take in supplement form or even add into your diet in food form. These antifungals work by breaking down the cell walls of the Candida yeast, and they are an important part of your recovery.
Popular antifungal treatments include caprylic acid, grapefruit seed extract, and oil of oregano. You can add antifungals into your diet too. For example, coconut oil is a potent source of caprylic acid, and it also makes an excellent oil for cooking. Garlic is another food with some potent antifungal properties. You can find more in our list of top Candida-fighting foods.
Free Guide To Beating Candida
Sign up to our free, 8-part email course today, and learn how to create your own, personalized Candida treatment plan :)
When it comes to natural antifungals, there are lots of different options to choose from. You can follow the links below to read about a few of them. Many people benefit from taking two or three antifungals at the same time, as this prevents the Candida from adapting. Some of them need to be taken at least an hour apart from your probiotics, as they have some mild antibacterial properties too.
If you are not sure which antifungals to take, or when, our Ultimate Candida Diet program contains lots more information. Dr Eric Wood and I also talk about the importance of systemic enzymes, and how they can be used together with antifungals to break down Candida biofilms.
Using Antifungals In Your Candida Treatment
These articles provide answers to some of the most frequently asked questions about antifungals. Why are they useful, can you taken them with probiotics, and which foods have the strongest antifungal properties?
Natural Antifungal Treatments
Plants have their own immune systems, just like we do. In their case, they generate antifungal compounds that prevent molds from attacking them. These natural antifungal properties can be useful for us too, both in supplement form and when incorporated into our diets. Here are a few good examples of natural antifungals (there are more listed in our program).
Prescription Antifungal Treatments
There are times when prescription antifungals are useful, particularly in more serious cases of Candida infection. For most milder and superficial cases, a combination of natural antifungals and dietary changes tends to be enough. Here is some more information on three of the antifungal compounds used by doctors.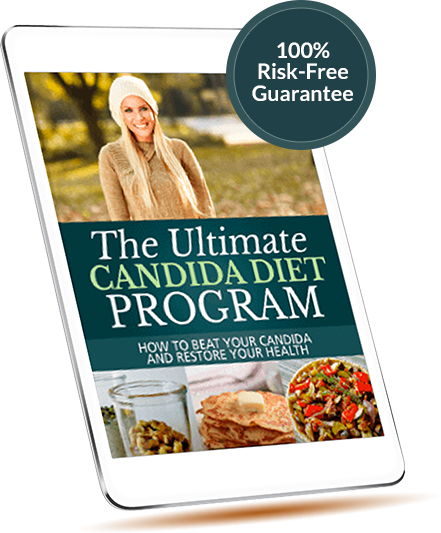 Beat your candida in 60 days
with this detailed 5-step program
If you're looking for a more comprehensive Candida treatment plan, check out the Ultimate Candida Diet program, written by Lisa Richards and Dr Eric Wood. This plan is based on the latest research into Candida Related Complex, and contains everything you need to know to beat your Candida overgrowth.