Natural Antifungals: The Strongest Candida Killers
Along with a low-sugar diet and probiotic supplements or foods, antifungals are one of the crucial elements of any successful Candida treatment plan.
Candida is a virulent pathogen that is particularly difficult to dislodge from your intestinal walls. Antifungals help to break down the biofilms that it creates and give your immune system the best chance possible to eliminate it.
There are only a handful of prescription antifungals that can help with a Candida overgrowth, and they tend to come with some nasty side effects. This is because yeast and fungal cells are quite similar to human cells, which makes it difficult to create a treatment that targets the 'bad guys' and not the 'good guys'. For this reason, natural antifungals are often the best option for Candida sufferers.
There are a number of natural antifungals that you can take in supplement form or even add into your diet. These antifungals work by breaking down the cell walls of the Candida yeast, and they are an important part of your recovery.
Popular antifungal supplements include caprylic acid, grapefruit seed extract, and oregano oil. You can add antifungal foods into your diet too. For example, coconut oil is a potent source of caprylic acid, and it also makes an excellent oil for cooking. Garlic is another food with some potent antifungal properties. You can find more in our list of foods that kill Candida.
Free Guide To Beating Candida
Sign up to our free, 8-part email course today, and learn how to create your own, personalized Candida treatment plan :)
When it comes to natural antifungals, there are lots of different options to choose from. You can follow the links below to read about a few of them. Many people benefit from taking two or three of the strongest Candida killers at the same time, as this prevents the Candida from adapting. Some of them need to be taken at least an hour apart from your probiotics, as they have some mild antibacterial properties too.
If you are not sure which antifungals to take, or when, our Ultimate Candida Diet program contains lots more information. Dr Eric Wood and I also talk about the importance of Candida biofilms, and how antifungals can be used to break them down.
Should You Use Natural Antifungals or Prescription Drugs?
If you visit a doctor for a Candida infection, he or she will often prescribe an antifungal medication. The most common antifungal drugs include Diflucan (fluconazole) and Nystatin. Diflucan is a 'fungicidal' agent which kills the yeast, while Nystatin is a 'fungistatic', which means it helps to stop the yeast from growing.
Although antifungal drugs are well-absorbed and have a strong antifungal effect, they have a number of unpleasant side-effects. What's even worse is that the fungi tend to adapt to the drug and become resistant to it, which means the effect is significantly reduced.
Side Effects of Prescription Antifungals
Nearly 1 in 7 people who take antifungal medications suffer from reactions such as rashes, itching, skin inflammation, nausea and abdominal pain, dizziness, jaundice, and liver problems.
Diflucan is known to elevate liver enzymes and can even lead to cholestasis or hepatic failure in patients who have weakened livers.
Nystatin can also cause diarrhea, nausea, vomiting, stomach upset, itching and swelling, and complications for those with kidney disease or diabetes. These symptoms tend to worsen the longer you take the medication.
Resistance to Prescription Antifungals
Antifungal resistance makes infections harder to treat, and is now a major problem for those with Candida infections. (1)
Several types of Candida yeast are becoming increasingly resistant to commonly prescribed antifungal medications, such as Diflucan. One study showed that around 7% of all Candida blood samples are resistant to fluconazole.
That's where natural antifungals may be the optimal solution.
What Is The Strongest Candida Killer?
The good news is that prescription drugs are not the only solution! There are a huge range of natural antifungal herbs and foods that are equally effective in treating Candida infections, and in many cases even better. Natural antifungals don't tend to lead to resistance and they generally have far fewer side-effects.
Plants have their own immune systems, just like we do. In their case, they generate antifungal compounds that prevent molds from attacking them. These natural antifungal properties can be useful for us too, both in supplement form and when incorporated into our diets. Here are a few good examples of natural antifungals.
Caprylic Acid
Caprylic acid is one of the active ingredients in coconut oil. It works by interfering with the cell walls of the Candida yeast. Its short chain fatty acids are able to easily penetrate the cell wall of the yeast and then inhibit its growth by causing it to rupture. This effectively destroys the yeast cell.
Repeated studies have shown Caprylic acid is an effective treatment against Candida. A study conducted in Japan found that the fungicidal effect of caprylic acid on Candida albicans was "exceedingly powerful". (2)
More recent studies have found that oral supplementation with caprylic acid reduces the symptoms of Candida more quickly and efficiently than Diflucan. (3)
Oregano Oil
Studies have shown that oregano oil can not only inhibit the growth of Candida albicans but is also a powerful preventative if taken daily.
Further research has shown that oregano oil contains two naturally occurring antimicrobial agents, carvacrol and thymol. These agents work by reacting with the water in your bloodstream, which effectively dehydrates and kills Candida yeast cells. (4)
Other studies report that the major terpenoids in oregano – carvacrol, thymol, and eugenol – have important antifungal activity. These important phenols are effective in not only killing planktonic cells but also the biofilms of Candida albicans, which are often resistant to many pharmaceutical antifungal drugs. (5)
Of these, carvacrol appears to be the strongest; studies show it continues to be effective regardless of the maturity of the biofilm (6).
Garlic
Garlic contains the powerful antifungal agent ajoene, an organosulfur compound that has been found to kill off a variety of fungal infections. Ajoene is formed from another compound called allicin and an enzyme, alliinase. When garlic is chopped or crushed, allicin and alliinase come together to form ajoene (7).
Various studies have found ajoene to have the strongest activity of all garlic compounds in inhibiting the growth of Candida albicans. (8)
Another study showed that garlic has potent anticandidal activity and can halt the growth and spread of Candida Albicans. (9)
However, ajoene's exact mechanism of action are not so clear. As with other antifungals, scientists hypothesize that ajoene works by disrupting the cells walls of the Candida yeast cells, preventing them from functioning properly.
Grapefruit Seed Extract
Grapefruit seed extract is highly effective against a variety of yeasts and molds including Candida, Geotrichum, Aspergillus and PeniciIlium sp.
A 2001 Polish study found that grapefruit seed extract had a strong antifungal effect against Candida albicans overgrowth. The researchers concluded that the extract is able to fight Candida by attacking yeast cells directly, effectively destroying those that have already taken hold in the body. (10)
Free Guide To Beating Candida
Get your free, 8-part guide to beating Candida, and join more than 100,000 people getting weekly updates and recipes!
Another study in 2002 showed that grapefruit seed extract is useful as an all-round antimicrobial, thanks to its inhibition of a wide range of harmful bacteria. Amazingly, it appears to do this within just 15 minutes of contact, even when diluted. (11)
The American Research Institute also reports that grapefruit seed extract can kill over 800 bacterial and viral strains and 100 strains of fungi. It's believed that the extract interferes with the membrane of the bacteria, destroying the cell by breaking it apart. (12)
Berberine
Berberine is often used for treating gastrointestinal infections and boosting the immune system. It's been shown to help kill pathogens that may cause gut infections and diarrhea such as candidiasis and giardia. Even better, berberine helps to heal the lining of the gut and improves the gut microbiota when cells have been damaged by bacteria. (13)
Research shows that berberine's antifungal effect is most potent in mucous membrane tissues, particularly the genitals, mouth, and especially the digestive system. Berberine also has powerful antimicrobial activity against a wide variety of harmful yeasts and pathogens in the body, including Candida albicans, e coli, staph aureus and many others.
Berberine can be taken in supplement form. Goldenseal and Barberry are excellent sources of berberine, and can help to boost the immune system.
CandAssist
Wouldn't it be great if there was one product that contained the strongest Candida killers?
Well, now there is! I worked with Balance One Supplements to develop CandAssist. It contains a range of natural antifungals including Caprylic Acid, Undecylenic Acid, Oregano Leaf Extract, Berberine HCl, Betaine HCl, Olive Leaf Extract, and Garlic Extract.
CandAssist uses the highest-quality natural ingredients. It's vegan, non-GMO, and made in the USA. You can read more about it here.
Four Antifungal Foods To Fight Candida
There are lots of foods that have antifungal properties too. This forms a part of their natural defenses against fungi, and those same properties can help us with fungal infections too.
The following are just a few of the antifungal foods that you can introduce into your diet. They are particularly useful for fighting an intestinal Candida overgrowth. Others include ginger, turmeric, and cinnamon.
Onion
Popular around the world as a savory addition to many dishes, onions are also known for their strong medicinal properties.
They have antifungal, antibacterial and anti-parasitic activity against a wide range of microorganisms including bacteria and yeasts. (14)
Studies have shown that onion essential oil contains 21 compounds, the major components of which are dimethyl-trisulfide and methyl-propyl-trisulfide. These can delay or kill fungal growth by intervening with the ability of the organisms to replicate and spread. (15)
Onions work well in almost any savory recipe, enhancing flavor and taste. You can even add them to your omelets in the morning for a high-protein, low carbohydrate, gluten free start to the day!
Rutabaga
Although not a well-known food, rutabaga (also known in some countries as Swede or Swedish turnip) is one of the most potent antifungal vegetables around. It's a root vegetable – a cross between a cabbage and a turnip – and a member of the mustard family.
One study showed that rutabaga produces phytoalexins, a type of chemical defenses produced by plants in response to certain forms of stress, such as microbial attack. According to researchers, these phytoalexins can ward off harmful fungi and yeasts such as Candida, as well as several other microbes. The chemical structures of these phytoalexins appear to have important biological activity against at least four plant pathogens.  (16)
Rutabaga is a versatile vegetable that works well in many dishes. It's recommended that you try it in small amounts first, as it can cause die-off symptoms. You may even prefer to try a milder antifungal food like turnip instead.
Olive Oil
Olive oil is one of the most versatile and readily-available condiments in the world – and it's also great for helping you to beat fungal infections like Candida.
Olive oil contains a powerful chemical called Oleuropein which has valuable antifungal properties. It's been shown to help stimulate your immune system's own response to effectively fight off Candida albicans overgrowth. (17)
Oleuropein has also been shown to help stabilize blood sugar levels, which is an important benefit for Candida sufferers as elevated blood sugar levels can increase the yeast's ability to spread. (18)
Oleuropein is also found in olive leaf extract and can be taken in concentrated doses in the form of supplements. Olive oil is not the most appropriate oil to be used in high temperature cooking as it can destroy its nutritional properties. Instead, drizzle over salads, stir-fries, and vegetables. Be sure to choose a high-quality, extra-virgin olive oil (not a cheap one!)
Fermented Foods
When it comes to improving the health of your gut and reducing fungal growth, fermented or probiotic foods are a must. These are foods that have been prepared in a way that allows beneficial bacteria to grow, creating live nutrients within the food itself. When you eat them, the live bacteria are established in your gut – like an instant dose of probiotics.
When you eat fermented foods, these healthy bacteria promote a variety of health benefits and improve the microbial balance of your gut, which is essential for warding off harmful yeasts. The lactic acid produced during the fermentation process is a natural preservative that prevents harmful bacteria from growing. And the fermentation process leaves the food rich in nutrients that your body and immune system need.
The best sources of probiotic foods include sauerkraut, kimchi, miso, tempeh, and kefir. Eating these fermented foods regularly can support the immune system and prevent the invasion and spread of yeasts or fungal infection. (6)
A good strategy is to combine fermented foods with probiotic supplements. When buying a probiotic supplement, make sure that you choose one that uses time-release tablets. Otherwise, the probiotic bacteria will simply be destroyed by your stomach acid. Here is our recommended time-release probiotic.
Natural Antifungals Can Help You Beat Candida
While it's tempting to believe that prescription medication is the 'quick fix' for Candida overgrowth, this is rarely the case. Prescription medications may cause the yeast or fungi to retreat for a time, but they are quick to adapt. They also come with nasty side-effects.
Natural antifungals are quite literally the natural solution to yeast overgrowth. They cause fewer side effects and your infection is less likely to develop a resistance to their antifungal properties. Even better, they're available in their whole form as food or herbs: forms that your body recognizes and can break down easily.
Using Antifungals In Your Candida Treatment
These articles provide answers to some of the most frequently asked questions about antifungals. Why are they useful, can you taken them with probiotics, and which foods have the strongest antifungal properties?
Natural Antifungal Treatments
Plants have their own immune systems, just like we do. In their case, they generate antifungal compounds that prevent molds from attacking them. These natural antifungal properties can be useful for us too, both in supplement form and when incorporated into our diets. Here are a few good examples of natural antifungals (there are more listed in our program).
Prescription Antifungal Treatments
There are times when prescription antifungals are useful, particularly in more serious cases of Candida infection. For most milder and superficial cases, a combination of natural antifungals and dietary changes tends to be enough. Here is some more information on three of the antifungal compounds used by doctors.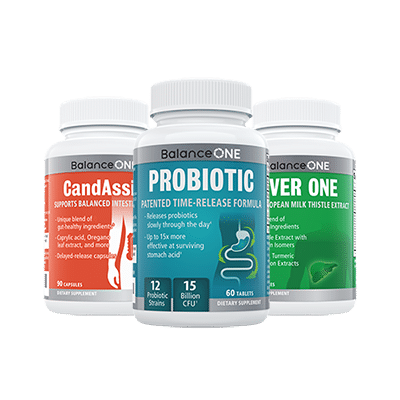 3-Month Candida Elimination Kit
Start Your 3-month Candida Cleanse
This Candida Kit contains all the supplements recommended on the Candida Diet:
- LIVER ONE to process and remove the toxins created by Candida.
- CANDASSIST to inhibit and weaken the Candida colonies in your gut.
- PROBIOTIC to replace the Candida yeast with probiotic bacteria.
Plus... the CANDIDA DIET RECIPE BOOK with 50+ low-sugar recipes
Comments