When Should You Take Probiotics?
You should start your course of probiotics soon after you begin the anti-Candida diet. However as you will see below, the exact timing depends on when you start your antifungals too. In our Ultimate Candida Diet treatment program, Dr. Eric Wood and I lay out a clear timeline that you can follow.
There are a couple of reasons not to start probiotics at the very beginning of your treatment. If you are starting with a cleanse, that will act to flush your intestine, taking much of the Candida yeast, bacteria and everything else with it. If you're spending money on good probiotics you don't want to just wash them straight through!
Additionally, if you start the probiotics at this point you might well experience Candida Die-Off. This is a difficult experience that you should avoid. Following a well-designed, multi-phase Candida treatment plan should avoid this.
You will also be introducing some natural antifungals at some point during your treatment. Probiotics and antifungals are both powerful elements of the Candida treatment plan, so we would recommend leaving at least a week between starting each of these. The reason is that both probiotics and antifungals are liable to cause Candida die-off, so to start courses of both at the same time could potentially make for a very challenging start to your treatment. If you leave a couple of weeks between them, you will be less likely to experience a severe Die-Off and more likely to finish the diet!
Why You Need To Choose A Good Probiotic
Choosing a good probiotic will potentially reduce the duration of your Candida treatment plan. The right probiotic will rebalance your gut flora, boost your immune system, and help maintain the correct acidity in your digestive system.
Free Guide To Beating Candida
Sign up to our free, 8-part email course today, and learn how to create your own, personalized Candida treatment plan :)
There are a few things to look out for when you choose your probiotic. The number of live bacteria per capsule (it should be several billion), the number of probiotic strains, and the exact type of those strains are all important. Take a look at our 'Choosing a Probiotic' page for more information. Remember – probiotics are perhaps the most important part of your Candida diet so do your research!
Can You Take Probiotics And Antifungals At The Same Time?
There is no good reason why you shouldn't take probiotics and antifungals at the same time.
Antifungals primarily attack yeast and fungal overgrowth, not bacteria. Some of them do have antibiotic properties (i.e. they can kill some of the good bacteria in your gut), but that is not their primary role. Even if some of the 'good' bacteria in your gut are actually being killed by antifungals, that's a great reason why you need probiotics to replenish them!
As mentioned above, its important that you leave at least 1-2 weeks between starting your probiotics and antifungals. This is to avoid a severe Die-Off reaction, and it will help you to complete the diet with less discomfort. To get the most benefit from both supplements, you should also try to take them at least 2 hours apart during the day.
Will You Always Need To Take Probiotics?
This is a tough question as everyone's case is different. The simple answer is that probiotics are almost always a healthy addition to your diet, and therefore you should consider taking them regularly for as long as you can. However this is not always practical (probiotics can be expensive for a start), so when you have your Candida under control you can try reducing your dosage. Another alternative is increasing your consumption of probiotic foods like yogurt, sauerkraut, and kefir.
I would recommend coming off the probiotics slowly and monitoring your health during the whole process. If you feel that you are regressing and your Candida overgrowth is starting to resume, return to your original dosage until you feel comfortable again. If you cut the dosage and you feel fine, then feel free to keep reducing your probiotic intake until you have quit the supplements altogether.
Our Candida treatment program contains a comprehensive timeline that shows you exactly when to start your initial dietary cleanse, when to move on to a less restrictive diet, when to introduce probiotics, and when to add some antifungals. If you want a clear guide and timeline to follow, it will be a great help.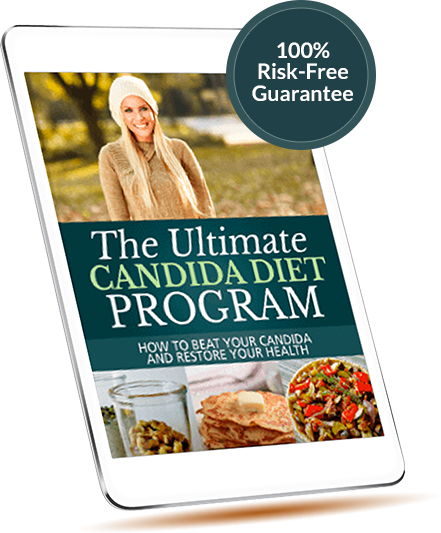 Beat your candida in 60 days
with this detailed 5-step program
If you're looking for a more comprehensive Candida treatment plan, check out the Ultimate Candida Diet program, written by Lisa Richards and Dr Eric Wood. This plan is based on the latest research into Candida Related Complex, and contains everything you need to know to beat your Candida overgrowth.