Five Super Simple Meals For Your Candida Diet
What are your go-to meals on the Candida Diet? Complicated, multi-stage recipes can be great for dinner parties, but sometimes all you want is a quick, easy and nutritious recipe that you can prepare in a few minutes.
If you spend your mornings getting kids ready for school, work for long hours at your job, or are simply too tired to shop for and prepare your meals, the recipes on this page are for you.
Each of them contains ingredients that will lower inflammation, promote gut health, and fight a Candida overgrowth. Whether you're following our Candida treatment plan or not, these recipes will be a tasty, energy-filled addition to your day.
Coconut Bread
This bread is a staple for many Candida dieters. It uses a combination of coconut and buckwheat flour to make a versatile, gluten-free bread that all the family will enjoy.
One of the best things about this coconut bread is that it involves very little prep time and is very easy to make. The various coconut ingredients (coconut flour, coconut milk and coconut oil) all have antifungal properties, while the high levels of protein and healthy fats will give you lots of energy to get through your day.
Free Guide To Beating Candida
Sign up to our free, 8-part email course today, and learn how to create your own, personalized Candida treatment plan :)
You can include this filling bread in a packed lunch for yourself or your kids. Any leftovers can be stored in the freezer and then quickly toasted in the mornings for a healthy breakfast snack.
Check out the Coconut Bread recipe here »
Quinoa and Rutabaga Patties
These vegetable patties contain quite a few ingredients, but preparation is simply a matter of quickly throwing them all together. And the recipe can easily adjust to include lots of different foods that you might have in your fridge and pantry.
Rutabaga might be a starchy vegetable, but it also has some antifungal properties that make it a  useful addition to your Candida diet. When you combine it with garlic, some shallots, and lots of herbs, it can make a great choice for an easy dinner. You can serve these patties with some plain yogurt for an extra probiotic boost.
Check out the Quinoa & Rutabaga Patties recipe here »
Coconut Chicken With Spinach
This super-simple meal is a favorite of many of our readers. It has a handful of easily-sourced ingredients, and has a total cooking time of less than 25 minutes. It makes a healthy lunch or dinner that is rich in healthy proteins and fats.
Just like the other recipes in this list, this meal includes several foods with antifungal properties. And like every recipe on this website, it is gluten-free, contains no added sugars, and will help to promote good gut health.
This salad has few ingredient and is super easy to prepare. It contains coconut oil and coconut milk, both great anti fungal ingredients to combat candida.
Check out the Coconut Chicken recipe here »
Cool Sardine Salad
This is a quick and easy salad to prepare if you are a fan of sardines. These fish are one a few healthy fish choices on the Candida diet plan (others include wild salmon and herring). Sardines contain less mercury and other ocean pollutants that larger fish like tuna or swordfish.
Sardines are also a good source of healthy long-chain omega-3 fatty acids EPA and DHA, and a great way to get more calcium, iron, and potassium into your diet. They are one of the top anti-inflammatory foods which is important for those fighting a Candida Overgrowth since gut inflammation is usually problem.
Best of all, this tasty salad only takes a few minutes to prepare and serve.
Check out the Sardine Salad recipe here »
Vegetable Omelet
Keeping it simple is often the best way to follow a new diet plan, and this vegetable omelet is a perfect example. Omelets can be one of your regular meals on any stage of the Candida diet. They make for a nutritious meal packed with protein and micronutrients.
You can eat omelets for your breakfast, lunch, and dinner. Our recipe is a good starting point, but you can adjust it by adding any of the vegetables from the foods to eat list. Enjoy!
Check out the Vegetable Omelet recipe here »
Are you ready to start your Candida diet? Our Ultimate Candida Diet program contains more than 50 recipes that are gluten-free, contain no added sugars, and promote improved gut health. They contain lots of nutritious ingredients that will boost your energy levels and support your immune system. Give it a try!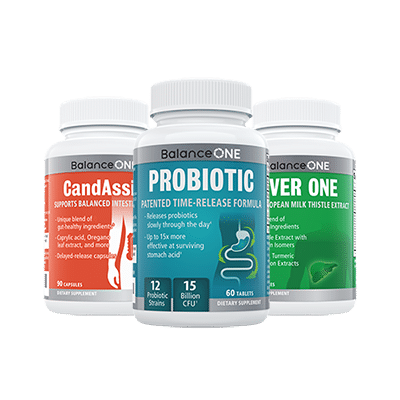 3-Month Candida Elimination Kit
Start Your 3-month Candida Cleanse
This Candida Kit contains all the supplements recommended on the Candida Diet:
- LIVER ONE to process and remove the toxins created by Candida.
- CANDASSIST to inhibit and weaken the Candida colonies in your gut.
- PROBIOTIC to replace the Candida yeast with probiotic bacteria.
Plus... the CANDIDA DIET RECIPE BOOK with 50+ low-sugar recipes