Undecylenic Acid: Benefits for Candida Overgrowth
If you've tried to treat your Candida overgrowth with a number of different remedies and you're still not getting results, you'll probably be feeling frustrated and ready to give up. Many natural remedies take time to take effect, and it's understandable that you want results faster.
But here's a treatment that may be just what you're looking for.
Undecylenic acid may be a less well-known treatment for topical Candida-related infections, but it can be very effective. It's an unsaturated fatty acid derived from castor oil and was first discovered in 1877. It's also naturally present in human sweat!
As a fatty acid, undecylenic acid is often used in the making of synthetic materials such as aromatic chemicals, polymers or modified silicones. But, more importantly, it's been found that undecylenic acid is a powerful antifungal agent that may be able to help with stubborn Candida-related infections.
In fact, undecylenic acid has been shown to be an even more effective antifungal than caprylic acid, which is already a powerful treatment for Candida overgrowth. undecylenic acid is also effective in maintaining a healthy balance of flora in the gut and vagina.
Free Guide To Beating Candida
Sign up to our free, 8-part email course today, and learn how to create your own, personalized Candida treatment plan :)
How Does Undecylenic Acid Work?
Undecylenic acid has been shown to effectively control a variety of fungal infections, but researchers still aren't quite sure exactly how it works.
The therapeutic effects of undecylenic acid were first encountered in the 1940s, when it was used to treat topical fungal diseases and infections in military troops. Although some sources say it is less effective than newer pharmaceutical drugs, it is still used to treat minor infections. It also has the advantage of being a safe and inexpensive treatment that is less likely to irritate the skin.
The fungicidal and fungistatic actions of undecylenic acid come from its organic fatty acid components. It should be pointed out that undecylenic acid is never used on its own for antifungal purposes. Instead, the salts of undecylenate (e.g. Calcium undecylenate) are used in topical over-the-counter products or antifungal blends.
Another example of undecylenic acid is zinc undecylenate, which is used as a topical antifungal agent for treating skin infections such as athlete's foot. It can also help to relieve the symptoms of athlete's foot such as itching, burning, and irritation.
The use of undecylenic acid in controlling skin fungal infections is still relatively small-scale. However, it appears to have a powerful effect on biofilm formations, which is key to treating fungal skin infections such as Candida. It has also been successful in treating infections caused pathogenic fungi, as athlete's foot, jock itch and diaper rash.
How To Use Undecylenic Acid For Candida Overgrowth In The Gut
Although the way in which undecylenic acid works is still somewhat unclear, it's believed to inhibit the hyphal growth of Candida albicans and biofilm formation. These factors play a major part in the development of skin infections, and also in Candida's ability to spread throughout the body.
A study published in the International Journal of Pharmacological Research investigated the antifungal mechanisms of undecylenic acid by evaluating the virulence factors of C. albicans during biofilm formation. (2)
Researchers found that undecylenic acid was able to successfully inhibit the biofilm formation of Candia albicans at a certain concentration. What's more, the presence of undecylenic acid interrupted Candida's ability to transition from yeast to its filamentous (branched) fungal phase, which means it was unable to spread.
At the same time, the undecylenic acid appeared to destroy the cell surface of the Candida yeast cells, causing them to atrophy (shrink).
It's also possible to treat thrush with undecylenic acid. Because it works systemically, taking it orally can help to inhibit or even prevent both thrush and oral candida overgrowth. So far, however, this finding is only based on case reports.
Be sure to consult your doctor or a natural health practitioner before attempting treatment with undecylenic acid. Small doses of undecylenic acid are enough to provide therapeutic benefits, and these appear to be safe.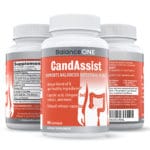 You can find undecylenic acid in our recommended antifungal supplement: CandAssist by Balance ONE.
It's one of 7 natural ingredients designed to fight Candida and bring the gut back into balance.
How To Use Undecylenic Acid For Skin Infections
For skin infections, undecylenic acid is usually available as an ointment, powder, or liquid. To treat athlete's foot, it is usually applied as topical solution twice a day.
The duration of treatment will depend on the severity of the infection you are treating. In most cases, you will simply need to wash and dry the area to be treated, then apply enough of the formula to cover the affected area and some of the skin around it.
If you are using the powder form of undecylenic acid, sprinkle it onto all areas of the feet, between the toes, and into your socks and shoes. Take care to avoid inhaling any of the powder.
Also avoid covering the treated areas of skin, as adhesive bandages or dressings often don't allow enough air to get to the infection. If necessary, use a light cotton-gauze dressing to protect your clothing from the acid. It's also a good idea to avoid wearing tight clothes made out of synthetic material, especially nylon, as it doesn't allow air to the skin. Instead, stick to clothes made of loose cotton and other natural fibers until the infection is healed. (3)
It may take up to four weeks for the undecylenic acid to take effect and cause symptoms to improve. Keep using as directed but go back to your doctor if your symptoms do not improve after four weeks of treatment.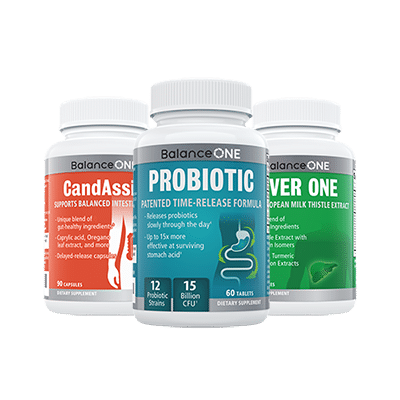 3-Month Candida Elimination Kit
Start Your 3-month Candida Cleanse
This Candida Kit contains all the supplements recommended on the Candida Diet:
- LIVER ONE to process and remove the toxins created by Candida.
- CANDASSIST to inhibit and weaken the Candida colonies in your gut.
- PROBIOTIC to replace the Candida yeast with probiotic bacteria.
Plus... the CANDIDA DIET RECIPE BOOK with 50+ low-sugar recipes
Comments