Could An Alkaline Diet Make Your Candida Worse?
Many people these days are following alkaline diets to improve their health, but the fact is that they are not appropriate for everyone.
Certain parts of our bodies are naturally acidic and need to stay that way for us to maintain a healthy immune system.
Over-alkalizing your diet can upset the delicate balance that protects us from disease. In fact, if you are suffering from Candida then an excessively alkaline diet is almost certain to make your overgrowth worse.
The confusion often stems from the varying levels of acidity/alkalinity that each part of your body requires. For example, while your blood pH should be almost exactly 7.4 (slightly alkaline), your stomach and intestines need to be much more acidic.
This acidity helps to kill pathogens and prevent disease. And this same acidity is a part of your defense against Candida overgrowth.
Free Guide To Beating Candida
Sign up to our free, 8-part email course today, and learn how to create your own, personalized Candida treatment plan :)
Candida And pH
Candida albicans is an opportunistic microorganism that can survive in a wide range of pH levels, either acid or alkaline. In fact, it has two different forms that allow it to do just this – a yeast form and a fungal (or 'hyphal') form.
Almost all of us have the yeast form in our guts and it rarely causes a problem, but the fungal form is much more virulent and able to spread around your body. You are much more likely to experience the symptoms of a Candida overgrowth if you have a higher proportion of the fungal Candida.
How do we end up with either the yeast or the fungal Candida? A lot of it has to do with the environment in our small and large intestines.
The yeast form of Candida albicans survives most easily in an acidic environment, but when the environment becomes more alkaline, it is able to switch to its fungal form. Making your intestines more alkaline may have the consequence of encouraging more of the fungal Candida.
Take the example of a healthy person who eats a balanced diet and has not taken antibiotics recently. This person's intestines will be slightly acidic overall, meaning that most of the Candida albicans in her intestines will be in the form of a relatively harmless yeast.
However, she then takes a course of full spectrum antibiotics. This changes the environment in her intestines by killing off the 'good bacteria' that live there.
Many of these bacteria produce acid as a metabolic byproduct, and they have names like acidophilus ('acid-loving' in Latin). Without these bacteria, the pH of her intestines quickly rises and becomes neutral or even alkaline. Now, the Candida yeast can morph into its fungal form, and the symptoms of a Candida overgrowth may rapidly appear.
What Can Change Your Intestinal pH?
So what affects the acidity in your gut? There are actually a number of factors, including your hormonal balance and the health of your gut flora, those 'good bacteria' that live in your intestines. However, the food that you eat is also an important factor.
Eating too many alkaline (or alkalizing) foods can increase the pH in your gut and lead to a Candida overgrowth. The most alkalizing foods tend to be fruits, which are also high in sugars and should be minimized on a Candida diet.
You should also know that the Candida itself is actively trying to make its environment more alkaline. One of the major byproducts of Candida's metabolism is ammonia, a highly alkaline gas.
When the ammonia is released into your intestines, it gradually increases the pH. Usually this will be counter-balanced by the acid-producing bacteria in your gut, but if these bacteria have gone then that balance is lost.
The Candida yeast cells can only turn into their fungal form (and start to cause Candida symptoms) when the pH in your gut becomes neutral or slightly alkaline. Maintaining the natural acidity in your gut is an important part of preventing that from happening.
The alkaline supplements that many dieters use (baking soda for example) can quickly transform the pH of your gut and make it far too alkaline. The overall pH of your intestines is naturally acidic. You should try to keep it that way!
Restoring The Correct pH
There are some simple tips that you can follow to regulate the pH in your intestines and prevent a Candida overgrowth. Again, it comes back to the three central themes of our Candida treatment plan – diet, probiotics, and antifungals.
Diet
Minimizing fruit in your diet will not only prevent all that fructose from feeding a Candida overgrowth. It will also stop the alkalizing effect that fruit has on your intestines.
It is important to regularly consume probiotic foods such as plain yogurt, kimchi, and sauerkraut. These foods can improve stomach acid levels and re-populate the gut with friendly bacteria.
Probiotics
Probiotic bacteria like lactobacillus acidophilus secrete small amounts of lactic acid and acetic acid into your intestines. This acid is a great defense against pathogens and it prevents Candida from switching to its fungal form.
Antifungals
You may not have realized, but many antifungals are actually acidic. For example coconut oil contains three proven antifungals – caprylic acid, lauric acid and capric acid.
Combining these three elements is the best way to maintain the correct level of acidity in your intestines. In our Candida treatment plan we share comprehensive lists of foods to eat and foods to avoid, as well as lots of advice on when and how to take your probiotics and antifungals. I have also included more than 40 tasty recipes to follow during your Candida treatment.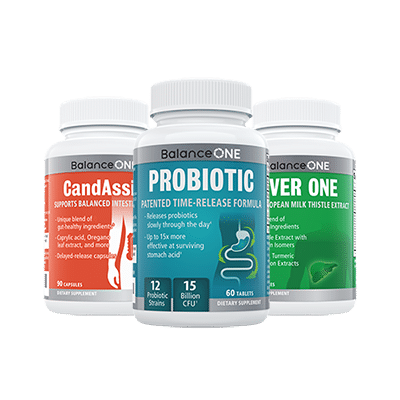 3-Month Candida Elimination Kit
Start Your 3-month Candida Cleanse
This Candida Kit contains all the supplements recommended on the Candida Diet:
- LIVER ONE to process and remove the toxins created by Candida.
- CANDASSIST to inhibit and weaken the Candida colonies in your gut.
- PROBIOTIC to replace the Candida yeast with probiotic bacteria.
Plus... the CANDIDA DIET RECIPE BOOK with 50+ low-sugar recipes
Comments