4 Simple Tips To Beat Your Sugar Cravings
We all have times when we crave something sweet to eat — many of our memories are brought to life by things we ate as a child, or by some delicious pudding that our grandmother made.
But when you crave sugar on an everyday basis and start to indulge that sweet tooth regularly, this can have many negative repercussions for your health. Eating a diet that is consistently filled with sugar can disturb your gut flora and contribute to a Candida overgrowth.
A typical day for many of us includes multiple sources of added sugar, and lots of foods that often have a deceptively high Glycemic Load.
This is often exacerbated by irregular meal times or large portions, leading to spikes and then crashes in our blood glucose. If you find yourself constantly craving things like white bread, doughnuts, soft drinks, ice cream and candy, your body is telling you that you're doing something wrong.
If this sounds familiar, you are certainly not alone. Once you get into a cycle of eating sugary foods, then craving more, it gets harder and harder to break free. Multiple research studies have shown sugar to be a highly addictive substance. You should also know that sugar has been implicated in many other diseases and conditions besides Candida Related Complex.
Free Guide To Beating Candida
Sign up to our free, 8-part email course today, and learn how to create your own, personalized Candida treatment plan :)
Here are four really simple tips that will help you develop a plan to stop your sugar craving and take the first steps towards a healthier diet.
1. Eat small, regular meals
You have probably heard this one a few times before, but it's worth repeating! To eliminate sugar cravings you need to eat small, regular meals, with no more than three to four hours in between each meal.
If you fast for longer than that, your blood glucose is liable to drop and you'll be tempted to reach for a sugary treat. Be sure to plan in advance for your day ahead; when you leave the house take a bag or cooler with healthy, low-sugar snacks that you can munch on during the day. Planning really is integral to managing your sugar cravings.
2. Food Choices
Don't get tempted. Out of sight, out of mind. Stand in front of your fridge and grocery cupboard and take a good look at the food inside. Throw out any food item that is processed, refined or loaded with added sugar. If you don't feel good about wasting food, donate any unopened packaged food to your local food bank.
Replace your white rice, white bread, biscuits, sugar coated muesli, cake, instant macaroni, ice cream, chips, and fizzy drinks with healthier options. Choose foods with a low Glycemic Load – they release energy slowly and steadily throughout the day, maintaining your blood sugar levels, preventing cravings, and leaving you satisfied for longer. We have plenty of ideas in our recipe section.
3. Water
Each of us consists of over 70% water, and it's needed for every single function in your body. In order for your body to function optimally, you should aim to drink at least two liters of water each day. If you are active, you may need to drink even more.
In many cases people reach for unhealthy snacks because they think they are hungry, when they are actually just thirsty. Drinking a glass of water before each meal will make you feel fuller, reduce cravings and prevent bad dietary decisions. Remember that if you are feeling thirsty, that means you are already dehydrated.
4. Get Moving
You know that feeling you get after eating sugary snacks? Sugar releases a neurotransmitter named dopamine into your brain, which gives that characteristic 'high' associated with sugar.
Well, exercise actually has a very similar effect, and can be used as a substitute to help wean yourself off your sugar addiction. Even something as simple as a long walk or a gentle cycle ride can help ward off those sugar cravings.
Eliminating sugar from your diet is a lot easier if you know what to eat instead! If you need more ideas for low-sugar meal plans, and techniques to avoid sugar cravings, check out the Ultimate Candida Diet plan that I designed with Dr. Eric Wood. It's full of tasty recipes and lifestyle changes that will get your health back on track!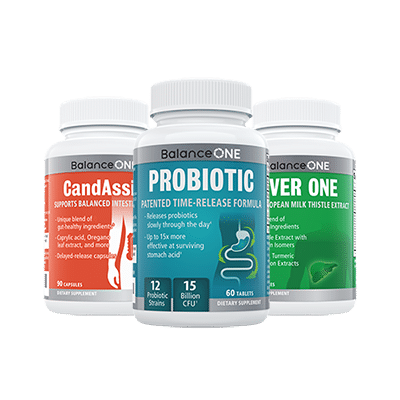 3-Month Candida Elimination Kit
Start Your 3-month Candida Cleanse
This Candida Kit contains all the supplements recommended on the Candida Diet:
- LIVER ONE to process and remove the toxins created by Candida.
- CANDASSIST to inhibit and weaken the Candida colonies in your gut.
- PROBIOTIC to replace the Candida yeast with probiotic bacteria.
Plus... the CANDIDA DIET RECIPE BOOK with 50+ low-sugar recipes
Comments