Quitting Refined Carbs? The Spiralizer Is Your New Best Friend
Pasta is one food that people tend to really crave on a diet like the Candida diet, which is low in sugars and refined carbohydrates. Unfortunately, regular pasta is on the foods to avoid list.
Traditional pasta contains gluten. We recommend avoiding gluten completely while fighting a Candida overgrowth.  It can cause inflammation of the gut lining which can lead to leaky gut.
Luckily, there is an alternative. By using a kitchen gadget named a spiralizer, you can turn vegetables like zucchini into delicious pasta replacements.
The spiralizer, to put it simply, is the next generation of luxury vegetable peeler. Whereas in the past, peeling vegetables with a handheld blade device could turn into a time-consuming and unappealing marathon, the spiralizer has turned preparing vegetables into a super quick, fun, and almost therapeutic exercise.
For those who have never seen or used on of these devices, a spiralizer is secured to your chopping board or kitchen surface by a group of suction cups. Your vegetable of choice is then fixed to a turning handle, and rotated through a blade until completely carved into spirals or ribbons.
Free Guide To Beating Candida
Sign up to our free, 8-part email course today, and learn how to create your own, personalized Candida treatment plan :)
There are various models available, each equipped with various styles of blade that cut and crimp your favorite vegetables. For families with fussy kids, creating their own 'pasta' dishes is all part of the fun.
Aside from the fun that creating swirly vegetable shapes provides, the spiralizer is one kitchen gadget that really can make a difference in your health and eating habits. The noodle-like shapes that the machine produces from certain vegetables can act as substitutes for a number of refined carbohydrates that you should be cutting out of your diet.
The nutritional difference between a 4-ounce serving of zucchini noodles and a similarly sized plate of traditional pasta is really quite remarkable.
Another positive to the spiralizer is the fact that it encourages people to experiment with vegetables more than they have done previously. This is especially useful for anyone on a Candida diet.
Using various different vegetables helps to increase the amounts of fiber and varied micronutrients that we consume. Turning the experience in to something fun is a wonderful way to discover and try types of vegetables that you might have never thought to buy in the past.
What To Do With Your Spiralizer
Spaghetti and noodle alternatives are the most immediate ideas that come to mind when we think of the spiralizer, but they are far from its only uses. As the device has become more popular, some inspired and appetizing recipe suggestions have started to appear online. Here are a few of my favorites.
Zucchini Noodle Salad With Grilled Steak
Here is a super nutritious meal that combines steak, zucchini noodles, and an Asian-inspired dressing. This is perfect for later on in the diet when you can reintroduce red meats.
https://www.thecandidadiet.com/zucchini-noodle-salad-grilled-steak/
Spiralized Zucchini Pasta With Creamy Avocado Sauce
This recipe combines the tasty raw zucchini noodles, with a creamy sauce made from avocado, garlic and lemon juice.
http://thewateringmouth.com/spiralized-zucchini-pasta-with-creamy-avocado-sauce-recipe-video/
Yellow Squash Noodles With Meatballs And Olive Tapenade
The spiralizer works really well with the various types of squash. This recipe brings together some hearty meatballs with yellow squash noodles.
https://www.thecandidadiet.com/yellow-squash-noodles-with-meatballs/
Rutabaga Noodles with Pumpkin Seed Pesto
Here's a yummy pesto recipe to eat with some rutabaga noodles. You can also add some chicken or other protein.
http://passionaltelyraw.blogspot.ca/2013/11/raw-rutabaga-noodles-with-pumpkin-seed.html
Even if your kitchen is full of underused gadgets like mine, I would recommend looking at getting a spiralizer. It can transform the way that you eat, in a very healthy and sustainable way. For more ideas, take a look at my Ultimate Candida Diet program, which contains lots of delicious low-sugar recipes.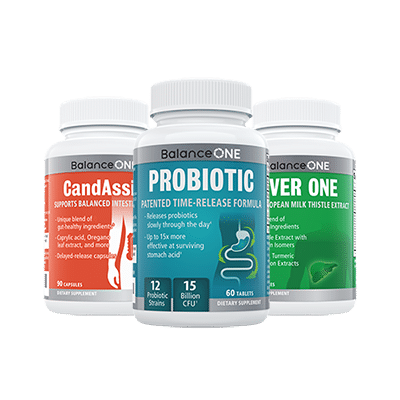 3-Month Candida Elimination Kit
Start Your 3-month Candida Cleanse
This Candida Kit contains all the supplements recommended on the Candida Diet:
- LIVER ONE to process and remove the toxins created by Candida.
- CANDASSIST to inhibit and weaken the Candida colonies in your gut.
- PROBIOTIC to replace the Candida yeast with probiotic bacteria.
Plus... the CANDIDA DIET RECIPE BOOK with 50+ low-sugar recipes
Comments