Is The Candida Diet Making You Hungry?
Many Candida sufferers find that they lose weight on the Candida diet. Cutting out so many unhealthy foods from your diet is undoubtedly good for your wellbeing, but it can also leave you feeling hungry.
This is a diet that is designed to beat your Candida overgrowth and restore your body to health. And most of the time, losing a little weight too is a good thing.
If you're worried about getting too hungry or losing too much weight, there is a solution. Today I'm going to share with you three filling, tasty foods that you can integrate into your recipes and eat throughout your Candida treatment.
Avocado
The first food on this list is technically a fruit (and fruits are normally limited on the diet, right?). However, avocados have very few net carbohydrates, a low Glycemic Load, and they are guaranteed to not feed your Candida. Indeed, their sugar content is so low that most people assume that they are a vegetable.
So what's the nutritional content of an avocado? The average California (Hass) avocado contains 12 grams of carbohydrates, but 9 of those grams are fiber. The fiber passes straight through your gut (and keeps your bowel movements regular in the process!).
Free Guide To Beating Candida
Sign up to our free, 8-part email course today, and learn how to create your own, personalized Candida treatment plan :)
That leaves only 3 grams of 'net carbs' that your body can use as energy. That's certainly not enough to feed your Candida overgrowth.
A typical avocado also contains around 30 grams of fat. Almost all of these are heart-healthy unsaturated fats, a totally different kind from the saturated or 'trans' fats that you get in your French fries.
Lastly, here's the reason why avocados are so good for hungry Candida dieters. A regular Hass avocado contains around 250 calories. Avocados are beneficial for gut health and are full of anti-inflammatory compounds and antioxidants. They are full nutritious calories (not like the empty calories in junk food) and they will really help to fill you up.
If you're looking for some avocado-inspired recipe ideas, you have to start with a simple guacamole. Making your own guacamole at home is surprisingly easy, and it's exactly the kind of nutritious, low-carb food that you should be eating during your Candida diet.
Avocado is also delicious sliced into a salad, or you can even eat it straight out the shell with a little sea salt sprinkled on top. You can make avocado pancakes for breakfast, and for dessert why not try a tasty avocado lime tart.
Coconut Flour
Next up is a flour with some unique properties that make it perfect for a Candida diet. Coconut flour contains very few net carbs (so it doesn't feed your Candida) and it has antifungal properties too.
First, let's compare coconut flour to regular white flour. A cup of the regular flour contains almost 100 grams of carbohydrates. Only 3 of these grams are fiber, so almost all the energy in that cup can be used by the Candida in your gut.
A cup of coconut flour contains almost the same number of carbohydrates (around 85 grams), but the composition is totally different. In fact, around two thirds of the carbs in coconut flour are fiber.
This fiber is not digested the same way in your gut, and does not provide a source of energy for your Candida overgrowth. And all that fiber is great for your digestive health too.
Coconut flour contains important vitamins such as contains selenium, maganese, and calcium. It also is high in protein and healthy fat which help to reduce hunger and cravings.
The best way to eat coconut flour while on the Candida Diet is by making coconut bread. This is really simple to make, but it gives you a filling snack that will really stop those hunger pangs. You can eat as much coconut bread as you like once you've finished the cleanse at the start of your diet. Check out our scrumptious coconut bread recipe.
Eggs
You're probably wondering where you are going to get your protein during the first stages of the diet. While I wouldn't recommend eating large amounts of meat, eggs are another excellent source of high quality protein to keep you satisfied. This is backed up by recent scientific research.
A 2012 study by the Pennington Biomedical Research Center found that those who ate eggs for breakfast were less hungry three hours later than those who had eaten a cereal breakfast. Another study found similar results when the eggs were eaten at lunchtime.
So if you want to avoid that hungry feeling, eggs are a proven solution. They are also a tremendous source of other micronutrients to keep you healthy and energized throughout the day.
There are lots of ways to eat eggs while you are on the Candida Diet. Chopping an egg into your salad will immediately make it a more satisfying meal. You can start your day with a tasty skillet of eggs with baked vegetables. And for snacks you can make some traditional deviled eggs.
If you want more ideas for healthy, filling meals that won't make your Candida worse, check out our Ultimate Candida Diet treatment program. It contains more than 40 delicious recipes that are packed full of healthy, Candida-safe ingredients. And we also explain which foods you should be eating at each stage of the treatment plan.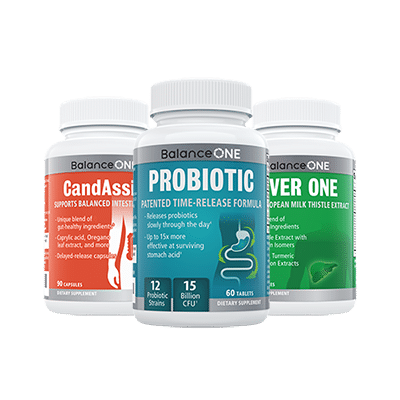 3-Month Candida Elimination Kit
Start Your 3-month Candida Cleanse
This Candida Kit contains all the supplements recommended on the Candida Diet:
- LIVER ONE to process and remove the toxins created by Candida.
- CANDASSIST to inhibit and weaken the Candida colonies in your gut.
- PROBIOTIC to replace the Candida yeast with probiotic bacteria.
Plus... the CANDIDA DIET RECIPE BOOK with 50+ low-sugar recipes
Comments