3 Ways You Might Be Sabotaging Your Candida Diet
The Candida Diet can be a big change, especially if you've been eating a regular Western diet full of junk food and sugar. Making these big, healthful changes to your diet isn't always easy, but it's worth it when you start enjoying better health and increased vitality.
It is important to be prepared and formulate a plan to succeed. For example if you have a sweet tooth, make sure you have some Candida safe cookies on hand or some pre made dessert ready for when that craving arises. Once you get used to a new way of eating it will become way easier.
Altering your diet is hard enough without having any other obstacles thrown in your way. But the fact is that some people don't complete their treatment plan because they find the new diet too difficult to follow. However, this has very little to do with the diet itself.
More than three quarters of those people failed to finish their treatment simply because they didn't follow the diet correctly.
If you are looking to start your Candida Diet soon, and you've finished reading through all the information on this site, I want to share with you three of the most common reasons why Candida sufferers like you fail to finish the diet. Remember: avoid these three mistakes if you want to succeed in beating your Candida!
Free Guide To Beating Candida
Sign up to our free, 8-part email course today, and learn how to create your own, personalized Candida treatment plan :)
Mistake #1: Getting Too Hungry
The Candida Diet is a fairly strict eating plan that limits carbs, but that doesn't mean that you should ever go hungry. Not eating enough is one of the most common mistakes that I see in Candida dieters. It's all too easy to get too focused on the foods to avoid and forget just how many delicious foods to eat.
If you've been eating salads all day but still feel famished, try baking some coconut bread. This filling snack contains very few carbohydrates but it's a really satisfying food that you can eat throughout the day. Make sure that you buy a good organic brand of coconut flour. Here's a great coconut bread recipe to try. A good tip is to mix the coconut flour with another flour like buckwheat. If you use coconut flour alone the bread can sometimes be too dry.
Make sure you are prepared with snacks in the house and especially when you go out too so you don't end up starving and forced to eat something not suitable for the candida diet. You can find many ideas on our snack page in the recipes section of this site.
Mistake #2: Hidden Ingredients In Supplements
All too often Candida sufferers pick up the first supplement they can find without looking at the label. We've all done it! When it comes to beating Candida, we have to be a little more picky with our supplements. There are lots of hidden ingredients that may actually make your Candida worse.
Why do I call them 'hidden' ingredients? They're almost always listed on the label, but often they'll be right down at the bottom, listed under 'other Ingredients' in much smaller writing. The manufacturer really wants you to concentrate on the active ingredients in the supplement, not so much on the extra stuff they put in there!
One of the main ingredients to watch out for is a simple sugar named glucose or dextrose. This can feed your Candida overgrowth, but unfortunately many probiotics list it in their 'Other Ingredients'. It's really just another name for sugar.
When you're buying probiotics and antifungals for your Candida treatment, be sure to check the label. The recommended products page has updated recommendations for lots of great supplements that will work on a Candida treatment plan.
Mistake #3: Not Preparing For Your Cleanse
When you've been suffering from a Candida overgrowth for years, it's tempting to jump right in and start the cleanse immediately. But if you start the cleanse without the right preparation, you'll be making the process a lot more difficult than it needs to be.
You can reduce your Candida symptoms, and possibly prevent Candida Die-Off, by taking a liver-supportive supplement like milk thistle or molybdenum. Start taking it when you begin the cleanse or even a few days before. Both of these supplements will help your body to expel the Candida toxins that can be released during the cleansing process.
Another great way to prepare is to start cutting down on your sugar and caffeine intake as you approach Day 1 of your cleanse. Eliminating these addictive substances can lead to withdrawal symptoms that might confuse or delay your recovery. Take a week or two before you start to ditch the sugar and cut back or eliminate coffee, ideally. Your body will thank you when you begin the first stage of your treatment.
If you need more guidance during your Candida diet, you should know that the treatment program that I designed with Dr Eric Wood comes with lots of detailed advice on diet, probiotics, antifungals, and more.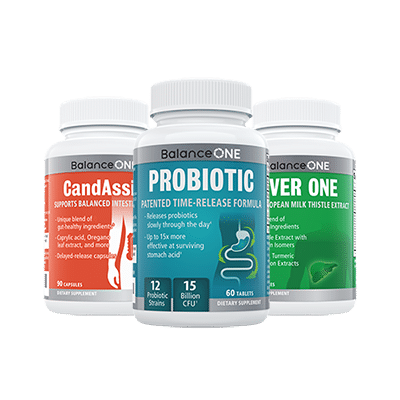 3-Month Candida Elimination Kit
Start Your 3-month Candida Cleanse
This Candida Kit contains all the supplements recommended on the Candida Diet:
- LIVER ONE to process and remove the toxins created by Candida.
- CANDASSIST to inhibit and weaken the Candida colonies in your gut.
- PROBIOTIC to replace the Candida yeast with probiotic bacteria.
Plus... the CANDIDA DIET RECIPE BOOK with 50+ low-sugar recipes
Comments