Are Wild Fruits Lower In Sugar?
The modern Western diet is full of sugars, whether from processed foods or high-sugar fruits and juices. There is no doubt that our diets are certainly greatly altered from those of our ancestors, but have the nutrients in our fruits and vegetables changed too? Many people claim that the sugar content in our cultivated foods has risen over time.
The fruits and vegetables we eat today have been altered tremendously over the last two thousand years, and in many cases hardly resemble the species that they originated from. In recent times, genetic modification has proven to be a controversial way to alter foods. But the reality is that farmers have been taking advantage of natural mutations for much longer than that, by constantly breeding from larger, better-yielding varieties.
So what is the result of all this tinkering with our food supply? Do we eat sweeter, less nutritious fruits and vegetables than our ancestors did? Or is there even much of a difference? After a little investigation, you might be surprised by what you find.
Cultivated Fruits Tend To Be No Higher In Sugar
You might think that farmers and agricultural scientists would have chosen the sweetest varieties to breed from, but in fact that hasn't always been the case. More frequently, natural mutations have been chosen for breeding on the basis of higher volume and resistance to disease or weather. In other words, when faced with the choice between a larger fruit or a sweeter fruit, the farmer will usually choose the larger variety.
What this means in practice, is that modern cultivated fruits are not generally sweeter than the fruits we find in the wild. In fact, the opposite is often true. As an example, look at wild strawberries. They tend to be much smaller and sweeter than the strawberries found in the supermarket. Although the cultivated variety might contain a similar total amount of sugar, it is also much larger and has more water content, so it tastes less sweet.
Free Guide To Beating Candida
Sign up to our free, 8-part email course today, and learn how to create your own, personalized Candida treatment plan :)
There is a common misconception that farmed fruit is sweeter, but this is not always the case. In fact, both cultivated and wild fruits tend to have a similar carbohydrate content – around 90%. So if you are trying cut sugar out of your diet, switching to wild fruit is definitely not the answer.
What About Vegetables?
Vegetables and grains are a different story, and sweet corn is a great example so let's start there. It descends from a Latin American plant named teosinte, a grass which was first domesticated around 8,000 years ago. Over the centuries, varieties of sweet corn were chosen for their size and flavor, until we reached the corn varieties that we eat today.
The original teosinte plant has less than a dozen kernels on each ear, whereas its modern descendent has as many as 500 kernels with a much sweeter taste. In fact, modern sweet corn has approximately double the sugar content of regular field corn. The newer 'supersweet' varieties contain even more sugar, approximately 6 to 8 times the amount found in field corn. And the protein content has dropped from 30% in the original plant, to around 4% in modern corn.
Similar stories can be found with other cultivated vegetables and grains. Early farmers chose to breed from plants with lower fiber, higher sugar and more starch. After many generations of selective breeding, modern varieties emerged that tasted better and provided the calories that our ancestors needed. Unfortunately, these high-sugar, low-fiber varieties are much less suited to the modern, sedentary lifestyle.
What Does This Mean For Your Nutrition?
You won't be surprised to hear that nutrition has been the biggest casualty of all this breeding. Even our modern 'superfoods' contain far fewer nutrients than their progenitors. For example, modern artichokes are a wonderfully nutritious food, but the cardoon plant from which they come actually contains 6 times more phytonutrients (disease-preventing natural chemicals).
There are plenty more examples. A purple potato found in Peru contains a staggering amount of cancer-preventing anthocyanins – almost 30 times more than the potatoes in your supermarket. And there are species of apple that contain 100 times more phytonutrients than a typical Golden Delicious.
If you are following a Candida diet, it's important to realize that switching to wild fruits or vegetables is not always the answer. Although they often contain much greater amounts of beneficial nutrients, the sugar content can be just as high (or even higher) than their cultivated relatives. For a complete list of foods to eat and avoid on the Candida diet, take a look at our Ultimate Candida Diet program.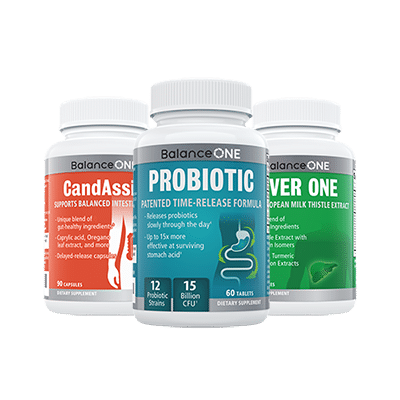 3-Month Candida Elimination Kit
Start Your 3-month Candida Cleanse
This Candida Kit contains all the supplements recommended on the Candida Diet:
- LIVER ONE to process and remove the toxins created by Candida.
- CANDASSIST to inhibit and weaken the Candida colonies in your gut.
- PROBIOTIC to replace the Candida yeast with probiotic bacteria.
Plus... the CANDIDA DIET RECIPE BOOK with 50+ low-sugar recipes
Comments