6 Easy Tips To Kick Your Sugar Cravings
A high-sugar diet is one of the major causes of Candida Related Complex, along with antibiotics and long periods of stress. But eliminating sugar from your diet is no easy task. Like any other drug, quitting sugar can lead to withdrawal symptoms, cravings and relapse.
Why does Candida need sugar? It uses it to construct its cell walls and expand throughout your gut. With a regular diet of sugar, Candida albicans grows fast and can quickly dominate the other microorganisms in your intestines. By depriving the Candida of all that sugar, you can start to return to a more normal balance in your gut. That's why a low-sugar diet is one of the three key elements in any Candida treatment plan.
If anyone was in doubt as to how addictive sugar really is, recent research has provided plenty of evidence to prove it. We now know that sugar floods the brain with dopamine, just like cocaine or other drugs. And lab tests have shown how cutting off sugar intake can result in severe withdrawal symptoms. Furthermore, we now understand much more about the negative effects of sugar on our health.
That's why it's really crucial that you reduce your sugar consumption during your Candida treatment. It may not be easy, but with the right strategies you can certainly avoid the worst withdrawal symptoms. There is evidence that quitting sugar can have really positive implications for your health within just 10 days.
Kicking your sugar cravings
#1 Keep sugary foods out of the house
This is a simple tip but really effective. Remove the source of the temptation, and you might find that your sugar cravings disappear! Empty the cookie jar, throw out the fruit juices, and give away the bags of sugar you use for baking. All of these foods should be avoided on your Candida diet. There might be some protests from your family, but you need to explain to them how the sugar has been impacting your health. And if they manage to give up sugar too, you might just be sparing them from future health complications like heart disease and Type 2 Diabetes.
Free Guide To Beating Candida
Sign up to our free, 8-part email course today, and learn how to create your own, personalized Candida treatment plan :)
#2 Find a good substitute
Sweeteners like stevia and xylitol, as well as erythritol, are very useful tools for Candida sufferers, as they allow you to enjoy that sweet taste without spiking your blood sugar. You can use them in your baking and make tasty desserts with them. In the short term, they are a great way to dramatically reduce your sugar consumption. However, to really eliminate your sugar cravings in the long term, you should try to reduce your dependence on sweet-tasting foods altogether.
#3 Have some snacks ready to eat
When you get those sugar cravings, they can come on really strong. So it's important to have snacks in the house that won't make your Candida worse. Chopped up vegetables are a really handy snack to have in your fridge, and you can make some sugar-free coconut muffins to take with you when you leave the house.
#4 Eat small meals
If you can manage to regulate your blood sugar levels throughout the day, you will take a big step towards beating your sugar addiction. That's because every spike in blood sugar is followed by a crash. Eating huge meals is one thing that can certainly spike your blood sugar, and it is equally certain to result in sugar cravings shortly afterwards. By sticking to small portions you can prevent those cravings from happening. It's better to eat 5 small meals each day than 3 large ones.
#5 Get inventive with your cooking
Cooking delicious meals doesn't have to mean pouring in heaps of sugar to your recipes. Use lots of herbs and spices to liven up your meals, and you will soon start to enjoy tasty savory foods just as much as sweet dishes.
#6 Take your time
Lastly, don't rush things. Quitting cold turkey is rarely a good idea. You can make your journey to a sugar-free life much more comfortable by gradually reducing your sugar consumption. You can start by cutting in half the amount of added sugar that you eat. Try it for a week and then reduce the amounts again. After 2-3 weeks you should find that you have almost eliminated added sugar from your diet.
Reducing your sugar consumption is just one of the things that you should do to eliminate your Candida overgrowth. In my Ultimate Candida Diet program I describe exactly how you should prepare for your Candida treatment, and I lay out a simple 5 step program to beat your Candida for good.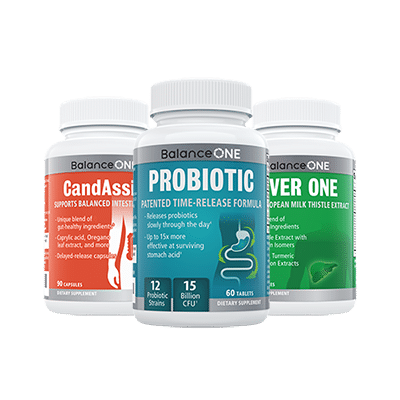 3-Month Candida Elimination Kit
Start Your 3-month Candida Cleanse
This Candida Kit contains all the supplements recommended on the Candida Diet:
- LIVER ONE to process and remove the toxins created by Candida.
- CANDASSIST to inhibit and weaken the Candida colonies in your gut.
- PROBIOTIC to replace the Candida yeast with probiotic bacteria.
Plus... the CANDIDA DIET RECIPE BOOK with 50+ low-sugar recipes
Comments