Candida Overgrowth: Causes, Symptoms & Diagnosis
There is a lot of information about Candida available online, but not all of it is particularly useful. For example, you might read claims like "70% of people have Candida overgrowth."
This is not too far from the truth – a Rice University study found that 70% of us have Candida albicans in our guts. But the reality is that for most people this is not a problem at all. Candida albicans only becomes an issue when it overgrows, usually as a result of diet or antibiotics.
Another popular claim is that many people have systemic Candida, and that Candida albicans escapes through the intestinal membrane into the bloodstream before spreading around the body. Again, this is not correct.
Candida does damage the intestinal lining, but it rarely moves around in the bloodstream, except in the most immunocompromised patients. What actually happens is that the toxins released by Candida (acetaldehyde, uric acid, etc) leave the gut and make their way around the body. That's how brain fog happens, for example.
On this page you can find links to lots more information about Candida overgrowth. This includes how to recognize it, what causes it, how to diagnose it, and much more.
Free Guide To Beating Candida
Sign up to our free, 8-part email course today, and learn how to create your own, personalized Candida treatment plan :)
Once you have read up about Candida and feel that you understand it, it's time to take action. You can check out the sections in this website on eating a healthy diet, boosting your gut flora with probiotics, and fighting Candida with antifungals.
If you would like to read a more comprehensive guide to beating Candida, there is also our Ultimate Candida Diet program. I wrote it with Dr. Eric Wood, and it contains everything you need to know about the supplements, diet, and lifestyle changes needed to fight Candida. It also includes more than 50 anti-inflammatory, low sugar, gluten-free recipes.
Here are the sections on this page:
What Is Candida Overgrowth?
Are you suffering from gut dysbiosis and a Candida overgrowth? The symptoms of Candida can include brain fog, fatigue, bloating, digestive issues, repeated yeast infections, and much more. If these sound familiar, read on to learn more about how this yeast might be affecting your health.
Do You Have Candida?
Recognizing the signs and symptoms of Candida is not always easy. The toxins released by a Candida overgrowth can cause issues in various parts of the body. That's why symptoms can be as diverse as brain fog, joint pain, and more. Read on to find out if Candida is behind your symptoms.
What Causes Candida?
There are many things that can cause Candida, but the most common are antibiotics and a high-sugar diet. Let's take a look at a few of the risk factors. Do you recognize any of them from your own experiences?
Reader Experiences
Real stories from our readers
Your experiences of Candida overgrowth. We've had thousands of emails from our readers updating us on their progress. With their permission, we've reprinted some of them here.
Testimonials
This page contains just a few of the testimonials we have received from readers.
For more detailed information on Candida and how it can affect your health, check out my Ultimate Candida Diet treatment plan. Dr. Eric Wood and I have laid out a detailed plan to beat your Candida and return to perfect health.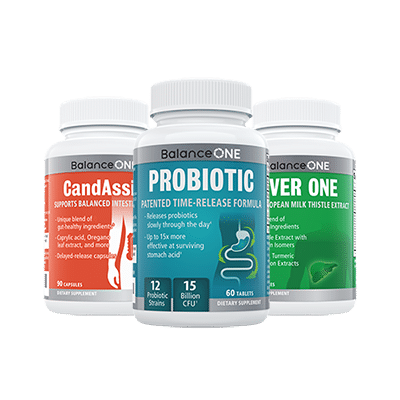 3-Month Candida Elimination Kit
Start Your 3-month Candida Cleanse
This Candida Kit contains all the supplements recommended on the Candida Diet:
- LIVER ONE to process and remove the toxins created by Candida.
- CANDASSIST to inhibit and weaken the Candida colonies in your gut.
- PROBIOTIC to replace the Candida yeast with probiotic bacteria.
Plus... the CANDIDA DIET RECIPE BOOK with 50+ low-sugar recipes