Is Your Diet Causing Regular Yeast Infections?
There are many different causes and contributory factors that have been linked to regular yeast infections. Here are just a few examples – stress, birth control pills, hot tubs, wet swimsuits, and even tight underwear. However, one of the major underlying causes of yeast infections is rarely discussed.
The causes that I just listed are easy to recognize, easy to change, and often form a part of the first discussion with your doctor about your yeast infection. But although these lifestyle choices and environmental conditions might be responsible for isolated yeast infections, they often can't be held responsible for the recurrent yeast infections from which many women suffer. To identify what is causing these, we need to look a little deeper.
When all the regular causes of yeast infections have been eliminated, it's time to look at your diet. Many women don't realize this, but eating a consistently high-sugar diet over a long period of time will leave you susceptible to chronic yeast infections. This is because all that sugar allows the Candida yeast in your gut to multiply and overwhelm the good, health-promoting bacteria that live there.
A 2011 study described sugar as "indispensable" for Candida albicans. Candida needs the sugar to grow new cells, multiply, construct protective biofilms, and switch into its fungal form, allowing it to spread around your body. This is known as Candida overgrowth, or Candida Related Complex, and it is responsible for a wide variety of symptoms including fatigue, headaches, and (you guessed it) recurrent yeast infections.
The problem is that even if you successfully treat your yeast infection, those Candida colonies are still living in your gut. From there, they can migrate to places like your mouth (causing oral thrush) or your genitals (causing yeast infections). So until you treat the underlying Candida overgrowth that exists in your intestines, you are destined to suffer from repeated yeast infections.
Free Guide To Beating Candida
Sign up to our free, 8-part email course today, and learn how to create your own, personalized Candida treatment plan :)
Removing Sugar From Your Diet
You might think that your diet is fairly healthy, but just avoiding junk food is not the same as eliminating sugar from your diet. These days, added sugars are everywhere and you need to read labels incredibly carefully to avoid them.
For example, did you know that many processed meats contain large amounts of High Fructose Corn Syrup? Check out the label for your breakfast cereal too. Even the 'healthy' options regularly list sugar as their second ingredient. And the sodas that you drink are likely loaded with sugar too (a can of Coke contains 39 grams!).
It's not all about added sugar either. There are plenty of other foods that will cause a spike in your blood sugar. For example fruit juice (even the unsweetened kind) is loaded with natural sugars that can feed a Candida overgrowth. And foods like white rice and white pasta are so full of refined starches that you may as well be drinking a can of soda.
The good news is that making some simple dietary changes can have a huge impact on your health and prevent those yeast infections from ever coming back. By depriving the Candida colonies of their food source, you can begin restore your gut flora and nurture your digestive system back to a healthy balance.
If you suspect that you have been suffering from a longstanding Candida overgrowth you may find that you need to take some supplements too. In our Candida treatment program, we recommend a combination of a low-sugar diet, antifungals, and some good probiotics, and set out a clear timeline to beat your Candida for good.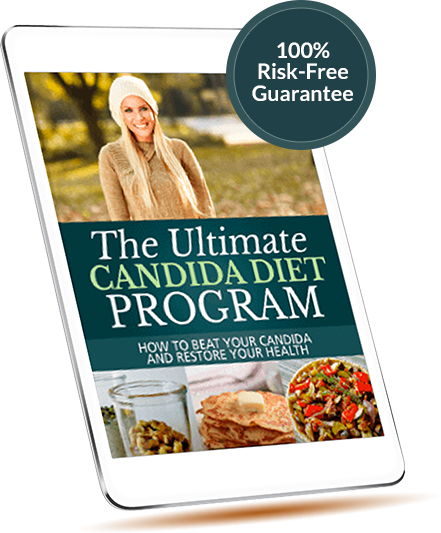 Beat your candida in 60 days
with this detailed 5-step program
If you're looking for a more comprehensive Candida treatment plan, check out the Ultimate Candida Diet program, written by Lisa Richards and Dr Eric Wood. This plan is based on the latest research into Candida Related Complex, and contains everything you need to know to beat your Candida overgrowth.
Comments