Is There A Link Between Candida And Arthritis?
The importance of maintaining healthy gut flora is only just starting to be understood by modern medicine. With every new piece of research that is completed, we are finding out more and more about how imbalances in these tiny microorganisms can have extraordinary effects on other parts of our bodies.
By now, most people have read about the importance of a balanced gut flora to our immune systems. A fungal overgrowth can quickly weaken your immune system and leave you vulnerable to infection and disease.
There is also an increasing amount of research into the gut-brain axis and how probiotics can affect things like mood and mental health. But did you know that there are also clear links between those microorganisms living in your gut and arthritis?
In today's post I'm going to describe how Candida albicans is linked to autoimmune diseases like arthritis, and make some suggestions for how the right diet and supplements can lessen your arthritis symptoms.
Research On Candida And Arthritis
Here is a list of some of the most recent research on arthritis, along with a brief summary of the researchers' findings. Taken together, these studies form a very compelling argument that Candida can contribute to (and perhaps even trigger) arthritis.
Free Guide To Beating Candida
Sign up to our free, 8-part email course today, and learn how to create your own, personalized Candida treatment plan :)
Some Simple Techniques To Reduce Your Arthritis Symptoms
Reducing inflammation in your body is one of the keys to getting relief from arthritis, and your diet is the first thing you need to look at. There are certain foods that will help to relieve your symptoms, and other foods that will just make them worse.
Some of the best anti-inflammatory foods that you should be eating include flaxseed and fish oil. Why is this? They both contain healthy amounts of Omega-3 fatty acids, which have been found to significantly reduce inflammation. You should also focus on eating lots of vegetables and some lean protein. Spices that can help with inflammation include turmeric and ginger.
Now for the foods to avoid – sugar, trans fats, alcohol, and any kind of processed carbohydrate like white bread or white pasta. Sounds familiar? You should be avoiding these foods anyway as part of your Candida diet.
A good Candida treatment plan is full of naturally anti-inflammatory foods, and largely avoids any foods that might lead to inflammation.
Another natural way to reduce inflammation is the use of probiotics and probiotic foods. Researchers have been found they reduce signs of inflammation in the body. Many recent studies have proven the key role beneficial bacteria play in our overall health. 
Beating Your Candida Overgrowth Can Improve Your Arthritis
The research studies listed above show a clear link between Candida and arthritis. If you believe that you suffer from both of these conditions, beating your Candida overgrowth can provide relief from your arthritis symptoms.
Attacking your Candida will help with your arthritis in two ways. Firstly, by destroying those Candida colonies in your gut, you prevent the need for an inflammatory response from your immune system. Secondly, by switching to a healthy, low-sugar eating plan, you will eliminate many of those pro-inflammatory foods from your diet too.
In our Ultimate Candida Diet program we describe a healthy diet, free of inflammatory foods, that could help you get relief from your arthritis symptoms.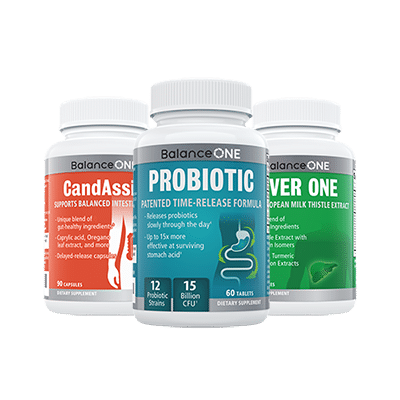 3-Month Candida Elimination Kit
Start Your 3-month Candida Cleanse
This Candida Kit contains all the supplements recommended on the Candida Diet:
- LIVER ONE to process and remove the toxins created by Candida.
- CANDASSIST to inhibit and weaken the Candida colonies in your gut.
- PROBIOTIC to replace the Candida yeast with probiotic bacteria.
Plus... the CANDIDA DIET RECIPE BOOK with 50+ low-sugar recipes
Comments