The symptoms of chronic inflammation are remarkably similar to many of those caused by Candida Related Complex. Fatigue, joint pain, digestive problems, and allergies can all be triggered by inflammation, and they are certainly part of the daily lives of many Candida sufferers. But looking at these two conditions separately is actually the wrong approach. That's because there is a powerful link between chronic inflammation and Candida.
The byproducts produced by Candida include acetaldehyde, ammonia, and uric acid. These harmful substances (along with a long list of other toxins) can enter your bloodstream and cause a host of diverse symptoms. An inflammatory response is your body's way of dealing with Candida and its byproducts. This inflammation contributes to many of the symptoms regularly associated with Candida.
What Is Inflammation?
Inflammation is a sign that your body is trying to heal itself, for instance after an injury or when harmful pathogens get into your system. It's different from an infection. An infection is the result of a bacteria, virus, or fungus, whereas inflammation is directly caused by your own immune system. Inflammation is in fact your body's way of dealing with an injury or infection.
There are two main types of inflammation. Acute inflammation is the one most of us are familiar with, usually caused by a brief illness or physical injury. This type of inflammation comes on quickly, is often localized, and disappears after a couple of days or a week. Chronic inflammation, however, is an inflammation that lasts for a longer period of time, from a couple of months to several years. Symptoms of chronic inflammation include congestion, joint pain, a weakened immune system, digestive problems, and even weight gain. In the long term, this can be a debilitating and even life-threatening condition.
How do we know that Candida causes inflammation? A review of the current research on Candida and inflammation found that, "Candida colonization delays healing of inflammatory lesions and that inflammation promotes colonization. These effects may create a vicious cycle in which low-level inflammation promotes fungal colonization and fungal colonization promotes further inflammation." So Candida albicans not only causes inflammation; it also uses that inflammation to colonize your gut.
Free Guide To Beating Candida
Sign up to our free, 8-part email course today, and learn how to create your own, personalized Candida treatment plan :)
The Right Diet Can Reduce Inflammation
Certain types of food increase the risk of inflammation. They include trans fats, sugar, white bread, and alcohol. You will find many of these foods on our foods to avoid list. You can already see that there is a significant overlap between inflammatory foods and those which can lead to a Candida overgrowth.
To reduce inflammation, research suggests that it's best to eat plenty of vegetables, lean protein, and foods containing omega-3 fatty acids, which you can find in flaxseed and fish oil. You can add some extra flavor to your foods with ginger and turmeric, both of which have anti-inflammatory properties.
If you follow a good Candida treatment program like the Ultimate Candida Diet plan designed by Dr. Eric Wood and me, you will be greatly reducing any inflammation caused by your diet. That's because none of those inflammatory foods are on the list of foods to eat.
Be Kind To Your Body
The way you treat your body in general can also affect inflammation. Obesity increases the risk of inflammation in your gut, and that inflammation promotes the colonization of Candida. It's a good idea to keep your weight in check, and reducing your sugar intake is a great first step.
Getting enough exercise is important too, since it lowers the levels of C-reactive protein (CRP) in your body. CRP is your body's marker for inflammation, and the higher the levels of this protein in your body, the greater the chances that you are suffering from inflammation.
Candida sufferers should always be careful not to over-exercise, as intense exercise has been shown to weaken the adrenal glands and immune system. However, activities like yoga and walking can improve circulation and speed up the elimination of toxins. In addition, exercise helps you shed those extra pounds and does wonders for your heart health, your respiratory system, and your mind.
Reducing Stress
Research has found that stress can also increase the levels of CRP in your body. And as you know, chronic stress is one of the major causes of Candida overgrowth too. If you want to lower these levels and reduce inflammation, you need to find a way to relax.
Exercise is a great way to deal with stress and anger. Try to meditate or do breathing exercises when you need to relax. Do things that you enjoy doing to keep your mind off whatever it is that stresses you. Get enough quality sleep so that you're rested. When you're tired, you won't have the strength to deal with whatever it is that is stressing you in the first place.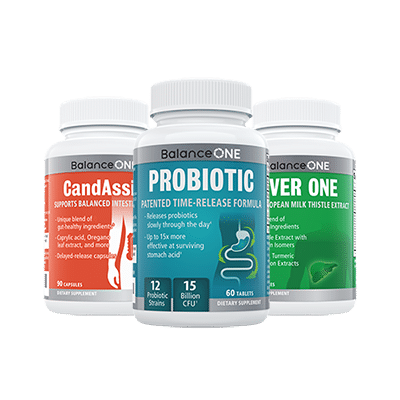 3-Month Candida Elimination Kit
Start Your 3-month Candida Cleanse
This Candida Kit contains all the supplements recommended on the Candida Diet:
- LIVER ONE to process and remove the toxins created by Candida.
- CANDASSIST to inhibit and weaken the Candida colonies in your gut.
- PROBIOTIC to replace the Candida yeast with probiotic bacteria.
Plus... the CANDIDA DIET RECIPE BOOK with 50+ low-sugar recipes
Comments