What Are Candida Biofilms?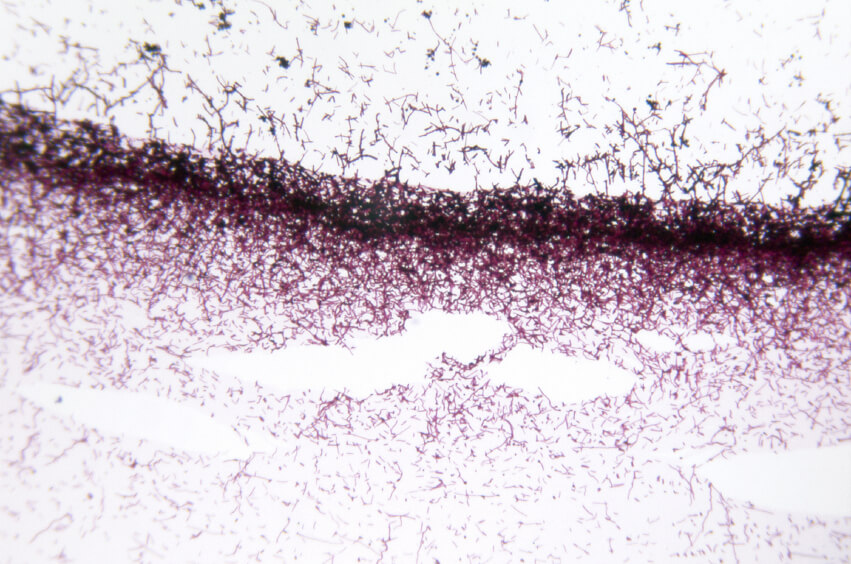 We often think of microbes as single cells that can be easily targeted by drugs, alternative medicine or our own immune systems. However, the reality is much more complicated. Many of these pathogens have evolved remarkably sophisticated ways to evade our best efforts at treatment.
Some of you may have heard of biofilms, especially if you're familiar with Lyme Disease, and how they can protect pathogenic microorganisms from your immune system. Biofilms are structures that are formed naturally by many bacteria and fungi. They can make conditions like urinary tract infections, ear infections, and Candida overgrowth much more difficult to treat.
Today I'm going to explain what biofilms are, how they are used by Candida albicans, and exactly what they mean for your Candida treatment.
What Are Biofilms?
The traditional way of looking at a microorganism was to examine it in a laboratory. Various antibiotics, antifungals and other treatments could then be applied, and the results collated and shared. However, as effective as this methodology can be, it does not take into account what happens when large numbers of those microorganisms group together in the human body.
Research over the past 10-20 years has started to show that microorganisms behave very differently when grouped together. In fact, some treatments that might work very well on a single cell can be complete failures against a large, well-established population. In many cases, this is because of biofilms.
Free Guide To Beating Candida
Sign up to our free, 8-part email course today, and learn how to create your own, personalized Candida treatment plan :)
A biofilm is a polysaccharide matrix that acts as a protective structure for the microorganism. In effect, the pathogen can hide within it. By producing a biofilm, the microorganism creates a shield to protect itself from whatever your doctor and immune system can throw at it.
Biofilms can exist both inside and outside the body. Sometimes they can even be useful (there are a number of industrial applications), but for the most part they are bad news. Much of the research has looked at Candida biofilms on items like prosthetic heart valves, intravenous catheters, and hip replacements. However, biofilms are also part of the development of many clinical infections that develop in our bodies.
Candida albicans is the most common fungal biofilm found in hospitals, but it is also extremely difficult to treat. One study looked at the effectiveness of a group of antifungals (including prescription antifungals like Nystatin and Diflucan) against Candida biofilms. Researchers found that the antifungals were initially effective against Candida, but as the biofilm developed they became less and less effective. After 72 hours of biofilm development, the "C. albicans cells were highly resistant," leading them to conclude that "drug resistance develops over time, coincident with biofilm maturation." Other studies refer to "a near-total resistance to antifungal agents by biofilm-associated Candida."
What are these biofilms made of? Well, another study found Candida biofilms to be comprised of 32% glucose. So Candida needs sugar not just to grow and reproduce, but also to create the biofilm that protects it from your immune system.
Supplements to Fight Candida Biofilms
A wide range of natural remedies can be used to destroy Candida biofilms. Many of these have been used in traditional medicinal practices for centuries, but have also recently been clinically tested as effective solutions.
Oregano Leaf Extract
Oregano is one of nature's most powerful antifungal herbs. However, oregano leaf extract – the concentrated form of oregano – is even more powerful. It's been used in natural medicine throughout history, and has now been found to inhibit a variety of pathogens including fungal infections. This is largely due to its active constituent, carvacrol, which rich in concentrated phenols that attack pathogenic fungi. Oregano also harbors antibacterial, anti-inflammatory, and antiviral properties.
One clinical study investigated the efficacy of oregano leaf extract against pathogenic bacteria including multi-drug resistant microbes. Oregano leaf extract showed significant anti-bacterial activity against 11 of these microbes, including four methicillin-resistant Staphylococcus aureus (MRSA. Most importantly, oregano leaf extract was found to effectively break down the biofilms formed by each of these pathogens (1).
In terms of treating Candida specifically, the powerful carvacrol constituent of oregano leaf extract has been found to inhibit a range of antibiotic resistant bacteria, viruses, parasites, and fungi. At the same time, it has the ability to prevent these toxins from releasing harmful toxins, including biofilms (2).
Another major bonus is that Candida yeast doesn't appear to become resistant to oregano oil, which can happen with other anti-fungal agents.
Oregano oil supplements are generally available in capsule form at most health stores. You can also check out our recommend CandAssist supplement, which contains a number of the antifungals on this page.
Caprylic Acid
Caprylic acid is the active antifungal constituent of coconut oil. As well as its many other health benefits, substantial research has suggested that caprylic acid has an ability to penetrate and eradicate persistent Candida biofilms.
A study published in Frontiers in Microbiology showed that a combination of caprylic acid and pectic acid (a soluble fiber in cell walls of certain fruits) was able to eliminate pathogenic biofilms within 60 minutes of exposure. Even more impressively, the caprylic acid was able to destroy the biofilms without causing harm to the surrounding healthy cells. As a result, the researchers suggested that caprylic acid may be used as an effective treatment against a number of infection-causing microorganisms (3).
As well as destroying the Candida biofilms, caprylic acid has been found to inhibit MRSA (methicillin-resistant staphylococcus aureus), as well as E. coli, Salmonella and P. aeruginosa bacteria.
While it's easy to add coconut oil to your diet, it may be more efficient to take caprylic acid in concentrated supplement form.
Garlic
Garlic is one of the most well-known seasonings in the world, and also one of the most celebrated natural medicines. Not only is garlic renowned for its potent anti-inflammatory and antifungal properties, it's an effective biofilm destroyer.
The allicin content of fresh garlic is a sulfuric compound that has powerful activity against both bacteria and fungi. Research has shown that it's particularly effective against Candida biofilms, even those with increased resistance to other natural antifungal agents.
Interestingly, another study showed that fresh garlic extract is much more effective than garlic powder extract in treating Candida. Although dried garlic can eradicate Candida to some extent, fresh garlic provides a much broader activity against the morphology and growth of the Candida yeast. (4)
If using garlic as part of your Candida treatment regime, avoid cooking it for longer than five minutes as heat will destroy its therapeutic properties. It's also better taken with a little healthy fat (such as olive oil or coconut oil) as crushed garlic can burn sensitive membranes. Like oregano oil, Candida is unlikely to develop a resistance to garlic, which makes it a promising option for long-term prevention.
N-Acetyl Cysteine (NAC)
NAC is the supplement form of the amino acid cysteine. It's required for replenishing the antioxidant glutathione. In cases where a natural antifungal isn't able to break down the Candida biofilm on its own, NAC can speed up the process. NAC is a powerful biofilm disruptor that has been found to weaken and break down the biofilm matrix.
Studies have shown that NAC can reduce Candida albicans adherence by more than 32%. This is especially impressive when compared to pharmaceutical drugs such as ketoconazole, which typically reduce Candida growth by only around 25%. NAC is also found to have a more potent disruptive effect than ketoconazole (22-80.7%) on mature biofilms. (5)
NAC and ketoconazole are particularly useful when used together, showing total eradication of tough Candida biofilm. At the same time, NAC has been found to prevent further growth and replication of Candida, which is an important step in biofilm formation. It's also able to change the texture of the biofilm, making it easier to break down.
It's important to note that higher concentrations of NAC are more effective, as well as combining NAC with another antifungal. Most importantly, however, it appears that NAC is able to completely eradicate mature Candida biofilms in most cases.
Systemic Enzymes
Systemic enzymes are enzymes that affect the whole body, not just the digestive tract. These enzymes can be used to treat various health conditions, such as breaking down blood clots, improving circulation, reducing inflammation, and reducing pain.
Good examples of systemic enzymes are serrapeptase and nattokinase. These two proteolytic enzymes also have some remarkable properties when it comes to biofilms. They have both been shown to inhibit biofilm formation, which can make them an incredibly useful addition to any Candida treatment plan.
These systemic enzymes are proven biofilm disruptors, and not just for Candid albicans. More recently, research has suggested that systemic enzymes may be useful for breaking down the biofilms associated with Lyme disease. This has raised the possibility of treating Candida biofilms in the same way. More research on using systemic enzymes for fungal infections is pending.
Free Guide To Beating Candida
Get your free, 8-part guide to beating Candida, and join more than 100,000 people getting weekly updates and recipes!
If you're interested in using systemic enzymes to treat a yeast overgrowth, check out our SerraDefend formula. This formula contains the two systemic enzymes serrapeptase and nattokinase. It also contains a group of digestive enzymes chosen for their ability to break down yeast cell walls and inhibit biofilm formation.
Breaking A Candida Biofilm
There is no simple way to destroy a Candida biofilm in your gut. For the most part biofilms do exactly what they are designed to do – protect the Candida albicans cells from your immune system. There is no magic pill we can take to eliminate a Candida biofilm. It takes time and application.
Biofilms are one of the main reasons why a Candida overgrowth is so hard to beat. A longstanding Candida overgrowth has had plenty of time to create biofilms in your gut, and (as I've shown above) these are very resistant to many of the treatments we can throw at them. The longer the biofilm has had to develop, the more resistant it will be to antifungal treatments.
This is why using antifungal drugs alone is often not enough to beat a Candida overgrowth. We need to adopt several different strategies.
Our Candida treatment plan, the Ultimate Candida Diet, uses several different elements to fight Candida. These include antifungals, probiotics, and a low-sugar diet. We also discuss the use of systemic enzymes, such as lumbrokinase, which have been shown to break down biofilms such as those created by Lyme, Candida, and other infections. Adding these systemic enzymes to your treatment can make your probiotics and antifungal therapies much more effective.
Used alone, these strategies will likely fail. But used together, they can be highly effective. The antifungals destroy the cell walls of the Candida; the enzymes break down the biofilms; the probiotics support your immune system and regulate the acidity in your gut; and the low-sugar diet deprives the Candida of the resources that it needs to grow. This combination of treatments is much more effective than using a single strategy.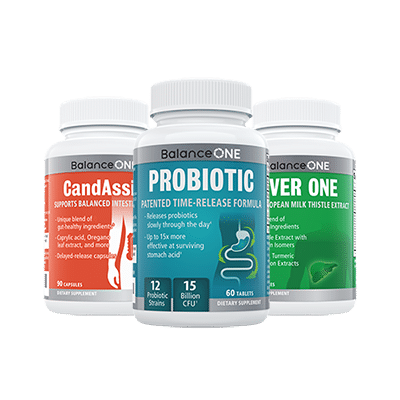 3-Month Candida Elimination Kit
Start Your 3-month Candida Cleanse
This Candida Kit contains all the supplements recommended on the Candida Diet:
- LIVER ONE to process and remove the toxins created by Candida.
- CANDASSIST to inhibit and weaken the Candida colonies in your gut.
- PROBIOTIC to replace the Candida yeast with probiotic bacteria.
Plus... the CANDIDA DIET RECIPE BOOK with 50+ low-sugar recipes
Comments