If You're On A Candida Diet, Avoid Aspartame
When you start your Candida treatment plan, one of the first things you'll read is that you need to cut out sugary sodas from your diet. This can be a major lifestyle change for some of us. According to a recent poll, nearly half of Americans drink a soda every day, while 7% drink an incredible 4 glasses or more!
The obvious temptation when you begin a Candida diet is to switch to diet sodas instead of your regular sugary brand. Reducing your sugar intake has to be a good thing, right? The thing is, although you might be depriving those Candida colonies of sugar, there are several other ways that artificial sweeteners like aspartame can impact your health. Today I'm going to explain the two reasons why you must avoid aspartame if you want to beat your Candida and regain your health.
Aspartame Can Raise Your Blood Glucose Just Like Sugar
Aspartame contains no carbohydrates, so at first glance it's tough to see how it can make Candida worse. Carbohydrates are the food that Candida albicans needs to grow and build its cell walls. But although aspartame does not contain carbohydrates itself, it can still have an impact on your blood sugar.
A Canadian study in 2007 looked into the use of aspartame for diabetics. The researchers fed a group of men five different types of breakfast, including a high-sucrose meal and an aspartame meal. They found that, "Contrary to all expectation, the aspartame breakfast induced a similar rise in glucose and insulin levels at baseline than the sucrose meal." In other words, the aspartame caused roughly the same rise in blood glucose as the sucrose did. And as you know, a spike in blood sugar can feed a Candida overgrowth.
Aspartame May Be Carcinogenic (Among Other Things)
Several studies by the Ramazzini Institute have found that doses of aspartame induced cancer in mice. Their most recent study came to the conclusion that aspartame "should be considered a multiple site, trans-species carcinogenic agent." The methodology of these studies has been disputed by the FDA (the same organization that controversially approved aspartame after initially banning it!). But until the evidence is clearer, why take the risk?
Free Guide To Beating Candida
Sign up to our free, 8-part email course today, and learn how to create your own, personalized Candida treatment plan :)
Cancer is not the only disease that has a link to aspartame. Aspartame contains three powerful neurotoxins (aspartic acid, methanol, and phenylalanine) that have been linked to seizures, migraines and other neurological problems. A 2005 study of aspartame suggested that, "neurological symptoms, including learning and memory processes, may be related to the high or toxic concentrations of the sweetener metabolites". And a link has also been suggested between the aspartame found in diet sodas and heart disease.
There are many other side effects that have an association with aspartame. In 1995, the FDA was forced to acknowledge that they received reports of 92 separate symptoms related to aspartame consumption. And there have been more than 10,000 individual complaints to the FDA about aspartame. If you are suffering from Candida Related Complex, you need to give your immune system a chance to fight your overgrowth, not overburden it by using artificial sweeteners.
So What Can You Use As A Sweetener?
Dealing with sugar cravings is not easy, and in fact it's probably the number one reason why Candida sufferers fail to complete their treatment plan. Instead of quitting sweeteners altogether, it's generally best to find a substitute that can satisfy your sweet cravings without making your Candida worse. Avoid aspartame-based sweeteners like NutraSweet, Equal, and Canderel, and try an herbal sweetener instead.
I recommend Stevia as the most suitable sweetener for Candida sufferers. This all-natural herbal sweetener contains almost zero carbohydrates and does not affect your blood sugar levels. Other good options are xylitol and erythritol, but always try to find a 100% pure formula with no added ingredients. You can see our preferred brands on the recommended products page. Watch out for brands that contain Maltodextrin, dextrose or other sweeteners.
In our Ultimate Candida Diet treatment program, we recommend that you try to reduce your consumption of sweet-tasting foods as much as possible. These cravings are an addiction like any other. You don't need to give up immediately, and in fact it's best to slowly reduce your consumption to avoid withdrawal symptoms. Once you have developed a taste for non-sugary foods, you will wonder why you ever craved those sugary desserts in the first place! This is also the basis for a good, long term diet plan that will prevent your Candida overgrowth from coming back.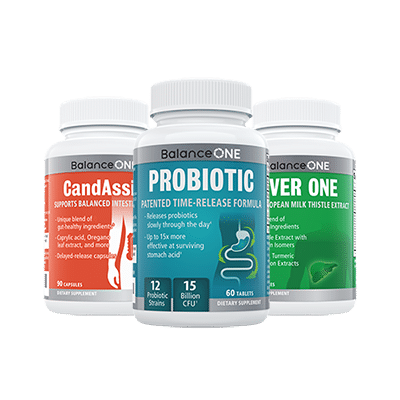 3-Month Candida Elimination Kit
Start Your 3-month Candida Cleanse
This Candida Kit contains all the supplements recommended on the Candida Diet:
- LIVER ONE to process and remove the toxins created by Candida.
- CANDASSIST to inhibit and weaken the Candida colonies in your gut.
- PROBIOTIC to replace the Candida yeast with probiotic bacteria.
Plus... the CANDIDA DIET RECIPE BOOK with 50+ low-sugar recipes
Comments