Candida & Oral Contraceptives
While the modern oral contraceptive for women has come with many benefits, such as freedom from unwanted pregnancy (with a 99%+ effectiveness rate) and increased sexual freedom, unfortunately it has come with some downsides too. In recent decades, we have discovered that one of these may be an increased risk for developing Candida infections.
In this article we will examine how oral contraceptives work, how they can lead to Candida overgrowth, and what alternatives you might want to consider. We will also look at the steps you can take to help your body detox from estrogen.
Understanding Oral Contraceptives
While in recent years there have been new medications developed that work differently (like Depo-Provera), most oral contraceptives contain both estrogen and progestin. This means that they disrupt the typical progesterone/estrogen balance in the female body.
In a healthy young woman, progesterone and estrogen rise and fall, like the tide coming in and going out. Both of these cycles last approximately 28 days. Traditional oral contraceptives disrupt this 'tidal flow' of the predominant hormones in the female body, creating an 'estrogen dominance' which comes with a host of potential problems. This can result in weight gain, breast tenderness, increased risk for fibroids, estrogen-linked cancers, and yes, Candidiasis.
Estrogen Dominance And Candida
As you probably already know, most of us are already carrying Candida in our guts. When we're generally in good health, it doesn't cause us any problem at all. However, when things start to get out of balance internally, Candida albicans can begin to overgrow and lead to many unpleasant (and unfortunately common) symptoms. In recent decades, science has illustrated a close connection between estrogen dominance and Candida overgrowth.
Free Guide To Beating Candida
Sign up to our free, 8-part email course today, and learn how to create your own, personalized Candida treatment plan :)
Estrogen dominance is already quite common in women aged 35-50 as we approach menopause, even before the extra estrogen from oral contraceptives. In women over 35 on oral contraception, the risk of Candida overgrowth is even higher. And this is further exacerbated by common lifestyle factors that tend to promote estrogen dominance besides the oral contraceptive pill.
The contraceptive pill can lead to estrogen dominance, which in turn triggers a Candida overgrowth. In fact, a University of Michigan study recently suggested typical oral contraceptive use typically doubles the risk for developing Candidiasis.
Other Consequences Of Oral Contraceptive Use
Hormones must be metabolized by phase I and II liver enzymes, so oral contraceptives can stress the liver and other internal organs. They are also known for depleting B vitamins and magnesium. More specifically, this means increases in a blood marker called homocysteine, which requires adequate levels of magnesium and certain B vitamins to stay in an optimal range.
When we combine nutrient depletion with a state of estrogen dominance that means extra work for the liver, the body becomes unable to regulate homocysteine levels efficiently. Homocysteine has been linked to a higher risk of heart attacks, strokes, and Alzheimer's, among other things. Research has found significant increases in homocysteine among those taking the oral contraceptive pill.
There is some conceptual overlap with Candida treatment here. One of the keys to reducing Candida symptoms and enjoying a full recovery is to support the liver. That's why I recommend liver-supportive supplements such as molybdenum and milk thistle as part of the Ultimate Candida Diet plan.
Other Choices For Contraception
When it comes to contraception, the choice is obviously a very personal one. However, you should make sure that you are fully informed before you make any decision. Speaking to your doctor is a great way to start learning about the alternatives. All oral contraceptives come with some risks and side effects as they deliberately throw out of rhythm the normal, healthy ebb and flow of progesterone and estrogen.
For those who don't want to risk the potential health complications that may come with 'the pill,' they may want to opt for barrier methods of contraception instead. These include the traditional male condom, the female condom, the diaphragm, or the cervical cap. None of these carry the same hormonally disruptive and liver-straining risks that oral contraceptives typically do.
If you want to stick with an oral contraceptive but you are experiencing regular yeast infections, then consider switching to a progestin-only pill. Progesterone alone (as opposed to combined with estrogen) is far less likely to create the kind of imbalances that lead to Candida. Other options for progestin-only treatment include shots and implants.
You can also look at natural family planning methods, which use a number of techniques to predict ovulation times. These techniques will likely never be as effective as the contraceptive pill, but they have the benefits of normalizing your hormone levels and putting you in closer touch with your body's natural rhythms and cycles.
Time To Give Your Liver A Break?
For individuals that have already used oral contraceptives for months or especially years, you may also want to consider doing a gentle liver cleanse.  As mentioned before, hormones require metabolization via the liver in order for them to be broken down.  Ensuring that you are getting optimal amounts of B vitamins and magnesium in your diet will help bring inflammatory markers down, assisting in detoxing and healing.
Doing a hormone 'detox' will also help the body come back into better balance. How can you do this?  A few simple steps include:
Avoid using plastics that contain BPA
BPA is a compound found in hardened plastics that mimics the effects of estrogen.
Eat more cruciferous vegetables such as broccoli, Brussels sprouts, and cauliflower
These contain many powerful cancer-fighting compounds as well as others that encourage better detoxification.
Consider taking a supplement called milk thistle
Milk thistle is a liver-supportive herb that supports both phase I and II liver detox. Look for a supplement like Liver One that contains milk thistle extract as well as other liver-supporting active ingredients.
Remember that your body is always striving to return to good health. Many times we do things, often unknowingly, that disrupt its optimal healthy state. For many women, this may include oral contraceptive use. Knowing your options and how to help it along can only help your odds of being and feeling the best you possibly can.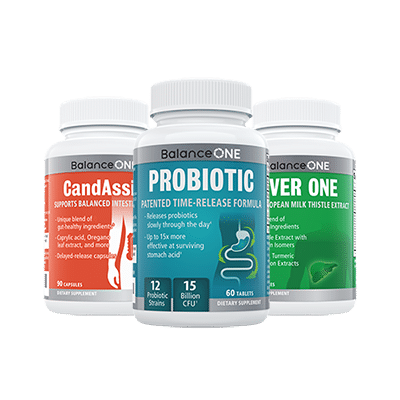 3-Month Candida Elimination Kit
Start Your 3-month Candida Cleanse
This Candida Kit contains all the supplements recommended on the Candida Diet:
- LIVER ONE to process and remove the toxins created by Candida.
- CANDASSIST to inhibit and weaken the Candida colonies in your gut.
- PROBIOTIC to replace the Candida yeast with probiotic bacteria.
Plus... the CANDIDA DIET RECIPE BOOK with 50+ low-sugar recipes
Comments