Candida Subspecies: Albicans, Tropicalis, Glabrata, Krusei, Parapsilosis
Many people struggling with yeast infections or gut dysbiosis often just refer to themselves as just having a problem with 'Candida.' But in reality there are over 150 subspecies of Candida! Thankfully only 6 are typically associated with problematic infection in humans. These are:
Candida albicans: by far the most commonly known, typically accounting for about 50% of cases around the globe;
Candida tropicalis: accounting for 15-20% of cases. Not usually as aggressive as Candida albicans;
Candida glabrata: accounting for 15-20% of cases;
Candida parapsilosis: accounting for 15-20% of cases, especially in Europe;
Candida krusei: a rare species, usually only around 1% of cases, especially in infantile diarrhea and occasionally systemic candidiasis;
Candida lusitaniae: another rare species type, usually involved in septicemia and/or pyelonephritis cases.
Many factors go into determining whether the presence of a Candida species will cause a person any trouble. The first and most important question is, "How healthy are you overall?" Your lifestyle choices (for example eating well, resting, exercising, avoiding toxins, etc.) go a long way to determine the strength of your immune system and your ability to fight off Candida infections. Supporting a healthy immune system is key to keeping any opportunistic infection at bay, and this is very much the case with Candida too.
Some Types Of Candida Are More Virulent Than Others
Each of these species has a particular set of properties, meaning that some are much more virulent than others. We can evaluate their particular virulence and potential for infestation by looking at a few key factors. These include:
Their potential to form hyphae (i.e. invasive, finger-like projections that invade tissue and deeply root the infection). Three primary species do this: Candida albicans, Candida tropicalis, and another type called Candida dubliniensis;
Their potential to upregulate biofilm creation, which is a spider-web like matrix where yeast and other microorganisms are shielded from your immune system. Candida krusei and Candida tropicalis are the most capable of subspecies in this regard.
Their potential to produce phospholipase, a fatty acid-dissolving enzyme that allows the species to infiltrate host cells, adhere to them, and penetrate deeply. Candida albicans produces the highest levels of this enzyme.
Their potential to produce proteinase, a protein dissolving enzyme that functions in a similar way to the phospholipase. Again, Candida albicans produces highest amounts of this.
How Can You Tell Which Candida Subspecies Is Causing You Trouble?
The best way to diagnose which Candida subspecies is causing your symptoms (such as yeast infections, digestive complaints or other issues) is by getting a diagnosis by stool test. A thorough analysis of your stool will identify pathogenic bacteria and a number of other factors that might be causing problems, in addition to including a yeast culture to look for Candida.
Candida albicans is by far the most common variant of Candida, but the particular type that you are suffering from depends on a number of factors. Geographic location is one example, and indeed Candida parapsilosis is found much more often in Europe.
Free Guide To Beating Candida
Sign up to our free, 8-part email course today, and learn how to create your own, personalized Candida treatment plan :)
Another factor is the strength of your immune system and any other conditions that you may have. For instance, Candida glabrata is most likely to affect those battling AIDS, and is therefore responsible for a higher mortality rate than any other species of Candida. If patients are given Diflucan over long periods of time, they can be susceptible to resistant strains like Candida krusei. Lastly, Candida parapsilosis is also often found in immune-weakened individuals and is highly resistant to antimicrobial drugs.
You should also be aware of Candida auris, a rare but extremely virulent subspecies of Candida that can be life-threatening in patients with weakened immune system. Candida auris has developed resistance to a number of prescription antifungals, and has proven extremely difficult to treat. It is usually found in hospital settings and can be passed from one person to another, often via healthcare workers.
What Should You Be Looking For?
So what should you be most concerned with then when it comes to these various types of Candida? First of all, think about any other health issues that you may be struggling with.
The overall virulence of particular strains depend on many things, including pre-existing conditions, your overall level of immunity, the site where Candida is introduced and the stage of infection. Catching it early can make a big difference in how hard it is to clear.
Furthermore, your current medication regime can considerably impact your risk factors. For instance, if you are on an immunosuppressant medication like a steroid, you may want to be especially mindful that a Candida krusei infection could develop.
If you can't identify any particular factors relating to your immune system or medication, it is most likely that you have a Candida albicans infection. Candida albicans is present in a high proportion of cases and as one of the most aggressive types.
If you think its likely that your Candida is caused by one of the types that creates strong biofilms (e.g. krusei or tropicalis), that will have implications for your most effective treatment options. For example, you might want to consider using a supplement that disrupts biofilms, like nattokinase or lumbrokinase. In the Ultimate Candida Diet, Dr Eric Wood and I discuss biofilm-disruptors like these in much more detail, and lay out a plan for when you should introduce them to your treatment.
Ultimately, the foundation of treatment for most of these Candida infections comes down to three main elements, irrespective of which subspecies you have. Take a good probiotic to repopulate your gut, use antifungals to destroy the Candida cells, and follow a low sugar diet plan to deny the Candida colonies the food they need to expand and grow.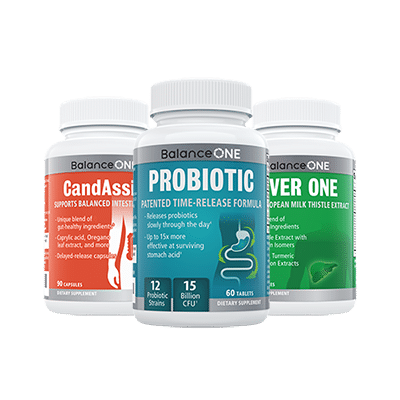 3-Month Candida Elimination Kit
Start Your 3-month Candida Cleanse
This Candida Kit contains all the supplements recommended on the Candida Diet:
- LIVER ONE to process and remove the toxins created by Candida.
- CANDASSIST to inhibit and weaken the Candida colonies in your gut.
- PROBIOTIC to replace the Candida yeast with probiotic bacteria.
Plus... the CANDIDA DIET RECIPE BOOK with 50+ low-sugar recipes
Comments