Gluten Sensitivities And Candida
Is there a connection between gluten sensitivities and Candida Related Complex? They tend to appear together, and in fact gluten sensitivities are extremely common among Candida sufferers. But is this correlation or causation? Can a disturbed gut flora and Candida lead to gluten sensitivities?
In today's article, I'm going to explain the connection between these two common conditions. This article will go some way to explaining why, in our treatment program, Dr. Eric Wood and I recommend avoiding gluten entirely while you are recovering from Candida.
Gluten is a particularly difficult protein for us to digest, especially when many foods these days contain very high levels, and our digestive systems are simply not built to process it well. Until you have managed to restore a normal balance to your gut flora, gluten is highly likely to be a problem food.
What Are Gluten Sensitivities Anyway?
Gluten sensitivities are generally split between two different disorders named celiac disease (an auto-immune condition), and non-celiac gluten sensitivity (often known as gluten intolerance). In terms of the symptoms they cause, gluten intolerance in many ways just a 'milder' version of celiac disease, although the way in which they cause these symptoms is quite different.
Celiac disease is a hereditary condition where the consumption of gluten causes a specific immune response resulting in damage to the intestinal lining. This can lead to malabsorption of nutrients and various other problems. Simply put, eating gluten causes the body to attack itself.
Free Guide To Beating Candida
Sign up to our free, 8-part email course today, and learn how to create your own, personalized Candida treatment plan :)
Non-celiac gluten sensitivity, on the other hand, results in similar symptoms without the same kind of immune response and antibodies that we see in celiac disease. In other words, someone with gluten intolerance is sensitive to gluten without having full-blown celiac disease.
What's The Connection To Candida?
How does this all relate to Candida? Well, there is a protein on the surface of Candida Albicans that is very, very similar to the proteins found in gluten. This link was noted back in 2003, when a team of researchers postulated that C. Albicans might actually be a trigger for celiac disease.
This protein is named HWP1, and its structure is very close to that of alpha-gliadin and gamma-gliadin, two of the protein groups found in gluten. It is this close similarity that confuses your immune system.
When Candida albicans attaches to the walls of your intestine and begins to spread, your immune system responds. As it attacks the Candida overgrowth, it also attempts to destroy the surface proteins like HWP1.
By attacking this particular protein (which is almost identical to the gluten proteins), your immune system starts to build a sensitivity to gluten. Over time, this can turn into an intolerance or even something very similar to celiac disease. Soon, an individual might find that eating gluten causes digestive issues, fatigue, headaches, and many other symptoms of a gluten sensitivity.
Avoiding gluten is usually a good idea if you suffer from Candida Related Complex. If you are already suffering from a disturbed gut flora and a permeable intestinal lining, eating gluten can trigger an inflammatory response that will set you back. Focus on avoiding foods that will inflame your digestive system, and eating foods that will help to repair it.
Reversing A Candida Overgrowth Can Eliminate Gluten Sensitivities
Here's something important that you should know. The HWP1 protein only appears when Candida albicans takes its fungal form. As you may know, Candida can exist in both yeast and fungal forms. It is the fungal form in which Candida is able to grow more quickly and penetrate the intestinal lining. To avoid a Candida overgrowth, you need to prevent Candida switching from its yeast form to its fungal form.
A number of conditions need to be in place for Candida to take its fungal form. The most important condition is that the surrounding environment must not be strongly acidic. Candida is much more likely to switch to its fungal (more dangerous) form in neutral or alkaline conditions. These conditions can be brought about by a round of antibiotics, the wrong diet, chronic use of antacids, or a number of other causes.
Your intestines should be a naturally acidic environment, but a combination of factors can result in them losing this acidity. Indeed, one of the main goals of the Candida diet and treatment plan is to restore a proper level of acidity to the intestines. The eating plan, supplements, lifestyle changes, and other elements all contribute towards this.
As you can see, Candida Related Complex can trigger gluten sensitivities by tricking your immune system into attacking the proteins found in gluten. By activating the immune system in this way, Candida can create a long term sensitivity to gluten. However, by eliminating the Candida overgrowth you can also improve your digestion, and perhaps say farewell to some of your food sensitivities too.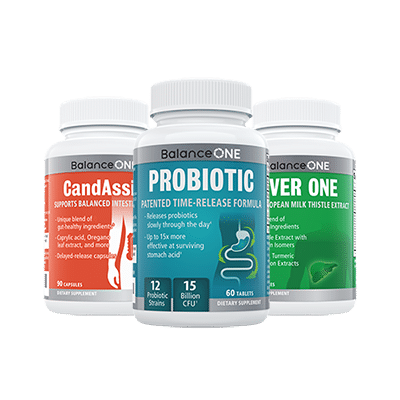 3-Month Candida Elimination Kit
Start Your 3-month Candida Cleanse
This Candida Kit contains all the supplements recommended on the Candida Diet:
- LIVER ONE to process and remove the toxins created by Candida.
- CANDASSIST to inhibit and weaken the Candida colonies in your gut.
- PROBIOTIC to replace the Candida yeast with probiotic bacteria.
Plus... the CANDIDA DIET RECIPE BOOK with 50+ low-sugar recipes
Comments