Are Supplements Making Your Candida Worse?
So you've started your Candida Diet, stocked up your fridge with lots of non-starchy vegetables and gone to the health food store to buy all the supplements that you need. You're all ready to go, but there's one last thing that you need to check. Take a good look at the back of those supplement bottles, because there might be some ingredients listed there that can make your Candida worse.
The trouble is that very few supplements are made specifically for Candida sufferers. So for example a supplement for digestive problems might contain dextrose, which is fine for most people, but it is just another name for the sugar that a Candida sufferer should be avoiding. You need to check that ingredient label very carefully before you buy a supplement.
Before we start, I should make a quick note. It may not be possible to avoid every supplement that contains one or more of these ingredients. In fact, there are some very useful supplements that fall into this category. The important thing is to remain conscious of your overall consumption of these ingredients, factoring in the foods you eat and the supplements that you take.
Glucose & Sucrose
You need to watch out for simple sugars like dextrose, glucose and sucrose in your supplements.
Many vitamin supplements contain added glucose, although sometimes it might be listed as dextrose. You'll also find it in a number of probiotics and antifungals. To find great brands that don't contain added sugars, do your research online and read the ingredient labels before you buy. On our recommended products page we have an updated list of Candida-suitable supplements.
Free Guide To Beating Candida
Sign up to our free, 8-part email course today, and learn how to create your own, personalized Candida treatment plan :)
Another surprising place to find sugars is in supplements labeled as stevia, a natural sweetener derived from a plant found in Paraguay and Brazil. Regular stevia is a great substitute for sugar because it satisfies that craving for sweet tastes without raising your blood sugar. However, many brands of stevia contain added glucose or dextrose too. It's pretty easy to find a stevia brand that contains no added sugars (here's an example), just remember to read those ingredient labels!
Which sweeteners are OK on a Candida diet? Try stevia (a low-GI, herbal supplement), xylitol (a low-GI sweetener used by diabetics to maintain stable blood sugar levels), or erythritol.
Alcohol
Alcohol is generally a bad thing when it comes to Candida, for the simple reason that it is a toxin. The acetaldehyde that is produced when alcohol is processed in your liver is the exact same chemical as one of Candida's byproducts. Although alcohol does not really 'feed' the Candida as some people suggest, it may make your symptoms worse. It also releases free radicals into your blood that can damage your internal organs and weaken your immune system.
That all sounds pretty bad, but you may have noticed that small amounts of alcohol are often present in herbal remedies. This is mostly because it is a great preservative, but it also enables the herbal remedy to be administered in a liquid form, improving absorption among those with digestive problems.
You should also know that there are some great supplements out there that use alcohol as a part of the manufacturing process and as a preservative. Although they does contain a small amount of ethanol, they can still be very useful supplements for reducing Candida symptoms.
So what's the verdict on alcohol in supplements? I would recommend that you avoid it if possible, but if there is an herbal remedy that you really like, there's no harm in trying it. Additionally, some herbal remedies are available both with and without alcohol, in which case you should seek out the non-alcoholic version if possible. For example, if you take bitters for your digestion, look for a brand of non-alcoholic Swedish bitters instead.
If you're looking for more information, the Ultimate Candida Diet program contains lots more on how to choose effective antifungals, probiotics and detox supplements.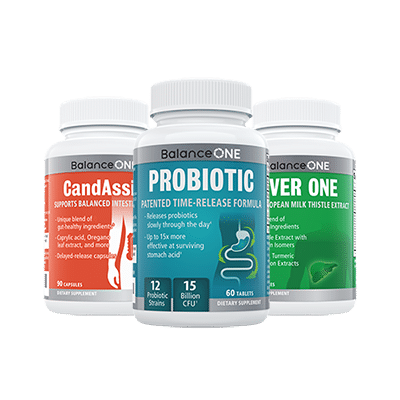 3-Month Candida Elimination Kit
Start Your 3-month Candida Cleanse
This Candida Kit contains all the supplements recommended on the Candida Diet:
- LIVER ONE to process and remove the toxins created by Candida.
- CANDASSIST to inhibit and weaken the Candida colonies in your gut.
- PROBIOTIC to replace the Candida yeast with probiotic bacteria.
Plus... the CANDIDA DIET RECIPE BOOK with 50+ low-sugar recipes
Comments