Why Does Candida Really Need Sugar?
The most important part of any Candida treatment plan is of course the diet itself. Following a healthy, low-sugar diet is the best way to deprive your Candida of the food it needs. If you combine this diet with some good probiotics and antifungals, you are giving yourself a great chance to beat your Candida.
We all know that Candida needs sugar, but it is rare to see a good explanation of why this is. Most online sources use general terms like 'Candida feeds on sugar', without actually going into any more depth. In this post I'm going to discuss exactly why those Candida colonies need sugar, and I'll share with you a few examples of foods that have a higher sugar content than you might realize.
Why Is A Low-Sugar Diet So Important?
Organisms like Candida albicans need organic, carbon-based compounds to provide them with energy. In practice this means sugars like glucose, fructose and sucrose. They use this energy to grow and to build their cell walls, which are comprised 80% of carbohydrates.
However, Candida is a particularly versatile pathogen, and those sugars serve one extra purpose. They enable the Candida yeast cells to switch to their more virulent, fungal form. This form of Candida is faster-growing, and grows long branches that can cause Leaky Gut Syndrome. If you have noticed persistent Candida symptoms, chances are the Candida in your gut has switched to its fungal form.
Just as eating lots of sugars can promote a Candida overgrowth, eating fewer sugars can slow down or reverse your Candida. A 2011 study found that carbohydrates were "indispensable" both for cellular growth and for the transition into fungal form. Depriving the Candida of its food source will slow its growth and prevent that transition from happening.
Free Guide To Beating Candida
Sign up to our free, 8-part email course today, and learn how to create your own, personalized Candida treatment plan :)
No discussion of Candida overgrowth is complete without mentioning biofilms. These protective matrices are created by pathogens like Candida and Lyme to hide from your immune system. They make beating a Candida overgrowth more difficult than it otherwise would be. And sugar plays a part in biofilms too. In fact, biofilms are made of something like 32% glucose.
The bad news is that we are eating more and more sugar every year. In fact it is estimated that Americans consume more than three times the recommended amount of added sugar (and that recommendation is far too high anyway!). How much do we actually eat? A USDA study found that a typical American consumes a massive 30 teaspoons of added sugar per day.
Five Surprising Sources Of Added Sugar
Foods with added sugars are undoubtedly the worst culprits when it comes to causing Candida overgrowth. This is because refined carbohydrates are easiest for the Candida to metabolize. Unless you read the label carefully it is often difficult to tell. That's why it's always a good idea to stick to the approved foods list. Here is my list of five surprising sources of added sugar.
Breakfast cereal
It is increasingly difficult to find a packaged breakfast cereal that doesn't contain large amounts of sugar. The fact is that sugary cereals sell better, so that's why your local store is full of them. If you're serious about beating your Candida, you need to be diligent and read those ingredient labels carefully.
A bowl of Kellogg's Frosted Flakes contains around 25 grams of sugar, and a single pop tart contains as much as 17 grams. Try a healthier breakfast option like probiotic yogurt, buckwheat groats, or oat bran cereal with stevia instead. There are lots more ideas in our breakfast recipes section and in the recipe books.
Yogurt
I always recommend yogurt as a great food for Candida sufferers, but you need to be very careful which yogurt to buy. Regular flavored brands usually contain around 14 grams of added sugar in a six ounce container. Find a plain, probiotic brand that contains live cultures and has no sugar added. Alternatively you can make your own probiotic yogurt or kefir at home.
Pasta sauce
The spaghetti and pasta sauces that you buy in your local store are loaded with added sugars. For example, Barilla Tomato & Basil sauce contains 8 grams of sugar per serving. Try to find a no sugar added brand or, even better, just stay away from regular pasta sauces completely during your Candida Diet. You can make homemade pasta sauces which are tastier and more nutritious. As for the pasta itself, soba noodles are good alternatives or, even better, make your own veggie pasta using a spiralizer.
Salad dressing
This is one of the hardest sources of sugar to avoid. You might do the right thing and order the salad, but it's hard to resist covering it with that delicious salad dressing. Although the typical restaurant salad dressing might taste great, it also contains lots of sugar. For example, a serving of Thousand Island dressing contains around 10 grams of sugar.
If you want to eat a healthy salad, try dressing it with olive oil, lemon juice, and sea salt instead. This is a simple but tasty salad dressing that has antifungal properties too. In the recipe books we list some more delicious dressings that will liven up your healthy salads.
Sports drinks
This kind of drink is usually advertised as a healthy source of energy, so they can't contain that much sugar, right? Unfortunately that's not the case. A typical energy drink might contain 40 grams of sugars. That's pretty much the same as a can of Coke.
Unless you are a performance athlete, no one needs that much sugar from a drink. The fact is that most people buy these sports drink simply to give them some energy or quench their thirst in the afternoon. Try drinking a glass of water with a squeeze of lemon instead!
If you'd like to learn more about why Candida needs sugar, along with some effective strategies for reducing the sugar in your diet, check out the Ultimate Candida Diet treatment program that I wrote with Dr. Eric Wood.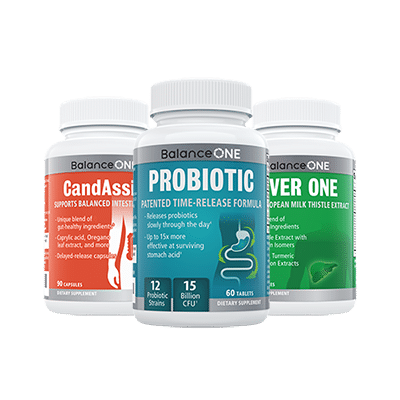 3-Month Candida Elimination Kit
Start Your 3-month Candida Cleanse
This Candida Kit contains all the supplements recommended on the Candida Diet:
- LIVER ONE to process and remove the toxins created by Candida.
- CANDASSIST to inhibit and weaken the Candida colonies in your gut.
- PROBIOTIC to replace the Candida yeast with probiotic bacteria.
Plus... the CANDIDA DIET RECIPE BOOK with 50+ low-sugar recipes
Comments