Using Ginger As An Antifungal
Throughout history, plants have been studied for their potential medical uses. These days, as pathogenic microorganisms become more and more resistant to antibiotics and prescription antifungals, there is a growing interest in utilizing their pharmaceutical properties. Ginger root is a perfect example, a plant that has many potential uses when it comes to treating Candida and many other conditions.
Ginger root refers to the underground stem of a plant native to Asia called Zingiber officinale. Its medicinal properties have been utilized for centuries by traditional cultures, but it is also used as a spice and as food. Since its discovery, the cultivation of ginger has spread to parts of Africa and the Caribbean and is now readily available all over the world.
Ginger And Candida
Traditional uses for ginger include motion sickness, nausea during pregnancy, chronic inflammation, and a low immune system. However, in recent years researchers have begun to investigate the use of ginger extract as an antifungal. In fact, several research studies have looked specifically at ginger's effect on Candida albicans.
A study published in the Journal of Dental Sciences and Research attests to the potential benefits of ginger as an antifungal. The study was performed in vitro and used colonies of Candida albicans cultured in a laboratory. Several cultures were placed and inoculated on sterile filter plates and incubated at 37 degrees Celsius for 48 hours. The test was performed in order to see if three different concentrations of ginger powder (1g, 2g and 4g) dissolved in 99.9% pure ethanol had any impact on the fungal colonies. The same 99.9% ethanol solution without ginger powder was used as a control.
The effects of all the solutions were verified after 24 and 48 hours. All the solutions demonstrated the maximum inhibitory effect at the 24-hour mark. It was also evident that all three different concentrations of ginger powder had a more significant effect on the cultures than ethanol alone. The 4g (highest) concentration performed the best, as you would expect.
Free Guide To Beating Candida
Sign up to our free, 8-part email course today, and learn how to create your own, personalized Candida treatment plan :)
Another in vitro study, published in the American Journal of Applied Sciences, looked at the effect of ginger extract vs. Nystatin, a prescription antifungal. Researchers found that, "The ginger extract was effective in inhibiting the growth of Candida albicans". In this study, the inhibitory effect of the ginger extract was comparable to that of Nystatin.
Other studies reveal that ginger root contains several ingredients which have antifungal properties, with shagelol and gingerol being the most active. These studies and several others suggest that ginger can indeed be used as an antifungal medication. Further research is needed before ginger is turned into a pharmaceutical medication, but we can utilize the antifungal properties of ginger by simply consuming it in its natural form.
Ginger In Traditional Medicine
Ginger has long been used in traditional medicine to help with a variety of ailments. It's not just for Candida overgrowth. In fact, ginger has been used for centuries to help with digestion, inflammation, immunity, and more.
Nausea
A study published in the Indian Journal of Pharmacology discovered that ginger had some benefit when it came to treating nausea as the result of chemotherapy, seasickness and morning sickness. It compares favorably to over-the-counter motion sickness drugs like Dramamine. Other studies have found it to be effective in treating nausea and vomiting during pregnancy, and without the risk of birth defects associated with anti-vomiting medication. One study founds that 19 out of 27 pregnant women reported an improvement in their symptoms.
Inflammation
One of the primary uses for ginger in traditional medicine is in reducing inflammation. This is a benefit that is now well-supported by scientific literature. Ginger has been shown to both suppress a set of pro-inflammatory compounds named cytokines, and reduce the body's production of a damaging free radical named peroxynitrite. In simple terms, this means that it can help reduce the effects of inflammatory diseases like arthritis and asthma.
Low Immune System
Ginger has been thought to boost the immune system for centuries, and recent research suggests that it may do so by activating important parts of the immune system named T-cells. Ginger is also thought to promote healthy sweating (although this doesn't mean taking ginger will leave you drenched in sweat on a chilly day!). Human sweat contains a compound named dermicidin, which has been found to have inhibitory effects against Candida albicans and other pathogens.
How Should You Use Ginger?
There are lots of ways to incorporate ginger into your diet, but one of the easiest is to make a delicious ginger tea. Simply cut off around an inch of ginger root, chop it up into small pieces, and add it to boiling water. Add a squeeze of lemon juice for some flavor, along with a little stevia for sweetness if you need it.
You can also add ginger to your green juice recipes for an extra kick of flavor. It can be included in many Candida diet recipes for breakfast, main meals, and desserts. You can incorporate ginger into your diet by making dishes like coconut ginger clouds, Thai quinoa, and pumpkin seed butter bars, to mention just a few.
Ginger is perfectly safe for most people. It has been categorized by the US FDA as "generally recognized as safe" (GRAS). This means that it should not cause any serious side effects as long as it is consumed in reasonable quantities. Even so, possible side effects of ginger root include rashes, heartburn, belching, bloating, gas and nausea. It is not recommended that ginger be consumed by people who suffer from gallstones, ulcers, inflammatory bowel disease or intestinal blockages, as it is possible to experience adverse reactions.
In the Ultimate Candida Diet program, Dr. Eric and I discuss lots of different antifungals, including ginger, olive oil, cinnamon, and turmeric. We also include a list of natural antifungals like caprylic acid and oregano oil. If you're not sure which antifungal is most suitable for you, check it out!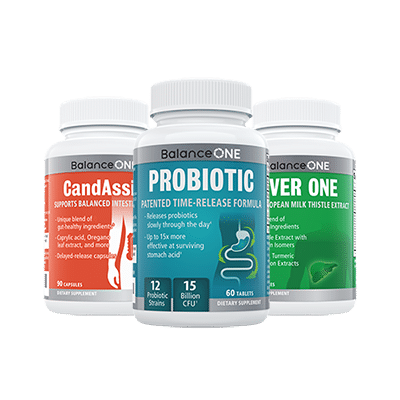 3-Month Candida Elimination Kit
Start Your 3-month Candida Cleanse
This Candida Kit contains all the supplements recommended on the Candida Diet:
- LIVER ONE to process and remove the toxins created by Candida.
- CANDASSIST to inhibit and weaken the Candida colonies in your gut.
- PROBIOTIC to replace the Candida yeast with probiotic bacteria.
Plus... the CANDIDA DIET RECIPE BOOK with 50+ low-sugar recipes
Comments