Oregano Leaf Extract: A Natural Antifungal
Most people think of oregano as an aromatic herb used in Italian cooking, but its uses go well beyond the kitchen! In fact, it's believed that its original uses were medicinal rather than culinary.
Wild Oregano is one of the most powerful natural antifungals created by Mother Nature, and its amazing oil has been used as an effective medicinal treatment for centuries. It's also one of the most sought-after herbs to include as part of a Candida treatment program.
Oregano's many therapeutic properties include antifungal, antiviral, antibacterial, and antibacterial. Recent research has even suggested it may harbor cancer-preventative properties.
The wild oregano shrub originates high in the mountains of Europe and central Asia, where traditional herbalists prescribed it as a treatment for a variety of ailments. One of its most popular uses was as a natural alternative to antibiotics.
Today, Oregano oil is particularly useful for treating a Candida albicans overgrowth. A major advantage to oregano oil is that, unlike other natural antifungals, the Candida yeast is less likely to develop a resistance to it. This makes it an excellent choice for continuing your anti-Candida treatment after you've completed your cleanse. As with other natural antifungals, it's best to take in combination with one or two other herbs.
Free Guide To Beating Candida
Sign up to our free, 8-part email course today, and learn how to create your own, personalized Candida treatment plan :)
How Does Oregano Oil Work?
Numerous studies have reported the efficacy of oregano oil's many medicinal actions, particularly in fighting Candida overgrowth.
Antifungal
A 2001 study at Georgetown University Medical Center found that oregano oil was able to completely inhibit the growth of Candida albicans. Not only that, the study found that supplementing with oregano oil daily was a highly effective treatment and preventative of candidiasis.
Further research has shown that oregano oil contains two naturally occurring antimicrobial agents named carvacrol and thymol. These agents work to fight Candida overgrowth by reacting with the water in your bloodstream, which effectively dehydrates and kills Candida yeast cells.
Other studies report that each of oregano extract's major components has potent antifungal activity. This includes terpenoid phenols carvacrol, thymol, and eugenol. These incredible terpenoid phenols are effective in not only killing planktonic cells but also the biofilms of Candida albicans that are resistant to many pharmaceutical antifungal drugs. Of these, carvacrol appears to be the strongest; studies show it continues to be effective regardless of the maturity of the biofilm.
Antimicrobial
One amazing study by the University of West England found that oregano's active ingredient carvacrol was a more effective antimicrobial than 18 different pharmaceutical drugs. The study showed that even a small amount of carvacrol was enough to sterilize septic water, kill giardia and treat candida overgrowth infections. In doing so, its ability to kill microbes was shown to be even more effective that pharmaceutical antibiotics such as streptomycin and penicillin.
Oregano oil has been shown to inhibit the growth of clinical strains of serious bacteria such as E. coli and Pseudomonas aeruginosa, even when the bacteria had developed different patterns of resistance.
How Should You Take Oregano Oil?
Oregano oil is generally available as a liquid tincture or in softgel capsules. Follow the manufacturer guidelines, but here are some typical dosages.
Liquid tincture: Start by drinking 3 drops in water twice daily. You can gradually increase this up to 6 drops twice a day. It's best to drink one glass of water per 3 drops to prevent any burning in your mouth.
Softgels: The softgel capsules can be just as potent as the tincture, and are a convenient way to make oregano part of your daily supplement routine. A good example is the softgels from Gaia Herbs, each of which contains 230mg oregano oil. You can start with one softgel, taken daily after a meal, then build up to two softgels a day.
If possible, try to find a brand with a high level of carvacrol. Carvacrol is one of the active, antifungal compounds found in oregano.
CandAssist
Oregano is one of my top recommendations for antifungal herbs, along with berberine, garlic, and undecylenic acid. Wouldn't it be amazing if there was one product that contained all of these natural antifungals?
Well, now there is! I worked with Balance One Supplements to develop CandAssist. It contains Oregano Leaf Extract plus more natural antifungals including Caprylic Acid, Undecylenic Acid, Berberine HCl, Betaine HCl, Olive Leaf Extract, and Garlic Extract.
CandAssist uses the highest-quality natural ingredients. It's vegan, non-GMO, and made in the USA. You can read more about it here.
Other Benefits Of Oregano Oil
Oregano's many health benefits make it an excellent choice for long-term protection against Candida overgrowth. But that's not all it's famous for! Oregano oil can:
Treat respiratory conditions such as coughs and colds
Improve digestion
Reduce topical inflammation
Maintain healthy, clear skin
Boost the immune system
Reduce allergic reactions such as hay fever
Protect the body from free radicals caused by everyday toxins and pollutants
Treat urinary tract infections
Reduce the recurrence and spread of infections
How Is Oregano Oil Manufactured?
Oregano oil is derived from the leaf of the wild oregano (or Oreganum Vulgare) plant. The leaves are picked from the plant, then steam-distilled to extract the essential oil. The active ingredients in this oil are far more concentrated than in the leaf itself, which is why an oregano leaf tea will not have the same potency as the oil.
Who Should Not Take Oregano Oil?
It's possible that oregano can temporarily inhibit the body's ability to absorb iron, and therefore may not be suitable for people with iron deficiencies. Oregano is also not recommended for pregnant women, as it has the potential to increase blood flow to the uterus, which may weaken the lining surrounding the fetus.
There have also been reports of minor allergic reactions (such as rashes) to oregano oil when it is used topically.
In most cases, oregano oil can be used safely without side-effects. However, consultation with a health professional is recommended if in doubt.
Oregano Oil And Candida
Oregano oil is just one of the antifungal treatments that Dr. Wood and I recommend in our book. Typically, it's advisable to take two or three antifungals at the same time. This can prevent Candida albicans from adapting to a single treatment, and is usually preferable to rotating your antifungals.
Are you unsure how to integrate antifungals into your Candida recovery plan? For lots more information on how to choose the right antifungals, plus when and how to take them, take a look at our Ultimate Candida Diet treatment plan.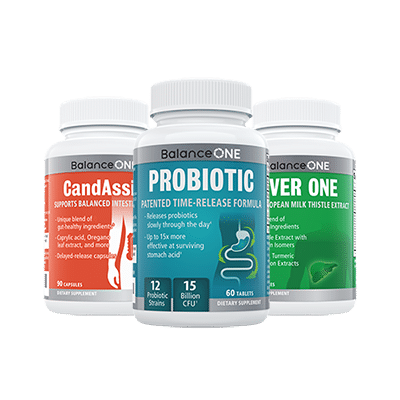 3-Month Candida Elimination Kit
Start Your 3-month Candida Cleanse
This Candida Kit contains all the supplements recommended on the Candida Diet:
- LIVER ONE to process and remove the toxins created by Candida.
- CANDASSIST to inhibit and weaken the Candida colonies in your gut.
- PROBIOTIC to replace the Candida yeast with probiotic bacteria.
Plus... the CANDIDA DIET RECIPE BOOK with 50+ low-sugar recipes
Comments