Should You Take Probiotics And Antifungals Together?
There are three main elements in any good Candida treatment plan – a low-sugar diet, probiotics, and antifungals. But how can we be sure that these elements aren't working against each other? This is a particular concern when you are taking probiotic and antifungal supplements at the same time.
Probiotics can improve your natural defences in the gut against fungal infections such as Candida albicans.
Beneficial bacteria from probiotics help keep the gut slightly acidic, which is ideal to prevent pathogens like Candida from taking hold. Candida thrives in an alkaline environment in the gut.
Another way probiotics help is by supporting the balance of good bacteria and making sure there is no space for Candida to take hold.
Antifungals are necessary to break down biofilms and destroy yeast cell walls.
Free Guide To Beating Candida
Sign up to our free, 8-part email course today, and learn how to create your own, personalized Candida treatment plan :)
Getting these two elements to work together is a crucial part of your Candida treatment.
Evidence That Probiotics And Antifungals Can Work Together
There hasn't been a lot of research into taking probiotics and antifungals together. Most studies tend to focus on the actions of a single therapy, rather than examining the combined effect of a well-designed treatment plan. However, there has been at least one recent study that has looked at a combined probiotic/antifungal treatment, so I'll share it with you today.
A British research team looked at using natural antifungals and probiotics together, in an effort to respond to the increasing resistance of Candida to prescription medication. They used a combination of cinnamon, garlic and Lactobacillus acidophilus (probably the most commonly used probiotic strain).
The results for one combination were encouraging – the researchers found that when garlic and the probiotic were used together, "a synergistic effect on the inhibition of candidal attachment occurred." They concluded that "the combination of L. acidophilus and garlic should provide a preventative/treatment regime to address the growing problem with candidal infections."
The results for cinnamon and the probiotic together were less encouraging. In fact, rather than the synergistic effect noted with the garlic, the cinnamon actually seemed to reduce the effectiveness of the probiotics. Why was this? Well, cinnamon is actually quite a strong antibiotic, and so it was killing the 'good bacteria' before they could do their job.
There are two different lessons to take from this study. Firstly, the effectiveness of the garlic and acidophilus combination show that probiotics and antifungals can complement each other very well indeed. Secondly, the failure of the cinnamon and acidophilus combination tells us that we need to be careful about how and when we take these supplements.
Take Your Probiotics And Antifungals At Different Times
Although the evidence suggests that probiotics can often be taken at the very same time as antifungals, you should still exercise caution. Many natural antifungals are also mild antibiotics (like cinnamon in the example above), so taking them together may dilute the effectiveness of your probiotic.
The answer is to take your probiotics and antifungals some time apart from each other. I usually recommend waiting at least an hour in between. If you do this there is very little chance of the two treatments interacting with each other. By taking them separately, you will get the most effect (and the best value) out of them both. Similarly, if you ever have to take antibiotics then you should take probiotics at least an hour apart from them too.
Our Ultimate Candida Diet program contains a straightforward timetable that you can follow to beat your Candida, as well as lots of tips on how to get the most out of your probiotics and antifungals. Choosing effective supplements can be difficult, especially with so many choices out there, so we have included as much information as possible on what you should be looking for.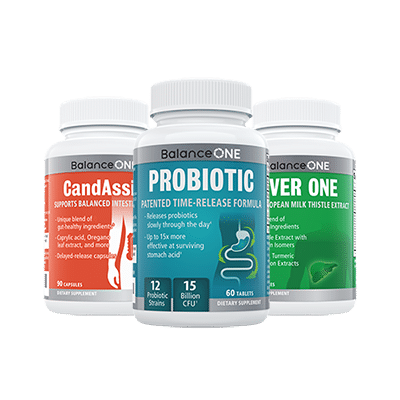 3-Month Candida Elimination Kit
Start Your 3-month Candida Cleanse
This Candida Kit contains all the supplements recommended on the Candida Diet:
- LIVER ONE to process and remove the toxins created by Candida.
- CANDASSIST to inhibit and weaken the Candida colonies in your gut.
- PROBIOTIC to replace the Candida yeast with probiotic bacteria.
Plus... the CANDIDA DIET RECIPE BOOK with 50+ low-sugar recipes
Comments