6 Health Benefits of Cinnamon (Plus Some Tasty Recipes!)
When most of us think of cinnamon, we think of sweet treats such as cinnamon buns or festive candy! But there's much more to this fragrant spice than desserts. In fact, it's a medicinal remedy that has a huge variety of health benefits, particularly for Candida overgrowth.
Numerous studies have shown that Cinnamon has powerful antibacterial and antifungal properties. It's been found to help stop Candida albicans in its tracks and prevent it from spreading. It's also an effective circulatory booster, which can be highly beneficial to a Candida recovery plan. If you're not adding it to your food already, it could be a useful addition to your Candida treatment.
In traditional medicine, cinnamon has been used as an anti-inflammatory, antiemetic, mosquito larvicidal, insecticidal, antimycotic, and anticancer agent. Some cultures also use it as a tooth powder and to treat toothaches, dental problems, oral microbiota, and bad breath.
Let's take a look at some of the research involving Candida albicans and cinnamon, and the many other benefits that cinnamon has for your health. We'll also show you a few recipe ideas for adding cinnamon to your diet!
1. Cinnamon Fights and Prevents Candida
Of all the Candida-fighting foods on the planet, cinnamon is probably the most pleasant! However, it's also one of the most powerful. Cinnamon's amazing antifungal properties have been found to treat and prevent the spread of Candida in the digestive tract.
Free Guide To Beating Candida
Sign up to our free, 8-part email course today, and learn how to create your own, personalized Candida treatment plan :)
One study reported that Cinnamon oil was able to break down the biofilm of Candida albicans in the gut. As a result, treatment with cinnamon helped to reduce significant amounts of the yeast and help restore normal health. After just 14 days of treatment, 72% of the patients were found to have no Candida at all in their stool. The remaining 28% showed a significant reduction in the yeast. (1)
Another study found that cinnamon oils demonstrate antimicrobial action against yeasts including Candida albicans. Researches have shown that cinnamon can fight harmful oral microflora, and may even be more potent than other tested plant extracts. (2)
Another study investigated the use of cinnamon oil in hospitals. Hospital patients are extremely vulnerable to Candida infection as they tend to have severely weakened immune systems. In the past few decades, infection from Candida yeast has become increasingly common in hospitals. When researchers compared the effectiveness of sixteen different essential oils against another type of Candida yeast, they found that the most active essential oil was cinnamon. Cinnamon appears to kill off the Candida yeast and prevent it from spreading. (3)
2. Cinnamon Balances Blood Sugar Levels
Besides its efficacy in stopping the Candida yeast from growing, cinnamon has also been found to support your Candida recovery in several other ways. One of the most important of these is helping keep your blood sugar levels in check.
Several research studies have shown that cinnamon is useful for regulating blood sugar and helping to prevent spikes that can lead to a Candida overgrowth. Cinnamon is believed to work by improving your glucose tolerance and lowering insulin resistance, or else by reducing systemic inflammation. It's also been found to lower postprandial blood glucose in several small, human trials. (4)
Both of these are considered risk factors for metabolic disease and diabetes, but can also play a part in predisposing you to Candida. Inflammation weakens the immune system, while high blood sugar levels allow Candida yeast to thrive more successfully. Including cinnamon in your daily diet could help to reduce the amount of glucose floating around in your bloodstream, thus keeping yeast overgrowth at bay.
3. Cinnamon to Reduce Inflammation
It's not uncommon for Candida to be linked to inflammation. Symptoms such as joint pain and arthritis can in fact be caused or worsened by the byproducts of Candida albicans.
Cinnamon may help to reduce these inflammatory symptoms by suppressing cytokines, which work by regulating your body's inflammatory response. Cytokine release has also been linked to arthritis. In this way, adding cinnamon to your health regime could provide some relief from your aches and pains.
By lowering inflammation, cinnamon may also help to lower your risk of heart disease, cognitive decline, cancer and more. The many different types of flavonoids in cinnamon make it a useful means of reducing chronic inflammation levels throughout the body. It may also reduce the severity of allergic reactions and help relieve other age-related symptoms of pain as well. (5)
4. A Powerful Antioxidant
Cinnamon provides antioxidant protection by neutralizing free radicals.  Candida yeast releases a number of toxins that may increase the level of free radical activity in your body. Free radicals are unstable molecules that can speed up the aging process while also increasing your risk of chronic degenerative diseases.
Fortunately, cinnamon contains an estimated 41 different protective compounds that help to shield your cells from free radical damage. In fact, cinnamon is ranked at number 7 on the ORAC scale (used to measure the concentration of antioxidants) when compared to other herbs and spices. Garlic, thyme, rosemary and oregano are also powerful antioxidant herbs, and are great when used in combination with cinnamon to fight Candida.
Cinnamon's antioxidant powers are attributed to its high content of polyphenols, phenolic acid and flavonoids. These compounds help to clear away oxidative stress reduce the risk of chronic disease.  They also help to reduce the build-up of nitric oxide in the blood and prevent fat peroxidation, both of which are associated with brain disorders, cancer and heart conditions.
5. Cinnamon Protects Against Infection and Viruses
Candida yeast can lead to dysbiosis in your gastrointestinal tract, where up to 80 percent of your immune cells reside. When this happens, your levels of healthy probiotic bacteria are less efficient in overcoming harmful bacteria, fungi or viruses that enter your body. This can make you more susceptible to illness.
Cinnamon's antimicrobial benefits are one of the many reasons it has been used for so long in traditional medicine. Studies have shown that it contains natural antimicrobial, antifungal, antibiotic and antiviral properties. Cinnamon's essential oils are also high in powerful immune-boosting compounds.
Cinnamon oil alone is often used as a protective remedy for those with weakened immune systems, in order to ward off common bacterial infections such as the common cold, strep throat and pneumonia. (6)
6. Cinnamon Improves Oral Health
Candida albicans lives naturally in the mouth and is usually kept under control by other bacteria. However, in the case of Candida yeast overgrowth, oral candidiasis can develop.
This kind of infection occurs when Candida albicans accumulates throughout the lining of your mouth. Also known as oral thrush, it can cause nasty white lesions to appear on your tongue or inner cheeks. If left untreated, the thrush may spread to the gums, roof of your mouth, or even the back of your throat. Oral thrush occurs most commonly in those with reduced immunity, such as babies and older adults.
Cinnamon may be an effective way to keep oral thrush at bay. It's been suggested that cinnamon oil can also protect against certain strains of bacteria that cause halitosis (bad breath) and also tooth decay, cavities and fungal mouth infections. This again is due to the powerful antibacterial and antifungal components of cinnamon which can naturally combat pathogens in the mouth.
This is why you'll often see cinnamon may be used in natural mouthwashes or even in chewing gum. Traditionally, cinnamon is often used in tooth powders and pastes, and is a gentle solution for toothaches, dental problems and mouth sores.
Real vs 'Not Real' Cinnamon
Pure cinnamon is known as Ceylon Cinnamon, and tends to be little sweeter and less spicy than the more common 'cassia' cinnamon.
Some sources say that Ceylon cinnamon has a higher content of antifungal properties. Cinnamomum verum is the 'true' cinnamon, but the one you've probably used up until now is cassia. In fact, cassia is the type cinnamon you'll usually find in supermarkets. It's more common than you might realise:  more than 90% of the cinnamon imported into the US is cassia.
The difference between the two really comes down to the composition. The medicinal properties of real cinnamon include cinnamyl alcohol, cinnamaldehyde, and cinnamyl acetate.  Cinnamyl alcohol is usually used in cosmetics and fragrances, while cinnamyl acetate is more for hair conditioners and shampoos.
All three of these elements are present in Ceylon cinnamon and exhibit the antifungal and antibacterial properties that make 'real' cinnamon so powerful.
How To Add Cinnamon To Your Diet
Cinnamon is such a versatile spice that it should be an easy addition to your daily diet. There are many options for taking cinnamon supplements (in the form of tinctures or capsules), but most people are happy to indulge in the taste as well!
Like adding salt or herbs, cinnamon is a wonderful flavor you'll enjoy adding to everyday meals and treats. It's great in oatmeal, smoothies, yogurt, baking (sugar-free, of course!), and even savory dishes such as curry. As a spice, it adds warmth and a natural sweetness to food.
Free Guide To Beating Candida
Get your free, 8-part guide to beating Candida, and join more than 100,000 people getting weekly updates and recipes!
Be sure to seek out fresh Ceylon Cinnamon where possible, and make sure that the brand you use is organic, or at least free from radiation.
Here are some great ways to use cinnamon in your Candida diet:
Add to drinks such as smoothies (avocado and almond milk is great!) or turmeric lattes
Blend with stevia or xylitol in place of sugar for cookies or crumbles
Dust almonds with cinnamon powder and roast in the oven
Mix cinnamon powder into natural (unsweetened) or Greek yogurt
Add to marinades for an amazing Middle Eastern flavor to meats, especially roast lamb
Add whole cinnamon quills to casseroles and curries
Mix into rutabaga pie
And here are some of our favorite cinnamon recipes for you to try:
Cinnamon: The Tasty Anti-Candida Spice
Whichever way you use it, cinnamon is a fantastic way to bump up your body's Candida-fighting powers. It can help to weaken the yeast during your Candida cleanse, and also strengthen your immune system against other opportunistic pathogens.
At the same time, you'll be helping to lower any inflammation in your body that may also be affecting your overall health.
Just as importantly, cinnamon will be keeping your erratic blood sugar levels in check so that you aren't unintentionally feeding that Candida yeast. This can also help to ward off those unwanted sugar cravings!
Do some research before purchasing a bulk lot of cinnamon: make sure it's the 'true' Ceylon version that will provide the health benefits you need. And get creative with all the tasty ways you can add it to your daily life!
Also remember that our Ultimate Candida Diet program contains lots more food-based antifungal treatments, as well as a number of recipes that use cinnamon.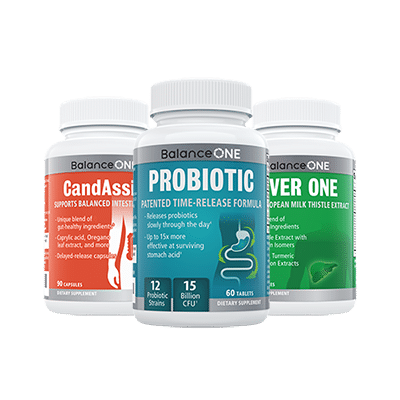 3-Month Candida Elimination Kit
Start Your 3-month Candida Cleanse
This Candida Kit contains all the supplements recommended on the Candida Diet:
- LIVER ONE to process and remove the toxins created by Candida.
- CANDASSIST to inhibit and weaken the Candida colonies in your gut.
- PROBIOTIC to replace the Candida yeast with probiotic bacteria.
Plus... the CANDIDA DIET RECIPE BOOK with 50+ low-sugar recipes
Comments