Does Cinnamon Have Antifungal Properties?
Many of us have an underused spice rack sitting in the corner of our kitchens. But those herbs and spices can do much more than liven up your food – many of them have tremendous medical benefits too.
One such spice is cinnamon. Research over the past few years has tested it against several types of Candida, including Candida albicans (the yeast that causes Candida overgrowth). Those research studies have shown that cinnamon has powerful antifungal properties. If you're not adding it to your food already, it could be a useful addition to your Candida treatment plan.
In this post I'll share with you some of the research that has gone into Candida albicans and cinnamon, explain some of the other benefits that cinnamon has for your health, and list a few recipe ideas for adding cinnamon to your diet.
Cinnamon And Candida
A Chinese study in 2012 looked at the effect of cinnamon oil on Candida albicans both in the laboratory and in patients suffering from intestinal Candida. The results were dramatic. When the researchers examined the Candida cells after they were treated with cinnamon oil, they noted that "Irregular hollows appeared on the surfaces, inside organelles were destroyed, and the cells burst after treatment."
In the second part of their study they took 60 patients infected with intestinal Candida. The patients were suffering from chronic digestive problems, had already been treated with antibiotics, and had eventually been diagnosed with Candida using a stool test. They were treated with a capsule containing both cinnamon oil and pogostemon oil (an Asian herb). After 14 days of treatment, 72% of the patients were found to have no Candida at all in their stool, and the remaining 28% had seen a significant reduction.
Free Guide To Beating Candida
Sign up to our free, 8-part email course today, and learn how to create your own, personalized Candida treatment plan :)
Another study in 2011 looked at the use of cinnamon oil in hospitals. Candida infection can be extremely dangerous among those with severely weakened immune systems, and over the past few decades it has become increasingly common in hospitals. This study looked at the effectiveness of sixteen different essential oils against another type of Candida yeast, and found that, "The most active essential oil was cinnamon oil, which showed anticandidal activity."
More research needs to be done, but all the signs so far are suggesting that cinnamon is a useful antifungal agent. Integrating it into your diet will not just make your food taste better – it may help with your Candida treatment too.
Other Benefits Of Cinnamon
There is another great reason for Candida sufferers to take cinnamon, besides its status as a Candida-fighting food. Several research studies have shown that it regulates blood sugar, and can prevent the spikes in blood sugar that can lead to a Candida overgrowth. In fact, cinnamon is gaining acceptance as a possible treatment for Type 2 Diabetes, as part of a broader set of lifestyle changes.
In a recent post I discussed the link between inflammation and Candida, and how conditions like joint pain and arthritis can be caused or worsened by the byproducts of Candida albicans. Well, cinnamon can help with that too. A Korean study in 2011 found that cinnamon extract suppressed the cytokines that regulate inflammatory responses and have been linked to arthritis. So adding cinnamon to your diet could provide some relief from your aches and pains.
Adding Cinnamon To Your Diet
There are lots of different supplements containing cinnamon extract and cinnamon oil, but the easiest (and tastiest) way to consume it is by adding it to your food. It is particularly good for breakfast recipes. Get fresh cinnamon if you can, and ask your health food store for a brand that has not been irradiated. Look for 'real' cinnamon if you can – this is often known as Ceylon Cinnamon. This form of cinnamon tends to be sweeter and less spicy than the more common 'cassia' cinnamon, and according to some sources has more powerful antifungal properties.
Cinnamon is a really versatile spice that can be used in lots of recipes. You could make some French toast with coconut bread and a sprinkle of cinnamon on top. Try these cinnamon pecan crumb cakes for a tasty dessert. Add some cinnamon to a yogurt parfait (using plain yogurt of course). Or use some coconut flour and cinnamon to make coconut pancakes.
Also remember that our Ultimate Candida Diet program contains lots more food-based antifungal and probiotic treatments, as well as a number of recipes that use cinnamon.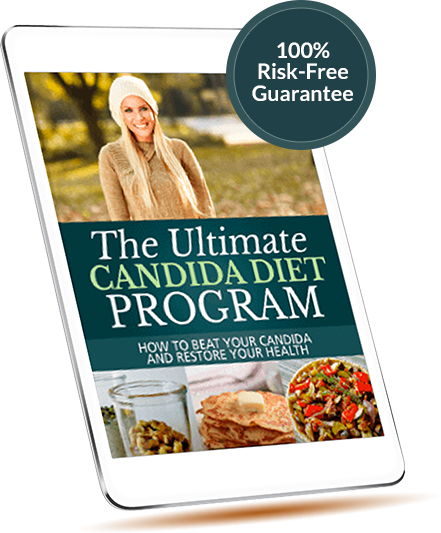 Beat your candida in 60 days
with this detailed 5-step program
If you're looking for a more comprehensive Candida treatment plan, check out the Ultimate Candida Diet program, written by Lisa Richards and Dr Eric Wood. This plan is based on the latest research into Candida Related Complex, and contains everything you need to know to beat your Candida overgrowth.
Comments