Turmeric: A Natural Antifungal
Famous throughout Asia as a culinary spice used in hundreds of traditional dishes, turmeric is one of the world's most talked-about medicinal herbs.
Ground turmeric root has an earthy taste, a slightly mustardy smell, and a distinctive bright yellow color. It's been used throughout history in curries, soups and even as a coloring agent. But of course, it's turmeric's incredible therapeutic properties that have made it a part of traditional medicine.
When it comes to natural anti-inflammatory treatments, turmeric is the king. Turmeric's secret is its active ingredient, curcumin. Numerous scientific studies have shown curcumin to have similar anti-inflammatory properties to pharmaceutical drugs such as hydrocortisone. It's also suggested that curcumin could be effective in treating chronic inflammatory conditions such as Crohn's disease, ulcerative colitis and even arthritis.
As an antifungal agent, turmeric boasts some surprising properties. A number of studies have pointed to turmeric's efficacy in fighting both Candida albicans and the biofilms that it forms. This makes it a very useful addition to an anti-Candida program. Pharmaceutical antifungal drugs are often associated with a number of side effects, which is why natural antifungal treatments can often be preferable.
How Does Turmeric Work?
While turmeric's most celebrated properties include anti-inflammatory and antioxidant, its antifungal and antimicrobial actions have also come to light.
Free Guide To Beating Candida
Sign up to our free, 8-part email course today, and learn how to create your own, personalized Candida treatment plan :)
However, today I am going to be focusing on turmeric's role as an antifungal agent. Recent research has begun to show that turmeric can be effective both against Candida albicans and the biofilms that it forms, so it could be a very useful addition to your anti-Candida program.
Antifungal
A Brazilian research team investigating the efficacy of Curcumin against 23 strains of fungi found that Curcumin was able to completely inhibit the growth of Candida albicans, as well as a number of other fungal strains. The researchers also tested Curcumin using human cells, and found Curcumin was able to stop Candida from adhering to the human cells. In fact, they found that Curcumin was even more potent than the commercial antifungal drug fluconazole.
Another study examined the effect of ascorbic acid on the antifungal properties of Curcumin. Although ascorbic acid has no significant antifungal properties of its own, researchers found that using it alongside Curcumin actually made the Curcumin more effective. Even more remarkable was that the Curcumin was 5-10 times more effective against Candida albicans when it was used in the presence of ascorbic acid! This suggests that certain vitamin C supplements may help to make curcumin even more effective against Candida.
Antimicrobial
Evidence of curcumin's antimicrobial properties have led to its use as a food-safe antibacterial agent. This means it can be used safely on food preparation surfaces such as chopping boards, meat cleavers and countertops. Researchers believe that curcumin is able to invade the cell of a bacterial species and kill it from the inside.
Other Benefits Of Turmeric
Turmeric's numerous health benefits make it one of the most-researched herbs in the scientific world. So far, turmeric has been shown to:
Reduce acute and chronic inflammation in the body
Reduce pain
Fight harmful free radicals
Improve brain function
Reduce the progression of arthritis
Reduce the risk of heart disease
Reduce the risk of cancer-causing cells forming in the body
Help prevent Alzheimer's Disease
Support mental health
Reduce the effects of ageing
How To Take Turmeric
Benefitting from turmeric's amazing health properties is not simply a matter of swallowing teaspoons of turmeric powder! It's believed that the curcumin content of turmeric is only around 3%, so it's important to know how and when to take it properly.
Researchers have found that curcumin is better absorbed by the body when taken with black pepper and a healthy fat. Black pepper increases the bioavailability of the active compounds in turmeric. Many turmeric supplements include a patented form of black pepper for this very reason. Turmeric is most often available in capsule form, but it can also be taken as a tea.
Capsules: Most supplements recommend a dosage of 2-3 capsules per day. Refer to manufacturer's instructions.
In meals: Curcumin supplements are much more concentrated than regular turmeric, but that certainly doesn't mean that you won't get any benefit from adding turmeric to your diet. If you enjoy curries or Middle Eastern cuisine, then including turmeric in your recipes is pretty easy. It can also be added to lots of meat dishes, used in marinades, and added to egg salads or scrambled eggs. Two good examples are this grilled chicken with bok choy recipe and these quinoa and rutabaga patties.
Drink: You can use turmeric to make a delicious anti-Candida drink too. This is a personal favorite of mine as it combines coconut milk with turmeric, ginger, and cinnamon. All 4 of these ingredients are proven antifungals. The healthy fats in the coconut milk also help you to absorb the turmeric, as it is not water-soluble.
Turmeric Tea (Golden Milk)
Ingredients
½

can of coconut milk

½

tsp.

ground turmeric

½

tsp.

ground ginger (or finely chopped ginger)

½

tsp.

cinnamon

Pinch of black pepper

Stevia to taste
Instructions
Heat the coconut milk gently on the stove.

Add the spices and stevia, then stir well. If you use a blender you will usually get more flavor and a smoother consistency.
Who Should Not Take Turmeric?
Women who are pregnant or breastfeeding are not advised to take supplements, but turmeric in meals should be fine.
Those with gallbladder issues such as gallstones should consult with their health professional before taking curcumin supplements, as there is the potential for curcumin to cause contraction of the gallbladder.
It's also advised that those taking medications for chronic conditions check with their health professional before commencing curcumin supplementation, in case of interaction. This may include medications involved with blood thinning, blood sugar or stomach acid.
The Bottom Line
Turmeric can act to reduce pain, lower inflammation, reduce the risk of heart disease, support mental health, and much more. It also has some antifungal effects that may help to rebalance the gut and fight a Candida overgrowth.
When buying a turmeric supplement, make sure that the source of the turmeric is reputable and high quality. Also look for supplements that contain a black pepper extract like BioPerine, as this will increase the bioavailability of the curcumin in the turmeric by 2000%.
I recommend Balance ONE Turmeric. It uses a high quality turmeric extract, standardized to 95% curcuminoids. The turmeric is Rainforest Alliance Certified, and it contains a small amount of BioPerine to increase bioavailability. It also contains 100mg of ginger extract to reduce inflammation and improve digestion.
This turmeric comes in small, easy-to-swallow capsules. A regular dose is three capsules, which makes it easy to start slow and gradually adjust your dose. You can read more about it on the Balance ONE website.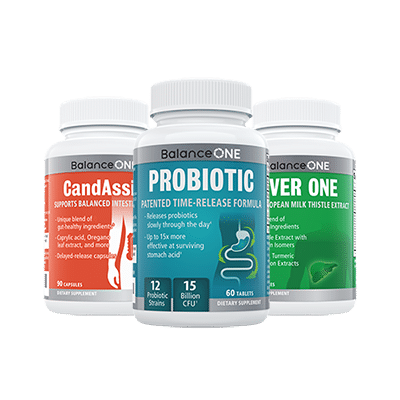 3-Month Candida Elimination Kit
Start Your 3-month Candida Cleanse
This Candida Kit contains all the supplements recommended on the Candida Diet:
- LIVER ONE to process and remove the toxins created by Candida.
- CANDASSIST to inhibit and weaken the Candida colonies in your gut.
- PROBIOTIC to replace the Candida yeast with probiotic bacteria.
Plus... the CANDIDA DIET RECIPE BOOK with 50+ low-sugar recipes
Comments