Cinnamon Coconut Crisp Cereal
Most of us grew up eating cereal as part of our morning breakfast routine. At the time, most people didn't realize just how unhealthy those packaged cereals were! Packaged breakfast cereals generally contain much more sugar than people realize.
This Cinnamon Coconut Crisps Cereal is a healthier version of the sugar-laden varieties found in your supermarket. It's crisp, lightly sweet, and has a tasty cinnamon kick.
This breakfast will give you a sustained energy boost throughout the morning, unlike sugary cereals that spike your blood sugar temporarily, only for it to crash later in the morning.
It takes about half an hour to prepare a batch of our cinnamon coconut crisps. You can save time by preparing it in bulk on the weekend, then serving it during the week. The crisps will last for at least a week, even if not refrigerated. Just keep them in a cool dry place. If you plan on making larger batches and storing them for longer, consider freezing them.
Sprinkle your coconut crisps with shredded coconut and serve with a splash of unsweetened almond milk for a rich, filling bowl. If you are including low sugar fruits in your diet, you can also top it with a few fresh blueberries. Remember, you don't have to be a kid to enjoy a bowl of cereal!
Free Guide To Beating Candida
Sign up to our free, 8-part email course today, and learn how to create your own, personalized Candida treatment plan :)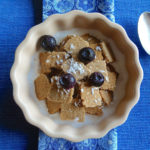 Cinnamon Coconut Crisps Cereal
Ingredients
1 ½

cups

almond flour

½

cup

unsweetened shredded coconut

1 ½

tsp.

cinnamon

¼

tsp.

salt

¼

tsp.

baking soda

½

tsp.

alcohol free vanilla

½

tsp.

stevia powder

1

Tbsp.

coconut oil, melted

1

egg white, at room temperature

Blueberries (optional)
Instructions
Preheat oven to 350 degrees F (177 degrees C).

In a medium bowl, combine almond flour, unsweetened shredded coconut, cinnamon, salt and baking soda. Whisk to combine, set aside.

In a small bowl, add alcohol free vanilla, stevia powder and melted coconut oil. Whisk until stevia powder has dissolved. In another small bowl, whisk egg white until frothy. Combine egg white and liquid mixture, whisk thoroughly.

Add liquid ingredients to dry ingredients, stir well to form a dough. Roll out dough between two sheets of parchment paper into a thin, 10 x 15 inch rectangle. Transfer cereal dough and parchment paper onto a baking sheet. Remove top sheet of parchment paper and bake dough for 12 minutes.

Transfer cereal dough and parchment paper to a work surface. With a sharp knife, carefully cut dough into one inch strips and then across into one inch strips, creating one inch squares.

Cool cereal completely. Serve with coconut or almond milk.
It's not easy to find recipes that are free of  gluten and sugar, especially for breakfast! The Ultimate Candida Diet program, which I created with Dr Eric Wood, contains more than 100 tasty recipes, and they're all completely free of gluten and sugar.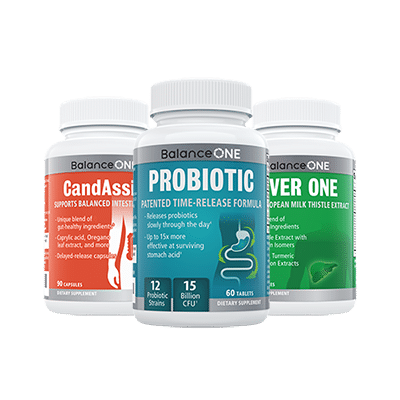 3-Month Candida Elimination Kit
Start Your 3-month Candida Cleanse
This Candida Kit contains all the supplements recommended on the Candida Diet:
- LIVER ONE to process and remove the toxins created by Candida.
- CANDASSIST to inhibit and weaken the Candida colonies in your gut.
- PROBIOTIC to replace the Candida yeast with probiotic bacteria.
Plus... the CANDIDA DIET RECIPE BOOK with 50+ low-sugar recipes
Comments