Cinnamon Pecan Crumb Cakes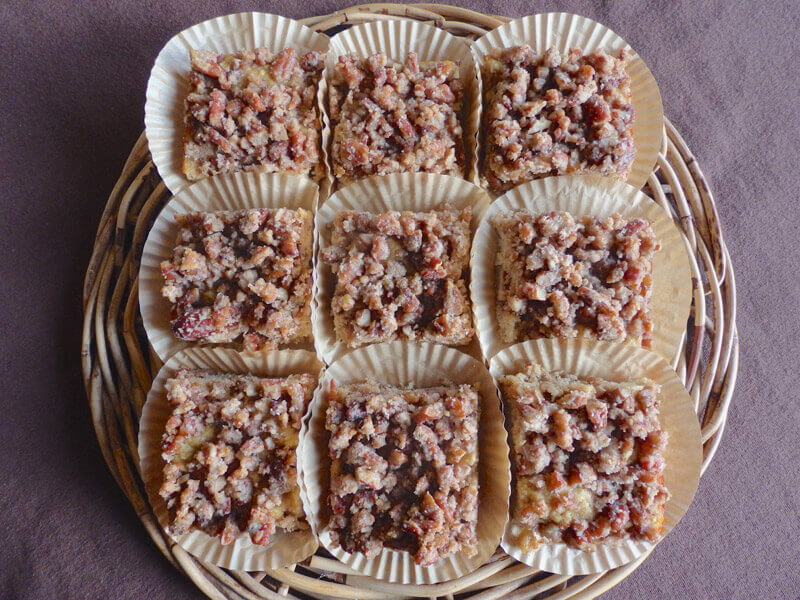 Here's a tasty, filling dessert recipe that combines two of my favorite flavors – cinnamon and pecan. You can adjust this recipe in so many ways. Add in some extra almonds or pumpkin seeds, mix in some shredded, unsweetened coconut, or even add a little vanilla extract. Don't be afraid to make your own version!
Almond flour is a gluten-free low-carbohydrate alternative to your regular flour. And antifungal ingredients like the coconut oil and cinnamon give it an antifungal kick to help maintain a healthy balance of microorganisms in your gut.
These little cakes are the perfect snacks for friends and family. You can make a large batch and freeze them too. Take them on a picnic, or just keep them in the house for those between-meal hunger pangs. Just remember to make enough!
Cinnamon Pecan Crumb Cakes
Ingredients
INGREDIENTS FOR THE TOPPING
1 ½

cups

pecans, chopped

½

cup

almond flour

½

tsp.

powdered stevia

1

tsp.

ground cinnamon

Pinch

of salt

¼

cup

coconut oil, melted
INGREDIENTS FOR THE CAKE
1

cup

almond flour

2

tsp.

coconut flour

Pinch

of salt

¼

tsp.

baking soda

1½

Tbsp.

ground cinnamon

2

eggs

1

tsp.

powdered stevia

⅓

cup

plain yogurt
Instructions
Preheat oven to 350 degrees F (177 degrees C). Brush an 8 x 8 inch baking pan with oil. Cut a piece of parchment paper the width of the bottom of the pan and long enough to overlap the two sides of the pan. Brush parchment paper with oil, set aside.

To make crumb topping, add chopped pecans, almond flour, powdered stevia, salt, cinnamon, and melted coconut oil in a medium bowl. Stir to combine, chill.

For the cake, start by adding the almond flour, coconut flour, salt, baking soda, and ½ Tbsp of the cinnamon in a large bowl. Whisk to combine, then set aside.

In a small bowl, add the eggs, powdered stevia, and the remaining 1 Tbsp of cinnamon, and whisk until frothy. Add yogurt, then stir to combine.

Add the liquid ingredients to the dry ingredients. Stir to thoroughly combine. Spoon your cake batter into the parchment paper in a oven dish, then evenly sprinkle with crumb topping.

Bake the crumb cake for 20 minutes or until center is firm to the touch. Cool, and serve!
Looking for more gluten-free, sugar-free recipes? My Ultimate Candida Diet program contains more than 50 delicious recipes, plus lots of valuable advice on which foods to eat and avoid. Find out more here.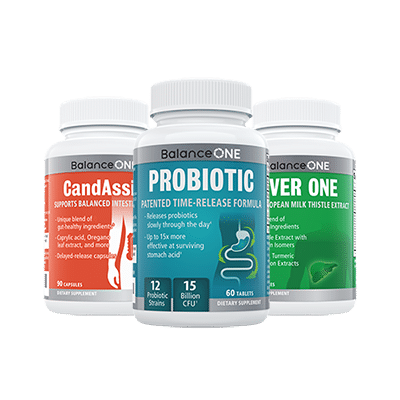 3-Month Candida Elimination Kit
Start Your 3-month Candida Cleanse
This Candida Kit contains all the supplements recommended on the Candida Diet:
- LIVER ONE to process and remove the toxins created by Candida.
- CANDASSIST to inhibit and weaken the Candida colonies in your gut.
- PROBIOTIC to replace the Candida yeast with probiotic bacteria.
Plus... the CANDIDA DIET RECIPE BOOK with 50+ low-sugar recipes
Comments