Developed around 1900, by Swiss physician Maximilian Bircher-Benner for patients in his hospital, Bircher Muesli is a popular breakfast dish based on raw ingredients. In this case we're using lots of healthy ingredients from the foods to eat list, including coconut flakes, seeds, and nuts, mixed with coconut milk and a squeeze of lemon.
For many people, their only experience of Bircher Muesli is in the buffet breakfast at a hotel. I'm here to tell you that this is a really simple, nutritious breakfast that can be prepared in advance and served to the whole family. It can be stored for long periods too, so you can make a large batch in advance.
Bircher Muesli can be served right away or soaked overnight (this is my personal favorite). For some added goodness, and some healthful probiotic bacteria, you can eat it with a dollop of plain, probiotic yoghurt. This muesli contains no added sugars, is naturally low in carbohydrates, and will give you plenty of energy to last through the whole morning. Enjoy!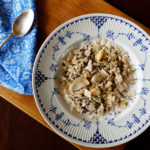 Bircher Muesli
Ingredients
INGREDIENTS FOR MUESLI MIX
1½

cups

unsweetened coconut flakes

½

cup

nuts such as macadamia, hazelnuts, almonds, pecans or walnuts

2

Tbsp.

chia seeds

2

Tbsp.

raw pumpkin seeds or sunflower seeds

½

tsp.

cinnamon

½

tsp.

ginger

¼

tsp.

fresh grated nutmeg (optional)

Pinch

of salt
INGREDIENTS FOR EACH SERVING
½

cup

Bircher Muesli

½

cup

coconut milk

Dash of alcohol vanilla (optional)

2 to 3

drops liquid stevia (optional)

Squeeze of lemon juice

Plain, probiotic yogurt (optional)
Instructions
DIRECTIONS FOR MUESLI MIX
In a medium bowl or a container with a tightly fitting lid, add coconut flakes, macadamia nuts, chia seeds, pumpkin seeds, cinnamon, ginger, nutmeg and a pinch of salt, mix well.

Store muesli ingredients in a container with a tightly fitting lid for a day or two to let the flavors develop. This mixture will keep for up to two months.
DIRECTIONS FOR EACH SERVING
In a small bowl, combine coconut milk, alcohol free vanilla, stevia and lemon juice.

Stir well, then add muesli and top with a dollop of plain yogurt.

For a softer texture, prepare a bowl the night before. Put a serving of muesli in a bowl and cover with the coconut milk mixture. Place in refrigerator overnight. In the morning, enjoy plain or with a dollop of yogurt.
Looking for more gluten-free, sugar-free recipes? My Ultimate Candida Diet program contains more than 50 delicious recipes, plus lots of valuable advice on which foods to eat and avoid. Find out more here.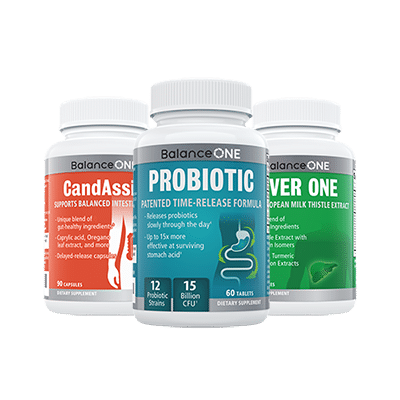 3-Month Candida Elimination Kit
Start Your 3-month Candida Cleanse
This Candida Kit contains all the supplements recommended on the Candida Diet:
- LIVER ONE to process and remove the toxins created by Candida.
- CANDASSIST to inhibit and weaken the Candida colonies in your gut.
- PROBIOTIC to replace the Candida yeast with probiotic bacteria.
Plus... the CANDIDA DIET RECIPE BOOK with 50+ low-sugar recipes
Comments