Monk Fruit: A Healthier Alternative To Sugar
Just when you thought you'd tried all the sugar-free natural sweeteners around, along comes a brand-new one: monk fruit! And this may be the best yet.
Although fairly new to the Western market, monk fruit extract has been used as both a sweetener and medicine for centuries. Also known as luo han guo, monk fruit is named for the monks who grew it in southern Chinese mountains hundreds of years ago. It's part of the gourd family and grows on a vine, but doesn't usually grow wild.
Monk fruit extract contains some incredible compounds that are 300-400 times sweeter than cane sugar. But, and here's the real kicker, it's virtually calorie-free. That means it won't affect blood sugar levels, and it won't rot your teeth.
Because monk fruit has a rather short shelf life after being harvested – and an unpleasant rotten taste – it's rarely eaten fresh. Monk fruit sweetener, on the other hand, is very pleasant and lacks the aftertaste that some other natural sweeteners have.
Why Monk Fruit Is Suitable For The Candida Diet
Monk fruit's sweet taste is not actually from its sugars but from its antioxidant content! These antioxidants – known as mogrosides – aren't metabolized by the body in the same way as natural sugar, so they're not used for energy. The trace amounts of natural sugars in monk fruit – fructose, glucose and other components – are insignificant as a calorie source. This basically means you get the benefits of a sweet taste but in a form that the body doesn't recognize as calories.
Free Guide To Beating Candida
Sign up to our free, 8-part email course today, and learn how to create your own, personalized Candida treatment plan :)
More importantly, the lack of sugars in monk fruit means there's nothing to feed a Candida overgrowth or indeed any other form of gut dysbiosis. This makes monk fruit a fantastic low-carb sweetener for satisfying those sugar cravings.
There's yet another reason for using monk fruit as your anti-Candida sweetener – it's a proven antimicrobial. Similarly to xylitol, monk fruit has been shown to harbor special properties that inhibit the growth of bacteria in the mouth. These are the type of bacteria that can cause tooth decay and periodontal disease. There is also some evidence that monk fruit may be effective in treating some forms of candida overgrowth such as oral thrush.
Benefits of Monk Fruit
Monk fruit isn't just a tasty sugar-free sweetener. Here are some other benefits that you should be aware of.
It's An Antioxidant
Monk fruit harbors an array of health properties that can boost your body's free-radical fighting powers. In fact, some cultures refer to it as the 'longevity fruit', due to its efficacy as an antioxidant. Studies have shown that mogrosides can significantly block harmful reactive oxygen species and prevent DNA oxidative damage. Being both a calorie-free sweetener AND an antioxidant makes monk fruit something of a superfood!
It Relieves Heat-Aggravated Conditions
Monk fruit's anti-inflammatory properties make it a popular remedy in traditional medicine to relieve the body of heat-related conditions. Chinese herbalists will make tea from boiled monk fruit to help cool the body from ailments such as fever or sunburn.
It Can Help Manage Diabetes
As an antihyperglycemic, monk fruit has been shown to help reduce blood glucose levels in the body. It's also believed that its antioxidant compounds can help pancreatic cells function more efficiently, improving insulin secretion. Better insulin secretion is a major part of improving diabetic patients' health, and monk fruit has even shown results in reducing kidney damage and other diabetes-related issues.
It Can Clear The Respiratory Tract
Monk fruit's expectorant properties make it useful for respiratory ills such as coughs and colds. It's used to clear away the inflammation to relieve sore throat, and break up phlegm in the throat and lungs. In Chinese medicine, monk fruit's indications are referred to as "phlegm-fire cough", sore throat, tonsillitis, acute gastritis, and constipation.
How Does Monk Fruit Compare To Xylitol, Stevia and Erythritol?
When it comes to natural sweeteners, we're spoiled for choice these days. Xylitol, stevia, and erythritol all have their benefits and uses.
These are all great options for your Candida diet, or in fact any low-sugar eating plan. However, unlike some sugar alcohols, monk fruit doesn't cause gastrointestinal issues such as bloating and diarrhea. It also doesn't have the intensely sweet after-taste that some people dislike about stevia.
If you've tried these other sweeteners and found that they're not for you, monk fruit may be the answer.
What To Look For When Buying Monk Fruit Extract
Monk fruit extract or sweetener can be purchased online or in health food stores. Note that the sweetness depends on the concentration of the extract and the number of mogrosides it contains. These mogrosides are ranked from 1-5 in terms of their sweetness. Number 5 is the sweetest, and conveys the most health benefits.
Of course, certain manufacturers may modify the sweetness of a product by adding other ingredients.  When purchasing monk fruit sweeteners, check the ingredients listing for additives. Some commercial products may blend monk fruit with dextrose, molasses and/or sugar alcohols to balance the sweetness. Check the label and be aware of what you're purchasing.
How To Use Monk Fruit
As an extract, monk fruit can be added to beverages, baking and desserts. Only a very small amount is required, as the sweetness is so powerful!
Dried monk fruit may also be available at Asian supermarkets, and be used in soups and teas. Make a monk fruit tea by simmering around 9-15g of dried monk fruit in boiling water.
Making monk fruit extract involves harvesting the fresh fruit and infusing it with the juice in a hot water infusion. It is then filtered and dried, and the extract is ground to a powder.
Does Monk Fruit Sweetener Make Sense For Your Diet?
Natural sweeteners such as monk fruit provide the sweet taste that we all crave, yet they have virtually no effect on your blood sugar. It's no secret that most of us consume far too much sugar – and that this is contributing to a huge increase in gut disorders like Candida overgrowth, obesity, and diabetes.
Monk fruit is a healthy, natural alternative to sugar and artificial sweeteners. Some people may find it even better than sugar alcohols, which can cause occasional digestive problems. The only tricky part is finding it: monk fruit extract is not yet as readily available as other sweeteners such as stevia, xylitol and erythritol.
If you're not sure how to eat on the Candida diet, don't worry! Dr Eric Wood and I have put together a comprehensive guide to the dietary and lifestyle changes that you need to make to restore your gut health and energy levels. Check it out here.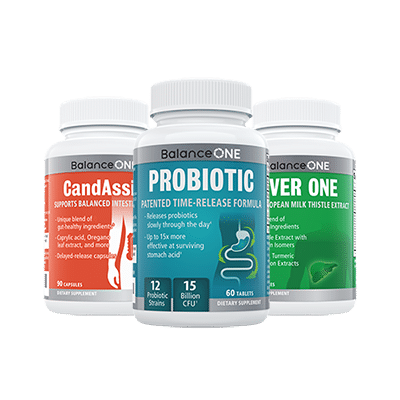 3-Month Candida Elimination Kit
Start Your 3-month Candida Cleanse
This Candida Kit contains all the supplements recommended on the Candida Diet:
- LIVER ONE to process and remove the toxins created by Candida.
- CANDASSIST to inhibit and weaken the Candida colonies in your gut.
- PROBIOTIC to replace the Candida yeast with probiotic bacteria.
Plus... the CANDIDA DIET RECIPE BOOK with 50+ low-sugar recipes
Comments