Cultivated along the shores of the Mediterranean Sea since Roman times, cauliflower's popularity has spread, making it one of the more widely enjoyed cruciferous vegetables around the globe. Now, it's enjoying a resurgence in popularity thanks to low-carbohydrate diets like the Candida diet and Keto diet. 
Cauliflower is high in vitamin C and is also a good source of vitamins K and B6, folate, and minerals potassium and manganese. It is also rich in anti-inflammatory and antioxidant compounds. Cauliflower's growing season begins in October and extends through April, but is available year round in your grocery store. When shopping for cauliflower, look for creamy white, unblemished heads with tight florets and fresh looking leaves.
Cauliflower is a delicious and versatile vegetable. It can be stir fried, steamed, boiled, roasted, grilled, mashed, broiled, processed into a rice substitute, or even cut into steaks and grilled. It's mild flavor creates a nice base when substituting for grains, making it increasingly popular as people search for healthier, gluten-free alternatives. 
Cauliflower replaces traditional grains in this recipe for Cauliflower Tortillas. Tender, soft and flavorful, you'll stop missing corn and flour tortillas after one bite! You can use them to make delicious tacos as well as sandwich wraps. Or try them as a snack, eaten plain with a squeeze of fresh lime juice and a pinch of chill salt. Enjoy!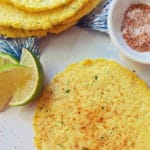 Cauliflower Tortillas
Ingredients
1

cauliflower, about 1 1/2 pounds

leaves trimmed and roughly chopped

2

eggs

Pinch

of salt

1

Tbsp.

fresh cilantro

finely minced

Lime wedges

Chili salt
Instructions
Preheat the oven to 375 degrees F (190 degrees C). Line two baking sheets with parchment paper, set aside.

In the bowl of a food processor, add the chopped cauliflower and pulse until you get a texture that's a bit finer than rice.

In a fine mesh steamer basket, add the cauliflower and steam over boiling water for 5 minutes.

Place the steamed cauliflower in a kitchen towel and squeeze out the excess water. It's very important to squeeze out as much water as you possibly can.

Return the cauliflower to the bowl of a food processor along with the eggs, salt and cilantro. Pulse until well combined, about 30 seconds.

Spoon the tortilla mixture onto the prepared baking sheets into 6 equal portions, 3 portions per baking sheet. With an offset spatula, spread each portion into thin circles, about 5 to 6 inches in diameter.

Bake the tortillas for 10 minutes, then flip and cook for another 5 minutes on the other side. Serve warm.
Are you craving pasta and other grain-base foods on your Candida diet? You can find more than 100 delicious Candida diet recipes, including gluten-free coconut bread, in the Ultimate Candida Diet program, which I created with Dr Eric Wood.
Free Guide To Beating Candida
Sign up to our free, 8-part email course today, and learn how to create your own, personalized Candida treatment plan :)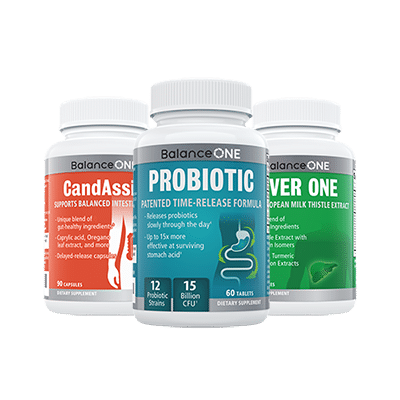 3-Month Candida Elimination Kit
Start Your 3-month Candida Cleanse
This Candida Kit contains all the supplements recommended on the Candida Diet:
- LIVER ONE to process and remove the toxins created by Candida.
- CANDASSIST to inhibit and weaken the Candida colonies in your gut.
- PROBIOTIC to replace the Candida yeast with probiotic bacteria.
Plus... the CANDIDA DIET RECIPE BOOK with 50+ low-sugar recipes
Comments