Fish Tacos With Lime Crema
The fish taco originated many years ago in Baja California, where locals ate their catch of the day, grilled or deep fried, in a soft homemade tortilla.
This fish tacos recipe keeps things really simple, but it's a powerhouse of flavor and nutrition! Our tortillas are made with coconut flour and arrowroot flour. That means they're gluten-free, contain no added sugars, and are a perfect choice for maintaining your gut health. They're also low in carbohydrates, which is great news if you're on the Candida diet (or any other diet that limits carbs).
In this recipe, we bake the fish instead of fry it. This is a healthier option, not to mention less messy in your kitchen!
Creating the perfect fish tacos is all about preparation. This recipe does requires a lot of ingredients, although many of them are probably already in your pantry. Make sure you have everything lined up and ready to go before you start. While the fish is baking, you should have plenty of time to prepare the tortillas and make the lime crema.
These tacos are especially tasty with a tortilla hot out of the skillet. Serve them the classic way with shredded cabbage, a cream based sauce and a squeeze of lime.
Free Guide To Beating Candida
Sign up to our free, 8-part email course today, and learn how to create your own, personalized Candida treatment plan :)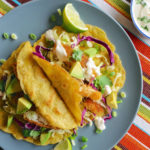 Fish Tacos
Ingredients
Fish Fillets
3

Tbsp.

oil, such as olive or coconut, melted

1/2

lb.

fish fillets

2

Tbsp.

coconut flour

2

Tbsp.

arrowroot powder

A good pinch each of salt, pepper, and paprika
Tortillas
1/4

cup

coconut flour

1

cup

arrowroot powder

1

Tbsp.

golden flaxseed meal

1/4

tsp.

salt

1 1/4

cup

unsweetened coconut, almond or flaxseed milk

2

eggs

Oil, such as olive or coconut, for frying

Shredded cabbage, green and purple

Diced avocado cubes

Thinly sliced scallions

Finely minced cilantro

Lime wedges
Lime Crema
1

cup

plain yogurt or kefir

Fresh lime juice (1/4/ lime)

A good pinch each of salt, cumin, and paprika
Instructions
Directions for fish fillets
Preheat oven to 400 degrees F (205 degrees C). Drizzle a rimmed baking sheet with 1 tablespoon oil, set aside.

On a shallow plate, combine coconut flour, arrowroot powder, salt, pepper and paprika, stir with a fork to combine.

Coat fish fillets with flour mixture, transfer to baking sheet and drizzle fillets with remaining 2 tablespoons of oil.

Bake fish fillets until cooked through, about 20 minutes, flipping halfway through baking. Remove fillets from oven and set aside.
Directions for tortillas
In a medium bowl add coconut flour, arrowroot powder, golden flaxseed meal and salt, whisk to combine.

Make a well in the center of the flour mixture. Add milk and eggs and whisk batter until thoroughly combined.

Let tortilla batter rest for a few minutes, as coconut flour absorbs moisture and thickens slightly.

Heat about a half teaspoon of oil in a skillet over medium heat. Pour 1/4 cup of tortilla batter into the center of the skillet. With an off set spatula or the back of a spoon, smooth out batter to create an 6 inch tortilla.

Fry tortilla for about 2 minutes on each side. Repeat process with remaining batter, adding another half teaspoon of oil to the skillet for each tortilla. This makes about 8 tortillas.

To assemble tacos, first top each tortilla with shredded cabbage. Then cut the fish fillets into bite size pieces and divide equally among the tacos.

Garnish each taco with cubed avocado, sliced scallions, and finely minced cilantro. Finish off with a drizzle of Lime Crema (see below) and a squeeze of fresh lime juice.
Directions for lime crema
Combine all ingredients in a small bowl, whisk to combine.
These fish tacos are fantastic as a snack or a main course. Our Ultimate Candida Diet program contains more than 100 gluten-free, sugar-free recipes just like this, plus lots of valuable advice on which foods to eat and avoid. Find out more here.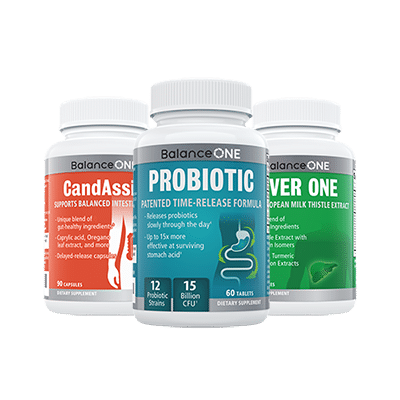 3-Month Candida Elimination Kit
Start Your 3-month Candida Cleanse
This Candida Kit contains all the supplements recommended on the Candida Diet:
- LIVER ONE to process and remove the toxins created by Candida.
- CANDASSIST to inhibit and weaken the Candida colonies in your gut.
- PROBIOTIC to replace the Candida yeast with probiotic bacteria.
Plus... the CANDIDA DIET RECIPE BOOK with 50+ low-sugar recipes
Comments