Roasted Cauliflower with Radicchio Salsa
Here is an imaginative snack recipe that you can eat as an afternoon nibble, or serve as a side with your main meal.
It comes with a delicious radicchio salsa that makes it perfect for snacking by yourself, or serving at parties for friends and family.
For those of you who haven't tried roasted cauliflower yet, once you try it you will never go back to steaming your cauliflower! It has a slightly crunchy texture and is a healthy, nutritious food for all the family too.
You can also use cauliflower to make an appetizing alternative to rice too, which is a really handy trick for those avoiding or limiting rice as part of their Candida diet. Just take a bunch of cauliflower florets, throw them in the blender, and pulse until they resemble rice grains. Easy!
Roasted Cauliflower with Radicchio Salsa
Ingredients
INGREDIENTS FOR THE ROASTED CAULIFLOWER
1

medium head cauliflower, trimmed, cut into thick, ½ inch slices

2

Tbsp.

olive or coconut oil

Salt
INGREDIENTS FOR THE RADICCHIO SALSA
1

cup

radicchio or red cabbage, roughly chopped

1

shallot, roughly chopped

¼

cup

fresh parsley

¼

cup

sliced almonds

1

Tbsp.

coconut aminos or apple cider vinegar

¼

tsp.

salt

Pepper to taste

Pinch

of powdered stevia or 1 drop liquid stevia
Instructions
Preheat oven to 400 degrees F (205 degrees C).

Lay cauliflower slices directly on a rimmed baking sheet, brush both sides of each slice with oil and season with salt. Roast 10 to 15 minutes, until undersides begin to brown, then flip slices with a spatula and roast for another 10 minutes.

While cauliflower is roasting, prepare salsa. In the bowl of a food processor, add chopped radicchio and shallot, parsley, sliced almonds, coconut aminos, salt, pepper and a pinch of powdered stevia. Pulse until just combined.

To serve, spoon radicchio salsa on top of roasted cauliflower slices.
My Ultimate Candida Diet program includes more than 100 tasty recipes for every meal and every stage of the Candida diet. They are gluten-free, sugar-free, and absolutely delicious! Dr Wood and I have also included lots of valuable advice on how to beat Candida, and which foods to eat and avoid.
Free Guide To Beating Candida
Sign up to our free, 8-part email course today, and learn how to create your own, personalized Candida treatment plan :)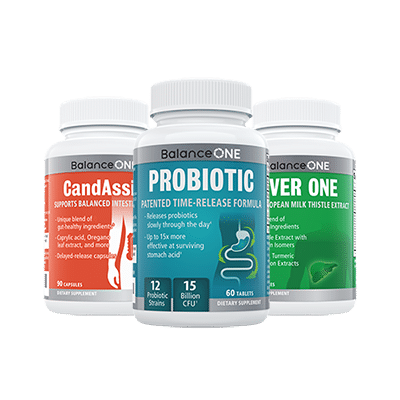 3-Month Candida Elimination Kit
Start Your 3-month Candida Cleanse
This Candida Kit contains all the supplements recommended on the Candida Diet:
- LIVER ONE to process and remove the toxins created by Candida.
- CANDASSIST to inhibit and weaken the Candida colonies in your gut.
- PROBIOTIC to replace the Candida yeast with probiotic bacteria.
Plus... the CANDIDA DIET RECIPE BOOK with 50+ low-sugar recipes