This Cauliflower Curry is an Indian-inspired vegan dish that comes together quite easily. It is a warmly spiced curry, which gives this classic chunky vegetable dish its exotic taste. And turmeric is what gives it its vibrant color. Turmeric is a powerful anti-inflammatory and antioxidant, which is perfect for reducing gut inflammation while on the Candida diet.
This recipe has lots of ingredients but, once you have them all ready, it's very quick to put together Another useful thing about this curry dish is its versatility. Once you've mastered this version, experiment with different combinations of vegetables, and use whatever seasonal vegetables you have to hand. Firmer vegetables need a longer cooking time, so add them at the beginning. More delicate vegetables like leafy greens need only a few minutes, so they can go in at the end.
This cauliflower curry is delicious served with non-glutenous grains like quinoa and millet. You can also add a few dollops of cooling, probiotic yogurt to contrast to the spices in the curry. It makes a nice vegetarian meal, but goes equally well with grilled or roasted meats. Leftovers? They are more flavorful the next day!
Cauliflower Curry
Ingredients
2

Tbsp.

oil, such as coconut or olive

1/4

cup

diced onion

2

stalks celery, thinly sliced

1

clove

garlic, minced

1/2

tsp.

powdered coriander

1/2

tsp.

powdered cumin

1/2

tsp.

powdered ginger

1/2

tsp.

powdered turmeric

1/4

tsp.

red pepper flakes

1

cauliflower, about 1 1/2 pounds, cut into bite size pieces

1

zucchini, halved lengthwise, then sliced into half moons about 1/2 inch thick

3

tomatoes, diced

1

tsp.

salt

2

cups

water or vegetable broth

2

handfuls baby spinach leaves

2

Tbsp.

toasted slivered almonds

2

Tbsp.

fresh cilantro, finely minced

1

lemon cut into wedges

Plain yogurt (optional)
Instructions
In a cooking pot or large skillet, heat oil over medium heat.

Add diced onions and sliced celery, saute about 5 minutes.

Now add minced garlic and continue to saute vegetables for another 5 minutes or until vegetables are softened.

Next add the powdered spices, coriander, cumin, ginger, turmeric and the red pepper flakes, stir to combine and saute until spices are fragrant, about 1 minute.

Now add the cauliflower pieces, zucchini half moons, diced tomatoes, salt and water or broth.

Bring to a boil over high heat, then reduce heat to medium low, cover and simmer until cauliflower is tender, about  20 minutes.

Uncover, add spinach and simmer for another 3 to 4 minutes. Season to taste with additional salt and pepper if needed.

Garnish curry with a sprinkling of toasted slivered almonds and finely minced cilantro. Serve with lemon wedges and a few dollops of plain yogurt (optional).
Are you struggling to make tasty meals while on the Candida diet? You can find more than 100 delicious recipes, just like this one, in the Ultimate Candida Diet program, which I created with Dr Eric Wood. There's lots of advice on foods to eat and avoid, as well as which supplements can help to fight your Candida.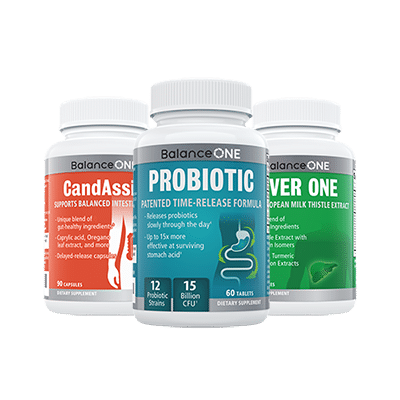 3-Month Candida Elimination Kit
Start Your 3-month Candida Cleanse
This Candida Kit contains all the supplements recommended on the Candida Diet:
- LIVER ONE to process and remove the toxins created by Candida.
- CANDASSIST to inhibit and weaken the Candida colonies in your gut.
- PROBIOTIC to replace the Candida yeast with probiotic bacteria.
Plus... the CANDIDA DIET RECIPE BOOK with 50+ low-sugar recipes
Comments