The Ultimate Candida Diet Program
If you've been suffering from Candida for a while, you already know how difficult it is to find reliable information. The internet is full of contradictory statements, food lists that don't match up, and wildly varying strategies and approaches to beating Candida.
That's why, in 2012, I decided to design and write a new kind of Candida treatment plan. The Ultimate Candida Diet program is a comprehensive treatment program for Candida Related Complex. It is based on the latest research into Candida overgrowth and gut dysbiosis.
The program has 5 simple steps to give you relief from your Candida symptoms within 60 days. It goes into more detail than any other Candida program that you've seen, and contains lots of information that will improve your immune system, digestive health, energy levels, and more.
More recently, I have updated the program in collaboration with an experienced naturopathic doctor named Dr. Eric Wood. He has extensive experience treating chronic conditions like adrenal fatigue and gut-related problems like Candida Related Complex. As co-author, his contributions to the latest version of the program have been invaluable and made it even more effective.
Some Details About The Program
The Ultimate Candida Diet program is unique in several different ways.
Free Guide To Beating Candida
Sign up to our free, 8-part email course today, and learn how to create your own, personalized Candida treatment plan :)
First of all, it is much more detailed and up to date than any other Candida program. It is based on countless research reports into Candida and related conditions, as well as the considerable clinical experience of Dr Wood. It includes all the information you'll ever need about the causes, symptoms, diagnosis and treatment of Candida.
Second, it answers most of the questions that I get from my readers about their Candida treatment. I am often asked questions like, 'How long should I stay on this stage?' or, 'Is this food OK to eat?'. In this program we have included the most comprehensive list of foods to eat that you'll find anywhere. And there is also a visual timeline that will make the program so much easier to understand and follow.
Third, we have tried to make this program as practical as possible. So it includes printable shopping lists that you can take to your local store, workbooks to help you through your treatment, and practical advice all the way through each of the included books. I also designed this program with your budget in mind, so there are lots of money saving tips throughout the book.
Here are some of the parts of this program that I'm most proud of:
The simple timeline that guides you through each stage of the program
The 10-part email course that comes with your treatment
Printable shopping lists you can take to the store
The 8 factors that might have caused your Candida (and how to fix them)
Money saving tips to reduce the cost of your treatment
Two questionnaires to help you diagnose your Candida
The definitive guide to using probiotics and antifungals in your treatment
More than 100 delicious recipes to eat on each stage of the program
What You Get With The Ultimate Candida Diet Program
The Ultimate Candida Diet program contains everything you need to beat your Candida. Here is what you get when you download the program:
The Ultimate Candida Diet program PDF ebook
The Ultimate Candida Diet Recipe Guide PDF ebook (with more than 100 recipes)
The Stress Handbook For Candida Sufferers PDF ebook
A 10-part email course to accompany the program
Printable shopping lists (PDF) to take to the store
A handy symptom tracker workbook (PDF) to monitor your recovery
Would you like to get relief from Candida symptoms like headaches, yeast infections, joint pain, digestive problems or fatigue? Take the first step towards beating your Candida and download the Ultimate Candida Diet program.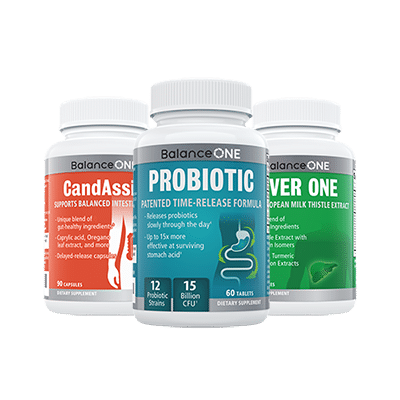 3-Month Candida Elimination Kit
Start Your 3-month Candida Cleanse
This Candida Kit contains all the supplements recommended on the Candida Diet:
- LIVER ONE to process and remove the toxins created by Candida.
- CANDASSIST to inhibit and weaken the Candida colonies in your gut.
- PROBIOTIC to replace the Candida yeast with probiotic bacteria.
Plus... the CANDIDA DIET RECIPE BOOK with 50+ low-sugar recipes
Comments