You can never have too many chicken recipes, and here's a really simple one that can be prepared in just a few minutes!
Proteins like chicken, eggs, and nuts are an excellent way to stay full and satisfied while on a low-carb diet like the anti-Candida diet. They are healthy, nutritious and will keep you from getting hunger pangs as you wean yourself off a high-carbohydrate diet.
This is a perfect dish for busy weekday evenings. It only takes a few minutes to prepare, then 45 minutes in the oven and it's ready to eat. You can pair it with some steamed veggies, or make one of our super-healthy side dishes like cauliflower mash, artichoke salad, or no-sugar coleslaw.
There are several gut-healthy ingredients in this recipe, including natural antifungals like olive oil and oregano leaf.
Chicken is also an excellent source of glutamine, one of the most important amino acids for your body. Glutamine helps to maintain the integrity of your intestinal lining, which prevents foods and microorganisms (like bacteria and yeast) from crossing over into your bloodstream.
Free Guide To Beating Candida
Sign up to our free, 8-part email course today, and learn how to create your own, personalized Candida treatment plan :)
Look for organic or free range chicken wherever possible. It costs more, but the chickens are treated much better. Research shows that meat from free range chickens has less fat, more iron and more zinc than meat from factory-raised chickens.
Lemon Chicken
Ingredients
4

large free range chicken breasts, skinless and boneless

2

unwaxed lemons (sliced thinly in rounds)

3

Tbsp.

olive oil

1

tsp.

cracked black pepper

1

tsp.

sea salt

1

tsp.

paprika

1

tsp.

oregano

1/2

tsp.

dried lemon thyme

5

large sprigs of fresh rosemary
Instructions
Pre heat the oven to 380F.

Place the chicken breasts in a large roasting dish.

Mix together the oil, pepper, paprika, and oregano. Brush over the chicken breasts covering them evenly.

Top with sliced lemons.

Place rosemary on the breasts and place in the oven.

Bake in the oven for 45-50 minutes until cooked in the middle and the chicken breasts are starting to brown.

If the lemons and rosemary brown too quickly, cover with foil.
This lemon chicken is so easy and quick-to-prepare, it's sure to become a family favorite. Our Ultimate Candida Diet program contains more than 100 gluten-free, sugar-free recipes just like this, plus lots of valuable advice on symptoms, treatment options, and more. Find out more here.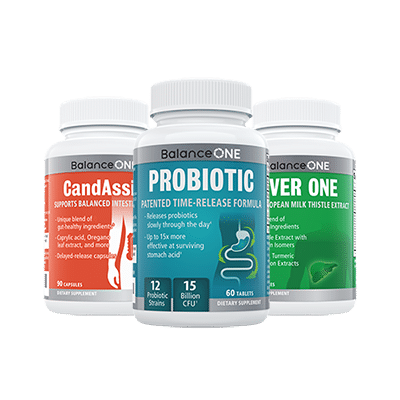 3-Month Candida Elimination Kit
Start Your 3-month Candida Cleanse
This Candida Kit contains all the supplements recommended on the Candida Diet:
- LIVER ONE to process and remove the toxins created by Candida.
- CANDASSIST to inhibit and weaken the Candida colonies in your gut.
- PROBIOTIC to replace the Candida yeast with probiotic bacteria.
Plus... the CANDIDA DIET RECIPE BOOK with 50+ low-sugar recipes
Comments