Artichoke Salad with Coconut Balsamic Vinaigrette
While good extra virgin olive oil and apple cider vinegar or fresh lemon juice make a nice vinaigrette, sometimes your salad begs for more. Our Coconut Balsamic Vinaigrette is a full bodied vinaigrette for salads made with heartier, earthier vegetables.
This artichoke salad contains a combination of colorful mixed greens, richly flavored artichokes, purple green beans, and cherry tomatoes. They're all tossed in a vinaigrette is sure to become your new favorite house dressing!
Are you making your own salad dressings? Most bottled dressings contain a multitude of ingredients that can undermine your health and your progress on the Candida Diet. Manufacturers often use poor quality ingredients, such as soybean or canola oils, sugars, artificial flavors and colors, chemical stabilizers, sodium rich preservatives, modified food starch, monosodium glutamate, and disodium phosphate.
Shouldn't your salad dressing be as healthy as the salad itself?
Making your own salad dressing is so simple, especially if you always keep the basic ingredients on hand in your pantry. Most homemade salad dressings take just a few minutes to make. Add your ingredients into a repurposed glass jar and shake, that's it! You'll be asking yourself, "Why have I not been doing this before?"
Free Guide To Beating Candida
Sign up to our free, 8-part email course today, and learn how to create your own, personalized Candida treatment plan :)
Artichoke Salad with Coconut Balsamic Vinaigrette
Course:
Main Course, Salad, Side Dish
Ingredients
Ingredients for Vinaigrette
1/2

cup

extra virgin olive oil

1/4

cup

apple cider vinegar

2

tablespoons

coconut aminos

1

clove

of garlic, finely minced

1

Tbsp.

mustard powder

Salt and pepper to taste

1

small sprig of fresh rosemary
Ingredients for Salad
4

cups

mixed salad greens

2

cups

canned artichokes (packed in water and salt only), drained and quartered

2

cups

fresh purple green beans (or fresh green beans if not available), stem ends trimmed

12

cherry tomatoes, halved

1/4

cup

toasted, sliced almonds
Instructions
Making the Vinaigrette
Put the extra virgin olive oil, apple cider vinegar, coconut aminos, finely minced garlic and mustard powder into a container with a lid.

Put the lid on the container and shake well. Season with salt and pepper to taste, cover and shake again.

Add the sprig of rosemary to the container.

Cover the container and let the vinaigrette sit at room temperature, to allow the flavors to develop.
Making the Salad
Put the mixed salad greens, artichoke quarters, purple green beans and cherry tomato halves into a large bowl.

Drizzle the salad ingredients with 4 to 6 tablespoons of the vinaigrette. Gently toss to coat.

Sprinkle the salad with toasted, sliced almonds, and serve.
Salads are a staple on the Candida diet, and there are so many ways to brighten them up with tasty, flavorful salad dressings. Our Ultimate Candida Diet program contains more than 100 gluten-free, sugar-free recipes just like this, plus lots of valuable advice on symptoms, treatment options, and more. Find out more here.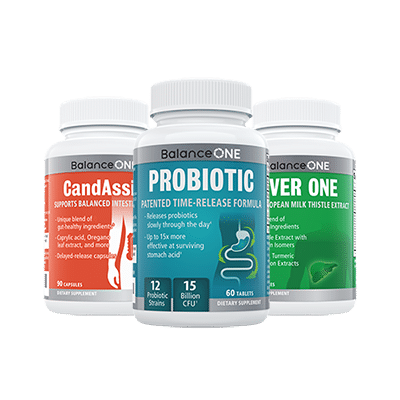 3-Month Candida Elimination Kit
Start Your 3-month Candida Cleanse
This Candida Kit contains all the supplements recommended on the Candida Diet:
- LIVER ONE to process and remove the toxins created by Candida.
- CANDASSIST to inhibit and weaken the Candida colonies in your gut.
- PROBIOTIC to replace the Candida yeast with probiotic bacteria.
Plus... the CANDIDA DIET RECIPE BOOK with 50+ low-sugar recipes