Molds, Mushrooms, And Candida
One of the biggest sources of confusion in relation to Candida is whether or not to avoid eating fungi. Should you eat mushrooms? Does it matter if there is a little mold on your food? There are a lot of opinions out there and a lot of non-scientific information being portrayed as fact. So, what's the real story?
It would be great if there were clinical trials where some Candida sufferers were fed mold or mushrooms, and others were not. No trial like this has been completed, so what can we say? That is exactly what we are going to discuss in today's article.
Two Important Points About Molds, Mushrooms And Candida
First of all, let's start by understanding what Candida feeds on.  As you may already know, Candida likes sugar and refined, simple carbohydrates.  Mushrooms and mold are neither of these, so they do not qualify as a food source for Candida. They are certainly not going to supply Candida with any of the raw materials it needs to multiply, spread through your gut, or create biofilms.
Secondly, it's important to understand some of the positive properties that molds and fungi (like mushrooms) possess.  Many mushrooms are known for their powerful immunostimulatory properties.  In fact, some mushrooms are prized for these capacities in Chinese and Western herbal medicine.  These include mushrooms like agaricus blazei, coriolus versicolor, Shiitake, Maiitake, Reishi, and many others.
Candida sufferers tend to be dealing with low immune function. If anything, immune-supportive mushrooms will tend to help someone boost their immune system, and potentially help them to overcome Candida overgrowth. There are also mushroom-derived supplements like Active Hexose Correlated Compound (AHCC), which have been shown to support and enhance the immune system.
Free Guide To Beating Candida
Sign up to our free, 8-part email course today, and learn how to create your own, personalized Candida treatment plan :)
Molds, which are not the same thing as yeast, often produce noxious substances to hinder other microorganisms from growing in their presence (called mycotoxins).  Molds typically grow on and feed on decaying organic matter.  They are also not refined, simple carbohydrates, so Candida will not be able to feed on them.  If anything, molds will be a noxious nuisance to Candida, because of the toxins they produce.  So again, Candida is not going to grow directly because of mold or fungi.
There Are Good Reasons To Avoid Molds
There are several reasons why we want to avoid consuming molds (but not really fungi) in the diet.  Many molds can be irritating to the gut because of the toxins that they produce.  These toxins can damage the lining of your gut, making it more porous and susceptible to other microorganisms' overgrowth (such as Candida, pathogenic bacteria, and other parasites). In this indirect way, they can encourage Candida to take root and potentially become a problem.
Some individuals may also be allergic to certain types of mold. These molds (which will differ in each respective person) can trigger the familiar list of allergy-like symptoms such as sneezing, redness, coughing, itchy skin, as well as digestive upset, hives, and more. If you are a longtime Candida sufferer, you may find that you are more sensitive to mold exposure.
Avoid Molds, But Most Mushrooms Are OK
Much of the worry about fungi (mushrooms) in the diet of Candida sufferers is unwarranted. Mushrooms can be a healthy part of your Candida diet, and in fact their immune-stimulatory properties may be quite helpful. If you are foraging, remember to be careful of poisonous mushrooms. And if you notice any mold growing on your mushrooms, it's best to throw them away. But in general, mushrooms can be a sensible addition to your eating plan.
Mold is a different matter. Try to avoid foods that are moldy, including those where mold is an intentional part of the food (like blue cheeses or camembert). Mold simply isn't a nutritive thing for you to eat, and it can trigger unpleasant allergy symptoms or mold sensitivities. For the same reasons, you should ensure that you don't have black mold in your house.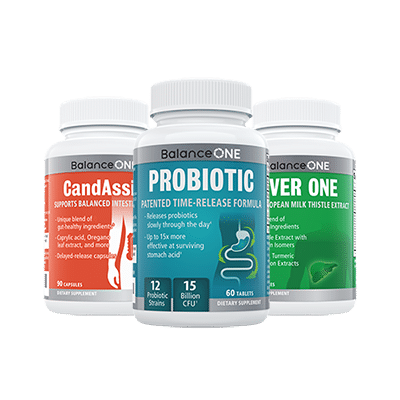 3-Month Candida Elimination Kit
Start Your 3-month Candida Cleanse
This Candida Kit contains all the supplements recommended on the Candida Diet:
- LIVER ONE to process and remove the toxins created by Candida.
- CANDASSIST to inhibit and weaken the Candida colonies in your gut.
- PROBIOTIC to replace the Candida yeast with probiotic bacteria.
Plus... the CANDIDA DIET RECIPE BOOK with 50+ low-sugar recipes
Comments