These coconut clouds are tasty, light cookies that are great for snacking between meals. The sweet coconut taste contrasts perfectly with the tangy ginger to create an enticing flavor that will keep you coming back for more. They are gluten-free, sugar-free and extremely addictive!
Snacking healthily is a really important part of recovering from Candida overgrowth. It helps to keep your blood sugar stable, and avoids hunger pangs that can lead to bad decisions like eating sugar snacks. There are so many different names for sugar, that it has become very difficult to buy healthy snacks in the shops. Making your own is usually best.
If you struggle to find healthy snacks when you are out of the house, put a few of these 'clouds' in a bag and take them with you. They are also perfect for taking on hikes, picnics, trips to the beach, or any other time when you need a quick and easy snack. Enjoy!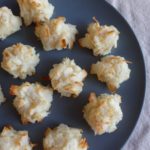 Coconut Ginger Clouds
Ingredients
3

egg whites

2

packets or 1 tsp. powdered Stevia

1

Tbsp.

alcohol free vanilla

1

tsp.

fresh ginger, peeled and finely grated with a microplane

1

cup

unsweetened shredded coconut

1

cup

unsweetened coconut flakes
Instructions
Preheat oven to 350 degrees F (177 degrees C).

In a large bowl, whisk egg whites until light and foamy. Add stevia, alcohol free vanilla and ginger, whisk to combine. Fold in shredded coconut and coconut flakes until just combined.

Line a baking sheet with parchment paper. Drop tablespoon size mounds of coconut mixture onto baking sheet. Bake for 10 to 12 minutes or until cookies just begin to brown. Cool on baking sheet for 10 minutes before removing.
Looking for more gluten-free, sugar-free recipes? My Ultimate Candida Diet program contains more than 50 delicious recipes, plus lots of valuable advice on which foods to eat and avoid. Find out more here.