Most of us grew up eating cereal as part of our morning breakfast routine. At the time, most people didn't realize just how unhealthy those packaged cereals were! Breakfast cereals generally contain much more sugar than people realize. This Cinnamon Coconut Crisps Cereal is a healthier version of the sugar-laden varieties found in your supermarket. It's crisp, lightly sweet, and has a tasty cinnamon kick.
Sprinkle with shredded coconut and serve with a splash of unsweetened almond milk for a rich, filling bowl. If you are including low sugar fruits in your diet, you can also top it with a few fresh blueberries. Remember, you don't have to be a kid to enjoy a bowl of cereal!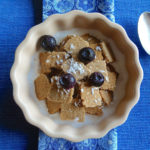 Cinnamon Coconut Crisps Cereal
Ingredients
1 ½

cups

almond flour

½

cup

unsweetened shredded coconut

1 ½

tsp.

cinnamon

¼

tsp.

salt

¼

tsp.

baking soda

½

tsp.

alcohol free vanilla

½

tsp.

stevia powder

1

Tbsp.

coconut oil, melted

1

egg white, at room temperature

Blueberries (optional)
Instructions
Preheat oven to 350 degrees F (177 degrees C).

In a medium bowl, combine almond flour, unsweetened shredded coconut, cinnamon, salt and baking soda. Whisk to combine, set aside.

In a small bowl, add alcohol free vanilla, stevia powder and melted coconut oil. Whisk until stevia powder has dissolved. In another small bowl, whisk egg white until frothy. Combine egg white and liquid mixture, whisk thoroughly.

Add liquid ingredients to dry ingredients, stir well to form a dough. Roll out dough between two sheets of parchment paper into a thin, 10 x 15 inch rectangle. Transfer cereal dough and parchment paper onto a baking sheet. Remove top sheet of parchment paper and bake dough for 12 minutes.

Transfer cereal dough and parchment paper to a work surface. With a sharp knife, carefully cut dough into one inch strips and then across into one inch strips, creating one inch squares.

Cool cereal completely. Serve with coconut or almond milk.
Looking for more gluten-free, sugar-free recipes? My Ultimate Candida Diet program contains more than 50 delicious recipes, plus lots of valuable advice on which foods to eat and avoid. Find out more here.