Here's a simple omelet recipe to use on your Candida diet. Avocado and eggs are two of the best ways to create a satisfying meal while you're treating your Candida, and this recipe contains a good helping of both. If you feel like you're not getting enough food on the diet, or you want to avoid losing weight, this is a great option.
Omelets are a fantastic way to introduce new foods to your diet, especially vegetables. Start your day with a healthy mix of eggs and vegetables, and you'll have enough energy to last you right through until lunchtime. Remember to add lots of herbs, spices and seasonings for a delicious meal.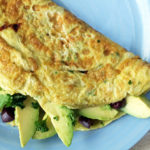 Avocado Omelet
Ingredients
2

shallots, chopped

2

garlic cloves, chopped

3

eggs

1

avocado, halved and sliced

6-7

black olives (not the ones in vinegar)

1

Tbsp.

butter

2

Tbsp.

chopped up parsley
Instructions
Whisk the eggs in a bowl and set aside.

Add ¾ of the parsley to the egg mixture.

Heat the butter in a pan on medium heat. Sauté the garlic, then add the shallots and cook until slightly brown. Set aside.

Now add the eggs mixture to the pan and let cook for 3-4 minutes. Spread the shallots and garlic evenly over the eggs and transfer to a plate.

Add the avocado, olives, and the remaining parsley to one side of the omelet. Fold over and serve.
Looking for more gluten-free, sugar-free recipes? My Ultimate Candida Diet program contains more than 50 delicious recipes, plus lots of valuable advice on which foods to eat and avoid. Find out more here.