To restore balance to your gut flora, you need to flood your gut with health-promoting probiotic bacteria. That's why probiotics are one of the crucial elements of any Candida treatment plan.
You can find those probiotic bacteria in foods such as yogurt, kefir, sauerkraut, and kimchi. But to give your digestion and your health a real boost, it pays to use some probiotic supplements too (1).
Probiotics have been shown to improve gut health, boost immunity, lower cholesterol, reduce the risk of cancer, and much more (2). 
Choosing a Probiotic For Candida
Here's where the difficult part begins. There are thousands of probiotic supplements on the market, so how do you choose between them? 
The dirty secret of the supplement industry, and particularly many supplements reviewed on Amazon, is that there are wide variations in quality.
Free Guide To Beating Candida
Sign up to our free, 8-part email course today, and learn how to create your own, personalized Candida treatment plan :)
For example, does your probiotic come from a GMP-certified facility? Is it made in the USA or elsewhere? Will the manufacturer provide a certificate of analysis to verify that it is toxin-free? Does each tablet even contain what the label says it contains?
With all this in mind, I'm very careful when I recommend supplements. It's extremely important to get high-quality supplements from reputable manufacturers. Otherwise, you could just be wasting your money.
That's why I worked with Balance ONE to formulate a high-quality probiotic that will help to rebalance your gut, boost your immunity, and give you relief from imbalances like Candida.
You can find it on the Balance ONE website.
There are several reasons why the new Balance ONE probiotic is an excellent choice for your Candida treatment plan. Let's take a closer look.
Probiotics That Survive Stomach Acid
Balance ONE probiotics use a patented delivery system that gets their probiotic bacteria past stomach acid and into your gut. This is hugely important – without some way of bypassing stomach acid, your probiotic will be far less effective.
Other probiotic manufacturers get around this by simply packing more and more probiotics into their capsules, in the hope that enough will get through. The problem is that this strategy often does not work.
The delivery system used in this probiotic, known as BIO-tract, has been studied using an artificial stomach to simulate the environment that probiotics face. 
Probiotics using BIO-tract were shown to be 15 times more effective than regular vegetable capsules at getting probiotic bacteria past stomach acid.
What does '15 times more effective' actually mean? Let's use some numbers to demonstrate. A 15 billion CFU probiotic using Balance ONE's delivery system will deliver the same amount of bacteria to your gut as a 225 billion CFU probiotic in a regular veggie capsule.
This is one of the key reasons why the Balance ONE probiotic is more effective for Candida. 
Made in the USA, in a Certified Facility
Do you know where your supplements are made? Some are made overseas in facilities that don't adhere to US standards. Others use ingredients from disreputable sources. 
That's why it's really important to understand where your supplements come from and how they're made.
Balance ONE probiotics are made in the USA in a GMP-certified facility that complies with all the latest standards. And the probiotic bacteria are 100% grown, produced, and packaged in the USA.
Lots Of Different Strains, Chosen Specifically for Candida
This probiotic contains 12 different strains of probiotic bacteria, chosen for their ability to promote gut health and effectiveness against Candida albicans.
Here's a list of the strains that are included:
Lactobacillus plantarum, Lactobacillus paracasei, Lactobacillus acidophilus, Lactobacillus casei, Bifidobacterium longum, Bifidobacterium breve, Bifidobacterium infantis, Lactobacillus brevis, Lactobacillus salivarius, Lactobacillus rhamnosus, Lactococcus lactis, Streptococcus thermophilus.
An Extended Shelf Life
There's another benefit to using the patented delivery system in this probiotic. Because the probiotics are compressed into tablets, instead of sitting inside a regular vegetable capsule, they have an extended shelf life.
By choosing long-lived, hardy probiotic strains, we can extend the life of the probiotic even further.
This means that the strains in the Balance ONE Probiotic will be live and kicking even at expiration date.
Take them at any time of day
Have you ever tried to figure out the best time of day to take probiotic supplements? Some people say on an empty stomach – others say take them with meals.
With the Balance ONE Probiotic, it doesn't matter.
The delivery system that we use to get the probiotics to your gut ensures that the probiotic bacteria are released slowly, over 8-10 hours. One of the key benefits of this is that you can take them at any time of day.
You can take them in the morning, afternoon, evening… it won't make a difference. Whenever you take them, you can feel sure that they will reach your gut in good shape.
Have You Chosen Your Candida Probiotic?
I'm confident that the Balance ONE probiotic is the best probiotic supplement for gut imbalances like Candida. It has 15 billion CFUs of bacteria, lots of strains that can inhibit Candida, and a delivery system that gets the bacteria through to your gut.
If you'd like to try it, you can find it on Amazon or the Balance ONE website.
Free Guide To Beating Candida
Get your free, 8-part guide to beating Candida, and join more than 100,000 people getting weekly updates and recipes!
Be sure to let me know how they work for you!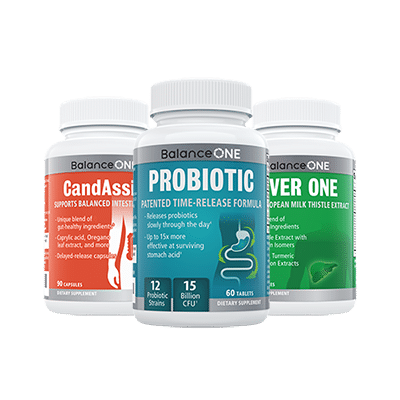 3-Month Candida Elimination Kit
Start Your 3-month Candida Cleanse
This Candida Kit contains all the supplements recommended on the Candida Diet:
- LIVER ONE to process and remove the toxins created by Candida.
- CANDASSIST to inhibit and weaken the Candida colonies in your gut.
- PROBIOTIC to replace the Candida yeast with probiotic bacteria.
Plus... the CANDIDA DIET RECIPE BOOK with 50+ low-sugar recipes
Comments