3 Surprising Candida Remedies In Your Local Store
Treating your Candida doesn't have to mean spending a fortune on naturopath visits and expensive supplements. The fact is that there are plenty of simple, natural remedies that you can find in your kitchen cabinet or at your local supermarket.
Of course, they don't get advertised like commercial supplements, and you won't find many people promoting them online, but that doesn't mean that they are not effective! And while you might still need to spend some money on supplements to beat your Candida, these natural remedies can really cut down on the expense of following a Candida diet. For example, you might add some probiotic foods to your diet and cut down on your probiotic supplements.
Our Ultimate Candida Diet treatment plan contains lots more tips on probiotic and antifungal foods, as well as how best to integrate them into your diet. In the meantime, here are three foods that you should consider adding to your diet today.
Rutabaga
If you're not familiar with rutabaga, it's a root vegetable that is a member of the mustard family. Outside of North America it's usually known as the 'swede' or 'Swedish turnip'.
The first thing you're probably thinking is, "Isn't that full of sugars??" As you know, you should not generally be eating high-carb, starchy vegetables on your Candida diet.  However, the crucial difference with rutabaga is that it has one special property that makes it ideal for Candida sufferers.
Free Guide To Beating Candida
Sign up to our free, 8-part email course today, and learn how to create your own, personalized Candida treatment plan :)
Rutabaga is a strong antifungal that can slow down and possibly reverse your Candida overgrowth. So although the carbohydrates in the rutabaga might feed your Candida overgrowth a little, the antifungal properties more than compensate for this. And of course it makes for a filling, satisfying meal too!
Looking for ways to prepare your rutabaga? For a filling snack you can peel, chop and roast it just like potato fries, then serve with some yogurt and garlic mixed as a dip. Alternatively, chop and stir-fry it with a few veggies, or slice it up and eat it raw in a salad. Try some tasty rutabaga nachos or these delicious rutabaga latkes.
Sauerkraut
This is a dish that is not to everyone's liking at first, but try it a few times and you will come to appreciate that sour taste! Sauerkraut is basically shredded cabbage that has been fermented for a length of time. This is done either in salted water (the traditional way) or in various types of vinegar (the 'modern' way).
Sauerkraut, similarly to other fermented foods like kimchi or kombucha, is full of healthy, good bacteria. These bacteria are actually what drive the fermentation process, and they include a number of different Lactobacillus bacteria.
Why is sauerkraut so good for Candida sufferers? Well, those 'good bacteria' help to weaken your Candida overgrowth in three different ways. You can learn lots more about this in my guide to probiotics.  Very simply though, they strengthen your immune system, regulate your stomach acid and prevent the Candida colonies from expanding.
Sauerkraut is a great food for Candida sufferers, but you should know that not all sauerkrauts are the same. The reason that manufacturers add vinegar is to get the flavor without going through the lengthy fermentation process. Many commercial sauerkrauts are pasteurized too, which will destroy all those 'good bacteria'. To get the most from your sauerkraut, make it yourself or buy an unpasteurized, refrigerated brand that has been fermented in salt water.
Olive Oil
People are often surprised that something as commonplace as olive oil has antifungal properties. However, a study in 2008 found that oleuropein, a compound found in olive oil, was effective against more than half of the fungi that it was tested against.
How can you add olive oil to your diet? Combine it with sea salt and a little lemon juice for a delicious and simple salad dressing. Cooking with it may also help, but research hasn't shown yet if oleuropein loses its antifungal properties after heating. I would also recommend that you buy virgin or extra virgin olive oil as these have not been chemically treated.
Be aware that there are lots of fake olive oils around, many of which look perfectly reputable. Manufacturers in Italy and elsewhere frequently mix in cheaper refined oils to improve their profit margins. Use these tips on buying real olive oil to make sure that you are buying the real thing.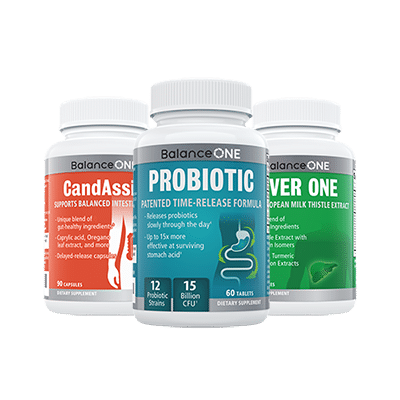 3-Month Candida Elimination Kit
Start Your 3-month Candida Cleanse
This Candida Kit contains all the supplements recommended on the Candida Diet:
- LIVER ONE to process and remove the toxins created by Candida.
- CANDASSIST to inhibit and weaken the Candida colonies in your gut.
- PROBIOTIC to replace the Candida yeast with probiotic bacteria.
Plus... the CANDIDA DIET RECIPE BOOK with 50+ low-sugar recipes
Comments