In recent years, quinoa's popularity has soared as a replacement for starchier pastas and rice. It has a pleasant mellow, nutty taste and is available in several varieties such as white, red, black or a combination of the three, tricolor. A superfood, quinoa is high in protein as well as iron, magnesium, and fiber.
I recommend pseudo-grains like quinoa, millet and buckwheat on the Candida diet, instead of regular options like wheat, barley, or rye. This is because they are completely gluten-free and tend to be much easier on the gut. If you're suffering from poor gut health, the last thing you need is to eat pro-inflammatory foods that will inflame your gut lining even more.
There is more and more evidence showing that gluten has negative effects on gut health, even for those who are not Celiac. If your gut flora is already imbalanced (due to diet, antibiotics, or some other reason), you should avoid gluten and other pro-inflammatory foods as you follow the path back to a rebalanced and restored gut.
You can serve this quinoa with some healthy protein like chicken or beef, or in place of rice with any of your favorite Asian dishes. This Thai version would make a nice accompaniment for our Grilled Chicken with Bok Choy or Thai Red Curry. I hope you enjoy it!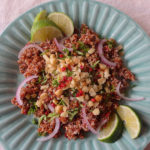 Thai Quinoa
Ingredients
1

cup

quinoa, white, red, black or tricolor

½

cup

unsweetened coconut milk

½

cup

water

Pinch

of salt

2

Tbsp.

coconut aminos

1

Tbsp.

lime juice

Juice from a 1 inch piece of ginger, peeled, finely grated, squeezed

Salt to taste

Red onion, thinly sliced

Cilantro, finely minced

Thai basil, finely minced

Macadamia nuts, crushed

Pink pepper corns, crushed

Lime wedges
Instructions
Place quinoa, unsweetened coconut milk, water and salt in a medium saucepan and bring to a boil over high heat. Reduce heat to low, cover saucepan and cook quinoa for 15 minutes. Remove saucepan from heat, keeping quinoa covered for 5 additional minutes to absorb remaining liquid. Fluff quinoa gently with a fork, set aside to cool slightly.

In a small bowl whisk together coconut aminos, lime juice and ginger juice, season to taste with salt if needed.

In a large bowl add quinoa and coconut amino/juice mixture, toss to coat.

On a serving platter arrange in layers quinoa, red onion slices, minced cilantro and Thai basil, crushed macadamia nuts and pink peppercorns. Serve with lime wedges.
Looking for more gluten-free, sugar-free recipes? Our Ultimate Candida Diet program contains more than 100 delicious recipes, plus lots of valuable advice on which foods to eat and avoid. Find out more here.
Free Guide To Beating Candida
Sign up to our free, 8-part email course today, and learn how to create your own, personalized Candida treatment plan :)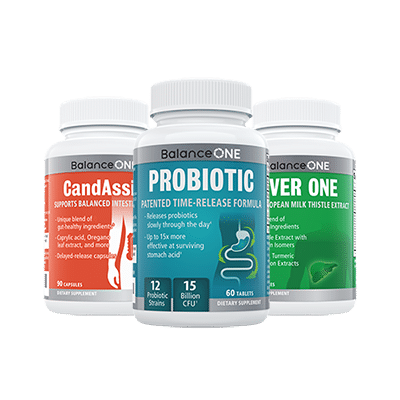 3-Month Candida Elimination Kit
Start Your 3-month Candida Cleanse
This Candida Kit contains all the supplements recommended on the Candida Diet:
- LIVER ONE to process and remove the toxins created by Candida.
- CANDASSIST to inhibit and weaken the Candida colonies in your gut.
- PROBIOTIC to replace the Candida yeast with probiotic bacteria.
Plus... the CANDIDA DIET RECIPE BOOK with 50+ low-sugar recipes
Comments