Steak With Ginger Sauce & Quinoa Tabbouleh
This is a really simple recipe that you can use on your Candida diet. It contains some good, lean protein and a few complex carbs from the quinoa (which is technically a seed, not a grain).
It also uses various herbs and oils which give it lots of flavor, as well as being great for your gut health. This is a fantastic dish for a quick evening meal!
I especially love the ginger sauce in this this dish. The combination of ginger, garlic, coconut aminos, chili, and lemon juice makes for a really strong, rounded flavor. It works great with steak, but it would be amazing with any kind of red meat.
Note that most red meat is on the 'maybe' list of foods to eat on the Candida diet. Red meats like beef and lamb tend to be harder to digest, and produce ammonia during digestion that can raise the pH of your intestines. Try to minimize your consumption of red meat until you have recovered from Candida.
Steak With Ginger Sauce & Quinoa Tabbouleh
Ingredients
INGREDIENTS (STEAK AND GINGER SAUCE)
Steak

Ginger

Garlic

Coconut aminos (as a substitute for soy sauce)

Chili

Olive oil

Lemon Juice
INGREDIENTS (QUINOA TABBOULEH)
½

cup

uncooked quinoa

3

cups

fresh parsley

½

cup

fresh mint leaves

10

cherry tomatoes

½

cucumber

1

red onion

½

cup

fresh lemon juice

3

Tbsp.

olive oil

Salt and pepper
Instructions
Start with the quinoa as this will take the longest. Just cook it as directed on the packet.

Chop the tomatoes and cucumber, then finely chop the parsley, mint, and onions. Add all these ingredients to a mixing bowl and leave them there until the quinoa is ready.

While the quinoa is cooking, you can also make the sauce for the steak. Take the grated ginger and chili, coconut aminos, olive oil and lemon juice, and just mix it all together. This is a really simple sauce/dressing but its got a whole lot of flavor.

Now season and cook the steak to your liking.

Once the quinoa is ready, rinse it thoroughly. Add it to a mixing bowl with the chopped vegetables, herbs and olive oil. Mix well to make your tabbouleh.

Serve the steak sliced, drizzled with the sauce. You can either have the quinoa tabbouleh on the side or place it underneath the steak. Enjoy!
My Ultimate Candida Diet program includes more than 100 tasty recipes for every meal and every stage of the Candida diet. They are gluten-free, sugar-free, and absolutely delicious! Dr Wood and I have also included lots of valuable advice on how to beat Candida, and which foods to eat and avoid.
Free Guide To Beating Candida
Sign up to our free, 8-part email course today, and learn how to create your own, personalized Candida treatment plan :)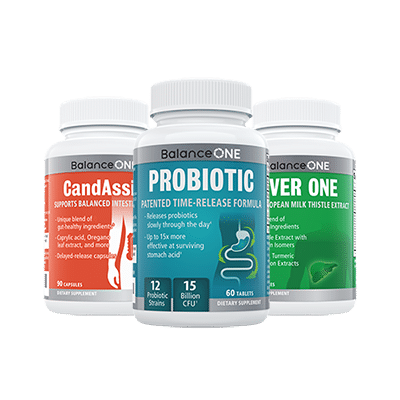 3-Month Candida Elimination Kit
Start Your 3-month Candida Cleanse
This Candida Kit contains all the supplements recommended on the Candida Diet:
- LIVER ONE to process and remove the toxins created by Candida.
- CANDASSIST to inhibit and weaken the Candida colonies in your gut.
- PROBIOTIC to replace the Candida yeast with probiotic bacteria.
Plus... the CANDIDA DIET RECIPE BOOK with 50+ low-sugar recipes
Comments