Baked Eggs Skillet With Red Peppers And Onions
If you're anything like me, then a late weekend brunch is your absolute favorite meal of the week. Nothing beats a late, relaxed brunch with friends or family on a weekend morning. But what can you do if you're following a low carb diet like the Candida diet?
Luckily there are lots of options. Look for meals that include lots of protein and fat in place of all those carbs, and you'll have a healthy, Candida diet-friendly meal. Even better, these protein-rich meals will give your body what it needs for sustained energy throughout the morning and the rest of your day.
Our avocado pancakes and breakfast muffins are super-healthy options for your brunch. And the baked eggs recipe on this page is a sure-fire winner too! It's an easy meal to scale up to larger groups, so you can make it for yourself and a partner, or invite the neighbors round on Saturday morning!
Eggs are a really great source of healthy protein and micronutrients. This dish combines them with onions, peppers and tomato, plus a good helping of paprika and parsley for extra flavor. A healthy breakfast recipe and a great way to start your day. Enjoy!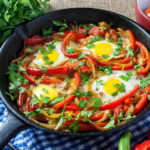 Baked Eggs Skillet With Red Peppers And Onions
Ingredients
1

Tbsp.

olive oil

2

red bell peppers (thinly sliced)

1

large white onion (thinly sliced)

1

tsp.

smoked paprika

1

cup

chopped fresh tomatoes

1

red chili (finely chopped)

Salt and pepper to taste

4

medium eggs

Parsley to top
Instructions
Heat the oil in a large saucepan over a medium heat and cook the onions and peppers, stirring frequently, until soft. About 6-8 minutes.

Add the smoked paprika, chili, and chopped tomatoes and cook for 3-4 minutes.

Season with salt and pepper to taste.

Make 4 indents in the mixture.

Break the eggs into each of the indents and place under the broiler under a medium heat for approx 5 minutes until the eggs are cooked.

Top with parsley.
There are so many delicious options for brunch on the Candida diet. You can find more in my Ultimate Candida Diet program, which I co-wrote with Dr Eric Wood. It contains more than 100 nutritious, tasty recipes, plus lots of valuable advice on which foods to eat and avoid. Find out more here.
Free Guide To Beating Candida
Sign up to our free, 8-part email course today, and learn how to create your own, personalized Candida treatment plan :)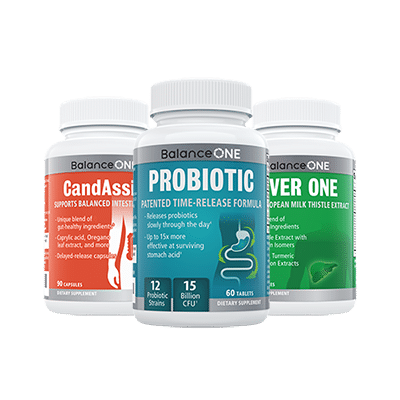 3-Month Candida Elimination Kit
Start Your 3-month Candida Cleanse
This Candida Kit contains all the supplements recommended on the Candida Diet:
- LIVER ONE to process and remove the toxins created by Candida.
- CANDASSIST to inhibit and weaken the Candida colonies in your gut.
- PROBIOTIC to replace the Candida yeast with probiotic bacteria.
Plus... the CANDIDA DIET RECIPE BOOK with 50+ low-sugar recipes
Comments